Treatment
Medical Therapy
Radical nephrectomy has been the traditional approach to treating solid renal masses. However, not all solid renal masses are malignant. As the number of incidentally detected solid renal masses increases because of widespread radiographic imaging, the incidence of benign tumors appears to be increasing.
In a prospective study of 106 solid renal masses treated with surgical resection, Dechet et al showed that 15 (14%) were benign. [9] Oncocytomas compromised most masses, with an overall 10% incidence rate of solid renal masses. Given the high incidence of benign tumors, especially among solid renal masses 4 cm in diameter or smaller, radical nephrectomy seems excessive in all cases. However, identifying these cases preoperatively using radiographic imaging and/or fine-needle biopsy or aspiration is impossible.
Link et al reviewed the results of 223 laparoscopic partial nephrectomies and found that only 66.4% of patients had renal cell cancer in the final pathology (mean tumor size, 2.6 cm). [10] Some centers advocate intraoperative needle biopsy of these solid renal masses with immediate frozen-tissue sectioning to help identify patients who may benefit from NSS or radical nephrectomy if specific tumor histology can be determined.
A urologist should seek a tissue diagnosis only if an indeterminate or solid lesion is found in a patient with known nonrenal cancer (ie, differential diagnosis of primary renal cancer vs a metastatic lesion). In rare cases, tumors have an infiltrating pattern on CT scans and are suspicious for lymphoma. In this regard, an ultrasound-guided or CT-guided puncture or biopsy of the lesion is indicated.
Surgical Therapy
Radical nephrectomy of the kidney is the treatment of choice for stage I, II, and some stage III tumors.
Radical nephrectomy encompasses ligating the renal artery and vein, removing the kidney outside the Gerota fascia, removing the ipsilateral adrenal gland, and performing a complete regional lymphadenectomy from the crus of the diaphragm to the aortic bifurcation.
The surgical approach includes either a transperitoneal incision (extended or bilateral subcostal and thoracoabdominal) or an extraperitoneal incision, depending on the size and location of the tumor and the patient's habitus. Cardiopulmonary bypass with deep hypothermic circulatory arrest is used is performed in patients with supradiaphragmatic tumor thrombi involvement.
The surgical approach is guided more by individual preference than by necessity. In some institutions, a midline incision is commonly used, while, in others, the anterior subcostal, thoracoabdominal, and flank approaches are preferred. In general, most tumors are resectable through a transperitoneal subcostal incision.
The principal advantage of the abdominal approach is that exposure in the area of the renal pedicle is excellent. A vertical midline incision is easier and quicker to perform. It also allows better access for inspection of the remainder of the abdominal contents. A transverse incision provides better access to the lateral and superior portion of the kidney, and a unilateral subcostal incision can be extended across the midline as a chevron incision to provide excellent exposure of both kidneys, the aorta, and the inferior vena cava. The principal disadvantage of the abdominal approach is the somewhat longer period of postoperative ileus and intra-abdominal adhesions.
Removal of the adrenal gland has been advocated because the gland is enclosed within the Gerota fascia and because ipsilateral adrenal metastasis occurs in 2-10% of most reported series. [11] The risk of adrenal metastasis is related to the malignant potential of the primary tumor and its size and position. The need for routine ipsilateral adrenalectomy currently is under debate. A new report of 247 patients with RCC showed that only 3% of patients had adrenal involvement; each case was diagnosed preoperatively with CT scanning. [12] However, patients with large tumors or tumors high in the upper pole are probably better served with a standard radical nephrectomy that includes adrenalectomy.
The role of regional lymphadenectomy in patients with localized kidney cancer is controversial. Because no widely effective treatments are available for metastatic RCC, proponents argue that if only small nodes are involved, regional lymphadenectomy may benefit a small number of patients. Extensive nodal involvement portends a poor prognosis. Patients with lymphatic metastasis commonly demonstrate synchronous or metachronous distant metastasis; thus, regional lymphadenectomy is of no benefit. Despite a lack of randomized controlled studies, current data suggest that some patients can benefit from regional lymphadenectomy, especially the subset of patients with micrometastatic lymph node involvement.
Preoperative Details
In addition to a good history and physical examination, certain tests are performed routinely prior to any major renal surgery. These include ECG, chest radiography, complete blood cell count, and electrolyte profile with BUN and creatinine levels.
Preoperative pulmonary function testing and blood gas analysis are necessary in patients in whom impaired respiratory function is suspected. A flank position with lateral flexion of the spine can decrease ventilatory capacity and venous return, resulting in hypotension and hypoxia. Thus, an anterior surgical approach with the patient in the supine position is used in patients with significantly impaired respiratory function. Preoperative breathing exercises, alleviation of bronchospasm, and cessation of smoking help prevent postoperative cardiorespiratory problems.
Patients should be asked about any use of alcohol or the ingestion of drugs or aspirin that may influence blood clotting. Prothrombin time, activated partial thromboplastin time, and a platelet count are used routinely to identify bleeding tendencies.
The anatomy of the urinary tract is usually examined prior to any nephrectomy. These studies include intravenous pyelography, cystoscopy, retrograde pyelography, ureteroscopy, cystourethrography, CT scanning, ultrasonography, MRI, renal angiography, and renal venography. These tests reveal the location of the kidneys; any anatomic variations such as a duplicated ureter, horseshoe kidneys, or multiple arteries or veins; and associated pathology such as renal stones, transitional cell carcinomas of the bladder or ureter, and possible lesions of the contralateral (ie, remaining) kidney.
CT scanning is the most cost-effective method of evaluating a suspected renal mass lesion and is currently the method of choice for detecting and staging renal carcinoma.
Differential renal function is often assessed noninvasively with computerized isotope renography (renal scan) using radioactive iodine (iodine 131) or technetium-99m.
Organism-specific antibiotic therapy is instituted at least 48 hours after surgery if the patient has evidence of an upper or lower urinary tract infection.
Preoperative percutaneous embolization of the kidney is occasionally rendered for patients with an arterialized vena cava thrombus or if medial extension of the tumor interferes with early ligation of the renal artery. Angioinfarction commonly leads to transient flank pain, which requires analgesic medication.
Intraoperative Details
An anterior subcostal, thoracoabdominal, or flank approach is used depending on the size and location of the tumor and the habitus of the patient.
An extraperitoneal flank approach is usually preferable when the kidney is chronically infected, when the patient is obese, or when multiple prior abdominal operations have been performed.
A transperitoneal approach is preferable in patients who tolerate flank position, in patients with end-stage renal disease undergoing bilateral nephrectomy for polycystic kidney disease, and in patients with traumatic renal injuries in whom early access to the pedicle is necessary. The video below depicts an example of nephrectomy used to treat multicystic kidney.
Nephrectomy for multicystic kidney.
The transperitoneal subcostal incision is used to resect most renal tumors because exposure to the great vessels through this approach is excellent. A large upper-pole tumor is best approached via the thoracoabdominal route. After the peritoneal cavity is entered, the intra-abdominal contents are inspected for any evidence of metastatic disease. The peritoneal reflection is incised along the line of Toldt, thus mobilizing the ascending and descending colon.
The vena cava is used as a reference landmark with tumors of the right kidney. This vessel can be followed upward to the point where the left renal vein enters. Before dealing with the renal vessels, ligating and dissecting the gonadal vein at the point where it enters the vena cava is preferable. Then, the renal artery and vein are ligated and divided. The renal artery is ligated before the vein whenever possible, on either side. However, approaching the pedicle from the front, to ligate and divide the vein first, is sometimes easier. After this, the artery is readily exposed and quickly clamped and ligated. Downward and lateral traction of the kidney exposes the superior vascular attachments of the tumor and adrenal gland. Exposure of these vessels also is facilitated by medial retraction of the inferior vena cava.
The right renal artery can be ligated in the aortocaval space. This is especially useful when regional lymphadenectomy is performed because the access to this space must be obtained anyway. Usually, the renal artery is ligated with two 2-0 nonabsorbable ligatures close to the aorta. A ligature is also placed in the distal end. The renal vein is palpated for any firmness that suggests a tumor thrombus. Short adrenal veins that empty directly into the side of the vena cava may also need ligature or hemostasis. Lumbar veins are usually not clipped because they may become displaced. Instead, a 0 silk ligature is passed on a right-angle clamp and tied. Oversewing the stumps of the renal artery and vein with 5-0 arterial silk may be prudent.
Some surgeons prefer to doubly clamp the artery and vein separately and to divide it between clamps. After removing the specimen, the artery is tied with 1-0 synthetic absorbable suture (SAS) and reinforced with a second 1-0 SAS as a stick tie. The vein is ligated with a 1-0 SAS.
Tumor extension into the renal vein usually is not problematic because the tumor thrombus can be milked back toward the kidney as the renal vein is ligated closer to the vena cava. Occasionally, a vascular clamp must be placed at the junction of the renal vein and inferior vena cava. Then, the renal vein is divided, the vein and thrombus resected, and the stump of the renal vein or caval incision is oversewn. Management of tumor thrombus within the inferior vena cava depends on the cephalad extent of the thrombus and the presence or absence of invasion into the inferior vena cava.
Then, the Gerota fascia surrounding the kidney and adrenal gland is dissected away from the surrounding structures using sharp and blunt dissection, as needed. Lymphatic and sympathetic structures are ligated or clipped. The ureter and gonadal vein are mobilized bluntly to the level of bifurcation of the aorta and lifted into the wound. Each is clamped and ligated with 0 silk ligatures, leaving the proximal end long enough for later identification.
The upper pole of the kidney is pulled down to expose the adrenal gland, and the connective tissue and peritoneal attachments are progressively divided. Starting the dissection laterally along the posterior body wall toward the crus of the diaphragm is easier. The cranial connections to the adrenal gland are divided carefully between clips. In 75% of cases, ipsilateral adrenalectomy is not required. For left-sided tumors, the splenocolic and lienophrenic attachments are divided to allow the spleen to be swung up out of the way; otherwise, the spleen may be injured during a left nephrectomy from an anterior approach.
The kidney is removed from the retroperitoneum (see image below). Regional lymphadenectomy for RCC is controversial. The defect in the mesocolon is closed to prevent internal hernias.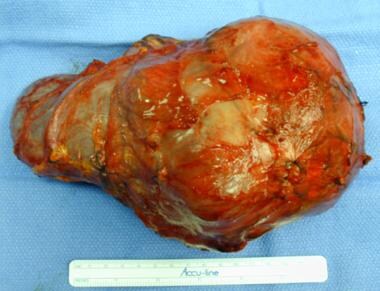 Renal tumor after surgical removal.
Drains are not used routinely for radical nephrectomy at the authors' institution. However, if the intraoperative blood pressure is low, later bleeding from spasmic small vessels is anticipated.
Direct infiltration into the duodenum and the wall of the colon is rare. If the colon or the spleen is involved, consider removing the organ. If locally advanced tumors suspected of extension into either the colon or mesentery are present, patients should undergo a mechanical and antibiotic bowel preparation. Segmental colon resection and primary anastomosis should be possible in most cases. Invasion of the liver is uncommon because of the Glisson capsule, which forms a barrier. For invasion of the liver, perform right hepatectomy and right nephrectomy en bloc by controlling the hilar structures on the right side first. The mass then can be elevated to expose the vena cava to allow control of the hepatic veins. If the tail of the pancreas is involved from left-sided kidney cancer, perform simple resection of the tail of the pancreas and oversew the pancreatic duct, covering the resected area with greater omentum.
Postoperative Details
Many postoperative complications, such as myocardial infarction, cerebrovascular accident, congestive heart failure, pulmonary embolism, atelectasis, pneumonia, and thrombophlebitis, can be reduced with adequate preoperative preparation, avoidance of intraoperative hypotension, appropriate blood and fluid replacement, postoperative breathing exercises, early mobilization, and elastic support of the legs, both during and after surgery.
After nephrectomy for unilateral renal disease, the opposite normal kidney undergoes compensatory hypertrophy, and the glomerular filtration rate is ultimately maintained at 75% of the normal value. Normal life expectancy can be achieved after a unilateral nephrectomy with a normal contralateral kidney.
Complications
Approximately 20% of patients undergoing radical nephrectomy develop postoperative complications, and the operative mortality rate is approximately 2%.
Intraoperative complications include injury to any gastrointestinal organs (eg, liver, spleen, pancreas) or to any major blood vessels (eg, aorta, inferior vena cava). Pleural injuries can result in pneumothorax.
Postoperative complications include secondary hemorrhage from the renal pedicle or any unrecognized injury, atelectasis, ileus, both superficial and deep wound infections, temporary or permanent renal failure, and incisional hernia.
Other well-recognized systemic complications include myocardial infarction, congestive heart failure, pulmonary embolism, cerebrovascular accident, pneumonia, and thrombophlebitis.
Outcome and Prognosis
Historically, 4-10% of patients with RCC have tumor thrombus extending into the inferior vena cava, and 1% have tumor involving the right atrium. Surprisingly, the prognosis for patients with resectable inferior vena caval extension without unresected vena caval wall invasion or lymph node involvement approaches that of stage I cancer. In the absence of metastases, an aggressive surgical approach provides the only hope for a potential cure.
Lymph node involvement and metastases are adverse predictors of survival. [13] People with stage IV disease and with distant metastasis have a 5-year survival rate of less than 10%. If metastasis is discovered preoperatively, surgery is considered only for palliation, for entry into adjuvant treatment protocols, or, possibly, for a solitary metastasis. Metastases, particularly hepatic metastases, recognized at the time of surgery are associated with poor outcomes, and further surgery should probably be abandoned in these patients. Unfortunately, metastases after complete surgical resection is not uncommon. In these patients, postsurgical metastatic RCC is the most common cause of death.
Survival rates in relationship with surgical stage, type of therapy, and pathologic characterization of the primary tumor were studied in 326 patients treated at New York University from 1970-1982. At the time of diagnosis, 25.5% of tumors were stage I, 15% were stage II, 28.5% were stage III, and 31% were stage IV. [14]
The retrospective study showed that patients with tumor confined within the capsule achieved the highest 5-year and 10-year survival rates (88% and 66%, respectively). Survival rates decreased as tumor invaded perirenal fat (67% and 35%, respectively) or regional lymph nodes (17% and 5%, respectively). [14] Tumor invasion into the renal vein alone did not significantly change 5-year survival rates (84%), but it did lower 10-year survival rates to 45%. Outcomes were poor in patients with metastases at the time of nephrectomy, regardless of the site of metastases or type of adjuvant therapy, except for those treated with surgical extirpation of the secondary lesion. Certain tumor characteristics were associated with a better prognosis. These included a size smaller than 5 cm in diameter; lack of invasion of the collecting system, perirenal fat, or regional lymph nodes; and a predominance of clear or granular cells growing into a recognizable histologic pattern. [14]
A study by Morgan et al that included 565 patients who underwent a radical nephrectomy for RCC reported that cell cycle proliferation score was an independent predictor of recurrence and death. [15]
Nephrectomy can ameliorate paraneoplastic syndromes, hemorrhaging, and tumor pain. Paraneoplastic syndromes associated with RCC include the following:
Elevated sedimentation rate (50-60%)

Reversible hepatic dysfunction (10-15%)

Elevated human chorionic gonadotropin levels

Ectopic insulin and glucagon production

Raised alkaline phosphatase levels (10%)

Cachexia, weight loss (35%)
Future and Controversies
Laparoscopy is gaining worldwide acceptance in the treatment of organ-confined renal cancer. Both laparoscopic radical nephrectomy and laparoscopic nephron-sparing procedures are viable alternatives to traditional open, radical, and partial nephrectomy surgeries. [16, 17, 18] Advantages of laparoscopic radical nephrectomy over open nephrectomy include the following:
Decreased need for postoperative analgesic drugs (average of 24 mg of parenteral morphine compared with 40 mg in open surgery).

Shorter hospital stay (median of 1.5 d compared with 5 d in open surgery).

Shorter convalescence period (median of 4 wk compared with 8 wk in open surgery).
Laparoscopy appears to offer the same cancer control results as open surgery, with comparable disease-free survival at 5 years and, recently, at 10 years.
Laparoscopic radical nephrectomy can be performed using the transperitoneal or the retroperitoneal approach. The retroperitoneal approach showed some benefit in quicker vascular control and less operative time. Both approaches are similar in terms of other patient outcomes.
Although laparoscopic radical nephrectomy for organ-confined kidney cancer is now considered the standard of care, several reports concerning locally invasive kidney cancer treated laparoscopically show promising results. Now, the challenge for each urologist is to learn these new technologies if he or she wants to be part of this rapidly growing field.
A study by Romao et al compared the outcomes of laparoscopic nephrectomy with open radical nephrectomy in the management of consecutive pediatric neoplasms. The study reported that laparoscopic nephrectomy is an attractive alternative to open surgery in carefully selected cases of pediatric renal tumors. The study also added that procedure length and incidence of intra-operative rupture were not increased, while post-operative recovery and hospital stay were shorter for laparoscopic nephrectomy. [19]
Renal ablative cryosurgery and radiofrequency are emerging as the newest techniques for treating locally confined renal cancer. [20, 21] Limited experience has demonstrated their effectiveness in treating small peripherally located tumors, with minimum morbidity and a favorable outcome. These treatment modalities are still in their infancy, and clinical trials are currently underway to determine their long-term effectiveness. Despite their good intermediate results, these therapies are performed in patients who are not fit for surgery; NSS is still considered the criterion standard for these small tumors.
Sorafenib and sunitinib are vascular endothelial growth factor receptor inhibitors that are now FDA-approved for treating metastatic RCC. They have demonstrated promising initial results and can be used before or after radical nephrectomy, depending on the patient's general health. Other targeted treatments have been through phase II and III trials, with promising initial results.
What would you like to print?