Workup
Laboratory Studies
All patients should undergo a general and metastatic evaluation prior to considering radical nephrectomy. This includes urine analysis, complete blood cell count, kidney function tests, liver function tests, serum calcium assessment, and bleeding profile, as required.
Imaging Studies
For patients with bone pain or elevated serum alkaline phosphatase levels, a bone scan is also sometimes required, along with chest radiography and abdominal CT scanning.
If involvement of the inferior vena cava is suspected, MRI is performed to demonstrate the presence and the distal extent of inferior vena caval involvement.
CT scanning is an important part of the presurgical evaluation of the renal tumor (see image below). It yields good accuracy in evaluating the tumor size, location, and any invasion of renal collecting system or perirenal fat. The anatomy of the contralateral kidney is also evaluated. CT scan correctly reveals renal vein involvement in 82-95% of cases and vena caval involvement in 95-100% of cases. If the status of the veins is in doubt after CT scanning is performed, venography should be performed. Abdominal and pelvic CT scanning is performed with and without contrast unless the renal function is impaired or the patient has a contrast allergy. Chest CT scanning is performed for all cases in some centers. Other centers perform the study only when the chest radiography findings are abnormal or when the patient has respiratory symptoms.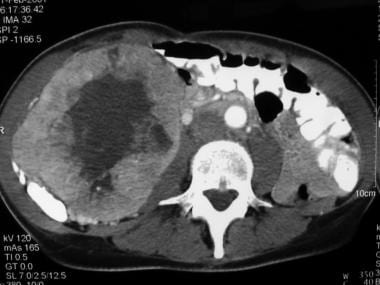 CT finding that confirms a huge right renal mass.
Renal arteriography, although no longer routinely necessary before performing radical nephrectomy, is useful in showing arterialization of a tumor thrombus. However, arteriography may be supplanted by magnetic resonance angiography (MRA) and the even newer CT angiography techniques.
Transesophageal echocardiography can be used to assess vena caval tumor thrombi. It is accurate but invasive and costly and has no diagnostic advantage over MRI in the preoperative evaluation of these patients. [7]
Other Tests
A renal isotope scan is needed when the contralateral kidney appears smaller or is atrophied because this may change the management approach to partial nephrectomy in some patients.
Diagnostic Procedures
If a thrombus is present, preoperative embolization of the kidney often shrinks the thrombus, facilitating intraoperative removal. However, not all the centers embolize the kidney to shrink the thrombus. Perform embolization the day before or the same day of the surgery so that postembolization renal inflammation does not complicate the nephrectomy. Embolization may also be performed in some patients who are not fit enough for surgery and who have extensive bleeding. Recently, Subramanian et al (2009) reported on their 17-year experience with embolization. Of the patients in the report, 135 underwent embolization and 95 underwent surgery without embolization. They concluded that embolization does not provide any measurable benefit in reducing blood loss. Moreover, it was associated with increased major perioperative complications and mortality. [8]
What would you like to print?