Overview
Overview
Introduction to the TUNA Procedure
Transurethral needle ablation (TUNA) of the prostate is a procedure used to treat benign prostatic hyperplasia (BPH). It is performed by placing interstitial radiofrequency (RF) needles through the urethra and into the lateral lobes of the prostate, causing heat-induced coagulation necrosis. The tissue is heated to 110°C at an RF power of 456 kHz for approximately 3 minutes per lesion. A coagulation defect is created.
Transurethral resection of the prostate (TURP) was originally developed in the United States between 1920 and 1930 and was generally considered the criterion standard for surgical management of BPH.
Advances in the surgical treatment of BPH have come via applications of traditional electrosurgical current. TUNA is one of these minimally invasive treatments of prostatism. It began as a treatment in the early 1990s, with the first preliminary trials on humans in 1993. The first studies in the United States began in 1994, and the US Food and Drug Administration approved TUNA of the prostate in 1996.
However, a decline in the use of this procedure has occurred as newer techniques to treat BPH (laser ablation/enucleation, thermotherapy) have arisen and become more popular. [1] Contributing to its decline, TUNA has also been noted to have a high retreatment rate at 20 months follow-up. [2]
The TUNA system produces thermal tissue ablation by applying low-level RF energy to prostate tissue. The generated RF is in the form of electrical energy and is delivered by the 2 electrodes, which are in contact with the patient. As the prostate cells resist passage of the current, thermal energy is produced by friction and by the heating of water molecules. This leads to tissue heating and, ultimately, coagulation necrosis. Thermal lesions occur only in a localized area, because the RF signal is transmitted into tissue only by direct contact.
Although the ideal use of TUNA has been thought to be in patients with large lateral lobes, Naslund and Stitcher reported that TUNA can be used effectively in patients with large median lobes. The key to this form of treatment is to ensure that the needles are in the median lobe and do not protrude into the bladder.
Indications for the Performance of TUNA
Minimally invasive therapy is an option after failed medical management for benign hyperplasia of the prostate. This therapy is also the primary treatment for patients who are not interested in medical therapy and are unwilling to undergo TURP.
Generally, the ideal patient for TUNA is thought to be a man with obstructive symptoms and a prostate of 60 g or less with predominantly lateral lobes. Patients found to have larger glands may be offered different forms of treatment.
A small study (N=121) by Law et al showed that TUNA is most appropriate for patients with symptomatic BPH who are unable to tolerate the side effects of medication or are unwilling to commit to long-term medical therapy, are at high risk for complications of general anesthesia, or have a small prostate volume of 20-30 mL. [3]
Contraindications to the Performance of TUNA
The manufacturer lists the following contraindications to TUNA therapy:
Active urinary tract infection

Neurogenic, decompensated, or atonic bladder

Urethral strictures or muscle spasms that prevent insertion of the cartridge sheath

Bleeding disorders or patients taking anticoagulation medication unless antiplatelet medication has been discontinued for at least 10 days

ASA class group V patients

Clinical or histological evidence of prostatic cancer or bladder cancer

Prostate gland that is less than 34 mm or greater than 80 mm in transverse diameter

Presence of any prosthetic device in a region that may interfere with the procedure

Patients whose prostate has previously been treated with nonpharmacologic therapies

Presence of cardiac pacemaker, implantable defibrillator, or malleable penile implants

Patients with any component(s) of an implantable neurostimulation system
Very limited experience has been gained regarding the use of TUNA to treat patients with high bladder necks. At this time, these patients should probably be treated with another form of therapy.
Relevant Anatomy
A normal prostate gland is approximately 20 g in volume, 3 cm in length, 4 cm wide, and 2 cm in depth. As men get older, the prostate gland is variable in size secondary to benign prostatic hyperplasia. The gland is located posterior to the pubic symphysis, superior to the perineal membrane, inferior to the bladder, and anterior to the rectum. The base of the prostate is in continuity with the bladder and the prostate ends at the apex before becoming the striated external urethral sphincter. The sphincter is a vertically oriented tubular sheath that surrounds the membranous urethra and prostate. See the images below.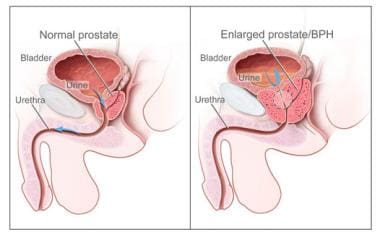 Two-panel drawing shows normal male reproductive and urinary anatomy and benign prostatic hyperplasia (BPH). Panel on the left shows the normal prostate and flow of urine from the bladder through the urethra. Panel on the right shows an enlarged prostate pressing on the bladder and urethra, blocking the flow of urine. Image courtesy of National Cancer Institue.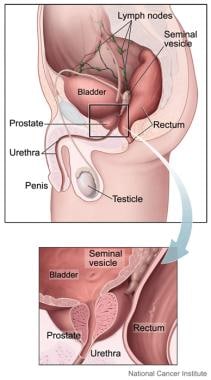 The prostate is part of the male reproductive system. It is about the size and shape of a walnut. It sits low in the pelvis, below the bladder and just in front of the rectum. The prostate helps make semen, the milky fluid that carries sperm from the testicles through the penis when a man ejaculates. The prostate surrounds part of the urethra, a tube that carries urine out of the bladder and through the penis. Image courtesy of National Cancer Institue.
For more information about the relevant anatomy, see Prostate Anatomy, Male Urethra Anatomy, and Male Reproductive Organ Anatomy.
Preparation
Anesthesia Use in TUNA
One advantage of TUNA (in comparison with TURP) is that a general or spinal anesthesia is not required.
Most patients are treated with oral sedation (Valium and Demerol) and urethral gel. Local anesthesia is placed with ultrasonographic or digital guidance. TUNA typically is an outpatient procedure.
TUNA Equipment Overview
The needles used in TUNA are covered by insulated sheaths, which allow for control of the length of the exposed needles. Thermosensors on the end of the catheter, in the needle sheaths, and in the rectum measure the temperature in the prostate and periprostatic areas. The shaft of the delivery catheter can be rotated 180°.
Preprocedural Considerations
In general, no set workup studies have been determined beyond the standard history and physical examination, which are required before transurethral needle ablation (TUNA) can be performed.
The patient needs to have sterile urine prior to undergoing TUNA. If this is not the case, he should be adequately treated with antibiotics.
Prior to starting the procedure, transrectal ultrasonography is performed to determine the length and width of the prostate. (The periprostatic block can also be placed at this time under ultrasonographic guidance.) The prostate's length helps to determine the number of lesions required to appropriately treat the gland. The width is used to determine the needle length. The number of treatment planes can also be determined using ultrasonography.
The fact that the size of the prostate does not correlate with the degree of symptoms is well known. Thus, ultrasonography to evaluate for the size of the prostate would not help in the diagnosis. Also, performing a cystoscopy to evaluate for size would similarly not be helpful in establishing a diagnosis of BPH but would help in determining if a median lobe is present.
Technique
Patient Care Following TUNA
Postoperatively, the patient typically wears a catheter for 1-3 days. The rate of postoperative urinary retention is reportedly between 13% and slightly over 40%. Treatment is typically conservative (ie, catheter drainage), and in most patients, the retention tends to resolve in less than 2 days. Secondary catheterization is reported in 12% of patients, and most patients are able to return to work in 2-3 days.
Postoperative antibiotic coverage is recommended for 3-5 days after TUNA or after the catheter is removed.
Outcome and Prognosis
Numerous clinical trials have been performed worldwide. Various parameters are used to assess the performance of TUNA. Subjective improvement ranges from 56-61% at 6 months, 40-70% at 1 year, and 57-73% at 2 years.
In a review of more than 10 studies on 546 patients, the overall average improvement was 58% at 1 year, 60% at 2 years, and 66% at 3 years.
In a study on the durability of TUNA 5 years after treatment, Hill et al found that patients treated with TUNA had stable responses over 5 years, based on International Prostate Symptom Score (IPSS), quality of life, and peak flow rate (PFR). [4] These were all statistically significant at all yearly intervals when compared to baseline. At 5 years, IPSS scores decreased from 24 to 10.7, quality of life improved from 11.8 to 3.8, and PFR improved from 8.8 mL/s to 11.4 mL/s.
This is in contrast to a study by Rosario et al, who demonstrated treatment failure occurring in 83% of men at a median of 20 months. The need for retreatment in this series led the authors to conclude that TUNA is not a cost-effective option for patients in whom medical therapy has failed. [2]
The decrease in the postvoid residual urine volume after a TUNA procedure is 13-80%. Acceptable evidence does not exist that demonstrates a significant reduction in prostate size. No long-term data beyond 3 years are available.
Trials comparing TUNA with TURP have demonstrated the superiority of TURP. Bruskewitz et. al compared the two procedures and found a 58% improvement in symptoms, but the re-treatment rate was high in the TUNA patients at 21.2-51%. [5, 6] Meta-analyses confirm these findings, showing that TUNA does provide symptomatic improvement but symptom and quality-of-life scores were all higher with TURP. [7, 6] However, the complication rate was lower in the TUNA group, with fewer reports of retrograde ejaculation, erectile dysfunction, and strictures when compared with TURP. [4, 7] Indeed, a literature review by Marra et al indicated that while TUNA, transurethral incision of the prostate, and transurethral microwave thermotherapy for BPH offer less symptomatic improvement than does TURP, these surgeries should be considered when maintenance of normal ejaculation is desired. [8]
Few studies exist regarding the efficacy of the TUNA procedure on the treatment of urinary retention secondary to BPH. However, Zlotta et al reported a success rate of 79% (30 of 38) in patients with retention, [9] and Millard et al reported a treatment success rate of 78% (15 of 20) in patients with retention. [10]
TUNA-Associated Complications
The intraoperative and postoperative morbidity and mortality rates associated with TURP are significantly higher than those associated with TUNA. TUNA is associated with fewer sexual side effects and less bleeding. The anesthetic requirement is also lower.
As mentioned, reported rates of urinary retention in patients who have undergone TUNA are between 13% and slightly over 40%. Retention appears transient, lasting from 12-48 hours. Postoperative catheter usage alleviates this problem.
Urinary incontinence is not reported.
Macroscopic hematuria is noted in most patients for up to 24-48 hours. This is usually self-limiting and requires no treatment. A study by Haroun et al found that the most common complication of TUNA was mild hematuria (85.7%). [11] Ensure that patients with coagulopathies have them corrected prior to TUNA.
Irritative voiding symptoms occur in up to 40% of the patients; however, these are typically self-limiting and resolve within 7 days. These complaints rarely last beyond 4 weeks.
Urinary tract infection and epididymitis are essentially nonexistent in the face of sterile urine preoperatively and appropriate antibiotic coverage postoperatively. Coverage is recommended for 3-5 days after TUNA or after the catheter is taken out.
Urethral strictures may occur from instrumentation of the urethra. Reported rates are less than 2%; however, reported rates with standard TURP are as high as 7.3%.
Little evidence suggests that retrograde ejaculation occurs. Marginal decreases in ejaculatory fluid are reported. Reported rates after TURP are 50-95%.
Impotence is reported in approximately 3% of the patients, and deterioration in function is reported slightly more often. Improvement in erectile function is reported by 14-21% of men.
Postoperative hematology and electrolyte changes are not noted in these patients.
Some patients fail to resume voiding or do not experience significant improvement in symptoms following TUNA. These patients are typically treated with a formal TURP. Rosario et al reported that 22 out of 71 (31%) men treated with TUNA for symptomatic benign prostatic hyperplasia (BPH) proceeded to a TURP during a 1-year follow-up study. [12]
Kahn et al, Rodrigo Aliaga et al, Millard et al, and Zlotta et al reported performing a TURP following initial treatment with TUNA in 2 of 45 patients (4%), 7 of 42 patients (14%), 5 of 20 patients (25%), and 8 of 38 patients (21%), respectively. [13, 14, 10, 9] Thus, a total of 44 patients out of 216 (20%) went on to undergo TURP. Long-term follow-up examinations over a period of months to years are needed to reevaluate symptom improvement.
Long-Term Monitoring
Determining the length of time necessary for the coagulation defect to mature is difficult. Pathologic studies performed at 1 month following TUNA continue to show areas of maturing fibrosis and necrosis. Naslund feels that patients may not see improvement in voiding symptoms for 2-6 weeks. Furthermore, the patient may continue to see improvement for up to 2-3 months postoperatively. Therefore, the therapy should not be considered a failure until after 2-3 months.
Patient Education
Although data suggest that the long-term outcomes associated with TUNA may not be as durable as those achieved with TURP, the decreased associated morbidity makes TUNA a useful treatment option for prostatism in select patients. Ultimately, the patient must decide whether opting for a procedure that may be less effective but has fewer side effects is the best option for him. The patient needs to be made aware of all options for treating BPH to allow him to make an informed decision regarding therapy.
For patient education information, see eMedicineHealth's Enlarged Prostate
What would you like to print?