Treatment
Medical and Surgical Therapy
Medical therapy
No medical therapy is available for ureteral stenosis or ureteropelvic junction (UPJ) obstruction.
Surgical therapy
Alternatives to ureterocalicostomy include autotransplantation with a pyelovesicostomy, ureteroileal interposition, buccal ureteroplasty, long-term nephrostomy tube or ureteral stent, renal capsule flap, and nephrectomy. The decision to perform a nephrectomy must be based on the level of function in the obstructed kidney, future risk of chronic kidney disease based on comorbidities, and on the function of the contralateral kidney. If the obstructed kidney is contributing 25% or more of the total renal function, nephrectomy should be avoided, if possible.
Preoperative Details
Preoperative drainage of an obstructed kidney is recommended if concomitant infection, renal insufficiency, or severe pain is present. A ureteral stent is an option as it allows the patient to avoid external drainage. Although a ureteral stent can facilitate ureteral dissection of the ureter during surgery, it can lead to additional peri-ureteral fibrosis of the non-strictured ureter that may reduce the laxity of the ureter and make reconstruction more challenging. This can improve with 2-4 weeks of stent removal prior to surgery. If the obstruction is of such severity that passage of a stent is not possible or avoidance of ureteral stent is required, percutaneous nephrostomy placement may be necessary.
If the degree of renal function is low enough that nephrectomy is considered, measurements of differential renal function using 24-hour urine collection or nuclear renal scan should be repeated several weeks after temporary drainage is established to determine whether any recovery of function has taken place that would render the kidney salvageable. This also allows documentation of actual baseline kidney function.
Intraoperative Details
Preliminary cystoscopic or antegrade placement of a ureteral catheter can aid in dissection of the ureter and renal pelvis. If near infrared fluoroscence (NIRF) imaging is available, the indocyanine green (ICG) can be instilled in the ureter to aid in ureteral dissection [10] . Surgery can be performed via an open, laparoscopic, or robotic approach based on the surgeon's preferred approach. The ureter is isolated in the retroperitoneum and dissected proximally as far as possible, taking care to preserve a large amount of periureteral tissue. The ureter is then divided just distal to the area of fibrosis (see image below). The proximal ureteral stump is ligated with absorbable suture, even if complete obstruction is present radiologically, to prevent potential leakage into the retroperitoneum.
The kidney is then mobilized to allow access to the lower pole. If the length of ureter is inadequate to reach the lower pole, the kidney can be more thoroughly mobilized to allow it to be displaced downward. The parenchyma over the lower-pole calyx is then resected to reveal the lower pole calyx. The amount of parenchyma to be removed varies with the extent of cortical thinning. Simple incision of the parenchyma, instead of resection, results in postoperative stricture of the ureterocaliceal anastomosis. If substantial parenchymal tissue is present over the lower calyx, the technique may require more careful control of the parenchymal blood supply and maintenance of hemostasis (see Partial Nephrectomy). In a horseshoe kidney, this resection may include removal of the entire isthmus joining the two moieties. See images below.
The proximal ureter is then spatulated laterally, and the ureterocaliceal anastomosis is performed over an internal stent (see image below). An initial interrupted suture of small-diameter (eg, 4-0 or 5-0) absorbable suture material is placed from the apex of the ureteral spatulation to the lateral wall of the calyx. A second interrupted suture is placed from the medial unspatulated wall of the ureter to the medial wall of the calyx, 180° from the initial suture. Approximately 6-10 additional sutures are placed in an interrupted fashion, joining the posterior and anterior aspect of the ureter and calyx. No sutures are tied until all sutures are placed in order to facilitate visualization and careful placement of subsequent sutures. Once sutures are placed circumferentially, they are secured.
If possible, close the renal capsule over the cut surface of the parenchyma, taking care to not compress the ureterocaliceal anastomosis. The anastomosis should be surrounded by viable perinephric fat or omentum (see image below). Consider the placement of a nephrostomy tube and an external drain.
Both a transperitoneal and a retroperitoneal minimially-invasive approach have been described. In the transperitoneal approach, the patient is placed in the 45-60° flank position, and 3-4 ports are placed in the abdomen. The colon is mobilized to gain access to the renal hilum. A 2-cm circular rim of the tip of the lower pole renal parenchyma is excised. The UPJ is then transected, and the ureter is spatulated laterally. End-to-end ureterocaliceal anastomosis is performed in a mucosa-to-mucosa fashion using running 3-0 polyglactin suture. Transperitoneal robotic approaches to ureterocalicostomy have been described, with and without hilar clamping. In the retroperitoneal approach, the patient is placed in the lateral position with hyperextension. Typically four ports are placed in the retroperitoneum. The perirenal fat is dissected off the kidney circumferentially. The ureter is dissected with periureteral tissues intact from the ureteropelvic junction. Healthy appearing ureteral tissue distal to the level of stenosis is transected and spatulated along its posterolateral border. End-to-end anastomosis ureterocaliceal anastomosis is performed in a mucosa-to-mucosa fashion using running 3-0 polyglactin suture.
Postoperative Details
External drains are advanced and removed 24-48 hours after any urinary drainage has ceased. If a nephrostomy tube has been placed, nephrostography is performed at least 7-10 days postoperatively. If the study findings show no obstruction or extravasation, the tube is clamped for 12-24 hours and then removed as long as there is no flank pain, fever, or leakage.
Follow-up
Internal stents are removed in an outpatient setting in 4-6 weeks. Perform follow-up evaluations of the functional results with intravenous urography or nuclear renography approximately 2 weeks after stents or nephrostomy tubes have been removed. If the patient becomes symptomatic, performing studies earlier may be indicated. Postoperative study findings should show improvement when compared to preoperative study findings. See the image below.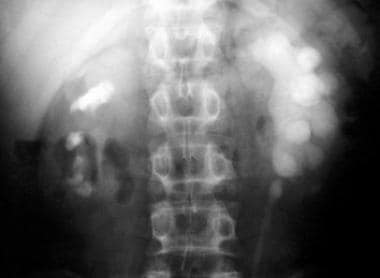 Postoperative intravenous pyelogram showing drainage from calyx into ureter after ureterocalicostomy.
For excellent patient education resources, see eMedicineHealth's patient education article Intravenous Pyelogram.
Complications
Prolonged leakage usually resolves spontaneously. If a ureteral stent is not placed intraoperatively, is removed prematurely, becomes obstructed, or migrates distally with resulting anastomotic drainage persisting for 7-10 days postoperatively or recurring after the external drain has been removed, perform retrograde studies and replace the internal stent.
Urinoma formation secondary to extravasation can occur even with adequate placement of drains, stents, and nephrostomy tubes. This is managed best with direct percutaneous drainage of the fluid collection using ultrasound or CT guidance.
Recurrent stenosis occurs in up to 30% of patients. [3] If it occurs, options include autotransplantation with a Boari flap pyelovesicostomy, ureteroileal interposition, long-term nephrostomy tube/ureteral stent, and nephrectomy.
Outcome and Prognosis
Success rates of 70-90% have been reported following ureterocalicostomy. In the largest series reported, 72 patients with a 60-month follow-up demonstrated a success rate of 69.5%. [3] Many patients in whom ureterocalicostomy fails eventually lose the kidney.
Although the studies involving laparoscopic ureterocalicostomy have been relatively scarce, reported success rates are similar to those of open ureterocalicostomy. Gill et al reported on 2 patients undergoing transperitoneal laparoscopic ureterocalicostomy with documented improvement in renal drainage, although one patient did ultimately undergo nephrectomy because of persistent flank pain. [11] Terai et al reported on one case of a patient undergoing retroperitoneal laparoscopic ureterocalicostomy, with no recurrence at 2-year follow-up. [12]
According to Radford et al, ureterocalicostomy helps relieve obstruction in children for various indications, including gross pelviureteric junction obstruction with unfavorable anatomy. [13] Osman et al reached a similar conclusion for the treatment of complex cases of pelviureteric junction obstruction in adults. [14]
More recently, robotic ureterocalicostomy has been reported as successful in the adult and pediatric literature. Mufarrij et al reported his experience with upper urinary tract reconstruction, including one patient treated with robotic ureterocalicostomy. [15] Patient positioning and transperitoneal approach are similar to those used in the laparoscopic approach. The patient remained asymptomatic at 6 months' follow-up. Casale et al reported on their vast experience of robotic ureterocalicostomy in 9 pediatric patients aged 3-15 years. At 12 months' follow-up, none of these patients had persistent obstruction as evaluated with nuclear renal scanning, and no major complications were reported. In both adult and pediatric patients, concomitant pyelolithotomy was also performed during the same session. [16] The most extensive cases series focused on the adult population to date was recently published by Chabhra et al, who reported on a series of 6 procedures in 5 patients who underwent robotic ureterocalicostomy, including a bilateral robotic ureterocalicostomy, at a single center between 2011 and 2015. At a median follow-up of 11 months, there was only one incident of recurrent obstruction. [17]
Future and Controversies
An element of controversy exists in all salvage procedures for previous surgical failures. Because these severe cases are uncommon and exhibit an array of anatomic findings, direct comparisons of the techniques available for salvage are unavailable. In the absence of such data, urologists usually perform the salvage procedure with which they have the highest comfort level.
The future of urinary tract reconstruction may involve extra–urinary-tract tissue used as grafts or vascular pedicle flaps to replace damaged portions of ureter. Naude reported the successful use of buccal mucosal grafts with omental wrap in 4 patients with segmental ureteric loss, [18] and Tsaturyan et al reported favorable results with the use of buccal mucosa grafts with omental wraps in a series of 5 patients with long ureteral strictures. [19] Innovative tissue engineering technology may produce ureteral tissue that closely mimics native ureter for ureteral replacement. Similar technology is being used by Atala to engineer bladder, cavernosal, urethral, and ureteral tissue. [20]
What would you like to print?