Workup
Laboratory Studies
Urinalysis should be obtained in any child with an unexplained fever or suspicion of a urinary tract infection (UTI); the presence of pyuria, leukocyte esterase, and nitrites suggests a UTI. Urine culture is obtained to identify the offending pathogen and to assess for appropriate antibiotic susceptibility.
A complete blood cell count (CBC) is obtained to determine the degree of systemic infection that may be present, as well as to ascertain responsiveness to antibiotic therapy. Serum chemistries, especially blood urea nitrogen (BUN) and serum creatinine levels, are obtained to determine baseline information and to assess renal function. Blood cultures are obtained in the setting of fever or urosepsis.
Fungal cultures are obtained in infants who have been on long-term antibiotic therapy or in immunocompromised patients with clinical evidence of UTI
Imaging Studies
Kidney and bladder ultrasonography
Kidney and bladder ultrasonography is the first-line imaging study for evaluating the upper and lower urinary tract in children. Ultrasound findings dictate subsequent evaluations. [5]
Note the following:
A ureterocele is seen as a fluid-filled cystic intravesical mass.

Hydroureteronephrosis is noted as a dilatation of renal pelvis and the ureter.

Many ureteroceles are compressible with bladder filling and may be missed if the bladder is very full during imaging.

Ureteroceles associated with duplicated collecting systems typically will manifest upper pole hydroureteronephrosis on ultrasound.

Kidney ultrasonography also provides information on the thickness of renal cortex and echogenicity of renal parenchyma. The degree of echogenicity is indirectly proportional to the degree of renal dysplasia that is present.

Bladder ultrasonography documents the efficiency of bladder emptying by showing the amount of postvoid residual urine that is present.
Voiding cystourethrography
Voiding cystourethrography (VCUG) is essential to evaluate the lower urinary tract for a ureterocele, urethral diverticulum, posterior urethral valve (PUV), ectopic ureter, and vesicoureteral reflux. VCUG is obtained in children to confirm the diagnosis of ureterocele and assess for concomitant vesicoureteral reflux.
Ureterocele appears as a smooth, round filling defect along the base of the bladder. As the bladder fills, some ureteroceles will evert and appear as a bladder diverticulum.
Urethral diverticulum appears as an outpouching of the urethra. A urethral diverticulum may also represent an everting ureterocele.
VCUG can be used to document the efficiency of bladder emptying with assessment of the amount of postvoid residual urine that is present.
Posterior urethral valves (PUV) are included in the differential diagnoses of antenatal hydronephrosis. On VCUG, PUV are characterized by visualization of the valve leaflets, dilatation and elongation of the posterior urethra, and bladder neck hypertrophy.
Vesicoureteral reflux of the ipsilateral lower pole ureter approaches 50%, and 25% of the kidneys contralateral to the ureterocele will also have vesicoureteral reflux. In about 10% of cases, there will be reflux into the ureter drained by the ureterocele itself.
Diuretic nuclear renography (nuclear renal scan)
Nuclear renography may be performed to assess the relative function of the kidneys and upper renal pole when a duplicated system is suspected.
Nuclear renal scan using technetium 99m diethylenetriaminepentaacetic acid (DTPA) is an excellent study for establishing the differential renal function objectively and the efficiency of drainage of the dilated collecting system (washout times). DTPA is cleared almost exclusively by glomerular filtration. Its rate of clearance provides an excellent estimate of glomerular filtration rate (GFR).
Alternatively, technetium 99m mercaptoacetyltriglycine (MAG3) may be used. This radioisotope is rapidly cleared by tubular secretion and is not retained by the kidneys. MAG3 is an excellent replacement for DTPA (eg, diuretic renography) in the pediatric population.
Intravenous pyelography (IVP)
Historically, IVP has been the most useful study in diagnosis of ureterocele, although presently most ureteroceles are diagnosed by ultrasound. See the image below.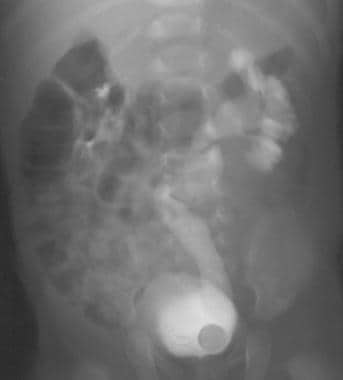 Intravenous urogram demonstrating left hydroureteronephrosis due to a ureterocele represented by the round filling defect located at the left base of the bladder (Courtesy of Steven Kraus, MD, Cincinnati, Ohio)
Intravenous pyelography is useful for delineating renal anatomy and providing a subjective estimation of relative renal function. The following may be seen on IVP:
Hydronephrosis, revealing dilatation of collecting system

Hydronephrotic upper pole displacing the lower pole moiety laterally and inferiorly (ie, the "drooping lily")

Ureteral displacement by the hydroureter or hydronephrotic upper pole moiety
The cobra head sign
On IVP or computed tomography (CT) urogram, the presence of an intravesical ureterocele is indicated by the cobra head sign. In this sign, the dilated intravesical portion of the ureter forms the cobra's head, while the extravesical ureter forms the body of the cobra. [6]
Magnetic resonance imaging and computed tomography
MRI is an excellent anatomical study for evaluating rare cases with suspected dysplastic, nonfunctioning, ectopic renal moieties and ectopic ureteral insertion.
CT scanning of the abdomen and pelvis provides additional clues for diagnosing simple or ectopic ureterocele in adults when kidney ultrasonography findings are equivocal. CT can reveal the presence of a duplicated collecting system, hydronephrotic upper pole segment, and dysplastic upper pole moiety. It is an excellent tool to detect ureteral calculi; however, abnormal ureteral anatomy and ureteral dilatation are better imaged with MRI.
Procedures
Cystoscopy, vaginoscopy, or retrograde pyelography are endoscopic procedures that allow direct inspection and examination of the lower urinary tract, as well as the female genitalia. Considerations are as follows:
For optimal demonstration of a ureterocele, one must examine the bladder when it is both full and empty

When radiologic study results arouse suspicion of a ureterocele in an adult, cystoscopy often confirms the imaging findings

If clinically indicated, the ureterocele may be treated with endoscopic incision or unroofing in the same setting
Histologic Findings
Typically, the walls of the ureterocele demonstrate loss of muscle and collagen. Incomplete muscular development of the distal ureter may be responsible for expansion of the ureterocele out of proportion to the normal ureter. However, the walls of stenotic ureteroceles appear to have greater muscle composition than other types of ureteroceles.
What would you like to print?