Workup
Laboratory Studies
Useful serologic studies include basic chemistry and liver function tests, particularly alkaline phosphatase, that may reveal bone metastases. Other useful laboratory studies include complete blood count, urinalysis, and urine cytology. Unfortunately, none of those are a good diagnostic study, and all have poor sensitivity for urethral cancer. Dalbagni et al showed that urine cytology in particular yields poor sensitivity in diagnosing urethral carcinoma. [15] For proper and timely diagnosis, the clinician must have a keen index of suspicion and access to cystoscopy.
Perform urine culture to rule out infection. Any and all local wound infections or drainages should be assessed via culture and cytology examination because local invasion of urethral cancer can create sinus tracts, fistulae, and abscesses.
Imaging Studies
Contrast extravasation during imaging is evidence of urethral fistula and should increase suspicion of urethral carcinoma. See the images below.

(A) Normal anatomy. Sagittal T2-weighted image labelling the prostatic, membranous, and bulbous segments of the normal male urethra. (B) Normal anatomy. Illustration of the normal female urethra in axial cross-section. (C) Normal anatomy. Axial T2-weighted image of a normal female urethra. Note the hypointense signal of the mucosa and outer muscular layer and hyperintense submucosa. Image used with permission from Del Gaizo A et al, Magnetic resonance imaging of solid urethral and peri-urethral lesions. Insights Imaging. Aug 2013;4(4):461-9. Available at: http://www.ncbi.nlm.nih.gov/pmc/articles/PMC3731464/.
Magnetic resonance imaging (MRI) has evolved into a superior imaging modality for the evaluation of urologic malignancies. MRI is increasingly being used in determining the extent of local invasiveness of urethral neoplasms for accurate staging and preoperative planning. Iodinated contrast is not needed. Blood flow into vascular spaces can often be visualized without enhancement.
When contrast is required to detect enhancing lesions, gadolinium-diethylenetriamine pentaacetic acid has been used as an intravascular agent. Reactions to this agent are rare, and kidney function is not as significant a limiting factor as it is for iodinated contrast, which is used for intravenous urography (IVU) and computed tomography (CT) scanning.
MRI offers multiplanar imaging using 3 orthogonal planes, thus providing more anatomic detail and excellent soft-tissue contrast with the use of spin-echo T1- and T2-weighted images. In both men and women, MRI can assess local disease extension and increase the accuracy of staging with wide-field imaging and the use of special suprapubic and transrectal phased-array coils. Lymph nodes can be evaluated simultaneously, and differentiation between nodes and vessels is easier with MRI than with CT.
MRI also may be useful in monitoring the effect of neoadjuvant chemoradiotherapy changes prior to surgery. A retrospective study of a small number of female patients performed by Gourtsoyianni et al found that MRI was accurate in the evaluation of tumor extension in all patients after completion of chemoradiotherapy. [16]
MRI is not without its drawbacks. In addition to its cost, it is a sophisticated imaging technique and requires specialized personnel to provide adequate imaging and interpretation. Benign urethral lesions may mimic characteristics of solid urethral masses. As with other imaging modalities, MRI is unable to detect micrometastases and cannot definitively determine prognosis. Despite these drawbacks, MRI is being used increasingly for the staging of urethral cancer and is typically the imaging modality of choice in the evaluation of patients with urethral cancer.
Staging of urethral cancer is typically performed via chest radiography and/or CT scanning of the chest, abdomen, pelvis, and perineum. Radionuclide bone scans are useful in detecting metastases with advanced local disease or elevated alkaline phosphatase levels.
Other studies that have historically been used and can be considered in the workup of urethral cancer. IVU primarily is useful in evaluating hematuria if this is the presenting symptom and the diagnosis has not yet been confirmed. However, if urethral cancer is strongly suspected, CT scanning would be preferable because it would help evaluate both the upper tracts regarding the hematuria and the adjacent pelvic structures for the extent of possible tumor invasion.
Retrograde urethrography and voiding cystourethrography may be helpful for diagnosis in conjunction with cystoscopy. An irregularly shaped urethra raises the index of suspicion. Remember that the association between urethral strictures and urethral cancer is highly significant.
Positron emission tomography (PET) is generally not indicated in patients with primary urethral cancer, but it may be useful if there is concern for metastases. PET scanning is most valuable in the evaluation for suspected metastases to distant sites after local treatment and in evaluating treatment for systemic disease with chemotherapy.
Other Tests
Flexible cystoscopy is a minimally invasive office procedure that has proven to be the most sensitive test for detecting lower urinary tract cancer. One can evaluate the extent of urethral involvement of strictures or tumors in preparation for tissue diagnosis. Biopsies are probably best reserved for the operating room, where anesthesia is available.
Be wary of any papillary mass, macular or papular areas, or mucosal ulceration at the time of cystoscopy. Also be aware of any particularly erythematous areas. Any of the aforementioned findings should raise one's index of suspicion, and biopsy would be indicated. Benign urethral stricture disease is generally represented by spongiofibrosis, which appears smooth, flat, regular, and nonerythematous.
Because many urethral cancers create and/or arise in the setting of urethral stricture(s), it is often not possible to directly visualize the entire urethra. In the setting of known urethral cancer, it is not advisable to dilate the urethra, because this may result in further pain, bleeding, and disruption of the tumor. [14]
Direct visual cystoscopy is appropriate, as the urethra is generally not the primary site of cancer (particularly transitional cell carcinoma) if the bladder is also involved. For instance, primary urothelial carcinoma of the prostatic urethra without bladder involvement is staged as urethral cancer, but if a synchronous bladder tumor is present, the cancer is staged as a bladder tumor based on the depth of invasion of the bladder lesion. Some experts contend that this is a stage IV bladder cancer regardless because of the extension into the prostate.
Diagnostic Procedures
Transurethral biopsy is essential to confirm a cystoscopic finding of urethral cancer. Under direct vision, biopsy forceps or an electric loop with a cutting current is extended from the cystoscope to resect and obtain a satisfactory biopsy specimen. In very superficial tumors, this resection technique can be both diagnostic and therapeutic. Caution is indicated, however, if the tumor is located close to the external sphincter muscle as urinary incontinence can result in both men and women from overly aggressive resection.
Percutaneous aspiration of a local fluctuant mass can provide a specimen for culture and cytology.
Needle-core biopsy may prove diagnostic on a palpable lesion deep to the skin.
Histologic Findings
Male urethra
Tumors of the male urethra can be categorized according to their location and histology. Anatomic distinctions are helpful not only in predicting the histologic association of the neoplastic cells but also in planning treatment. The male urethra is subclassified anatomically as follows:
Prostatic urethra: This is the urethra as it traverses from the bladder neck to the urogenital diaphragm (UGD).

Membranous urethra: This is the urethra traversing the UGD, including the external sphincter muscle.

Bulbar urethra: This is the portion of the urethra measuring from the UGD to the penoscrotal junction.

Penile or pendulous urethra: This is the remainder of the urethra as it extends from the penoscrotal junction to the urethral meatus. The terminal aspect of the penile urethra is referred to as the fossa navicularis.
The prostatic urethra is lined predominantly by transitional cells, while the bulbar, membranous, and penile urethras are lined by a stratified or pseudostratified columnar epithelium. Patches of stratified squamous epithelium are common in the bulbar and penile urethra and become predominant in the distal urethra. At the terminal fossa navicularis, stratified squamous epithelium occurs as a rule. Within the mucosa, occasional mucous goblet cells may be found throughout the length of the urethra.
Female urethra
The female urethra is 3-4 cm in length and is lined primarily by stratified squamous cells, although pseudostratified columnar epithelium can be found. The epithelium forms numerous invaginations, the outpocketings of which are lined by clear mucous cells.
Generally, tumors in the proximal two-thirds of the female urethra are high grade and locally advanced, while tumors in the distal third are usually low-grade, less-extensive carcinomas.
Location and histologic subtype
A Surveillance, Epidemiology, and End Results (SEER) study found that primary urethral cancer may manifest as transitional cell carcinoma (55%), squamous cell carcinoma (21.5%), and/or adenocarcinoma (16.4%). [9] This is in contrast to findings in previous studies, which suggested squamous cell carcinoma was the most prevalent histologic subtype. Previous studies also reported that in males, these tumors occur predominantly in the bulbomembranous urethra (60%), followed by the penile urethra (30%), and then by the prostatic urethra (10%). The SEER study did not include information on tumor location.
See the image below.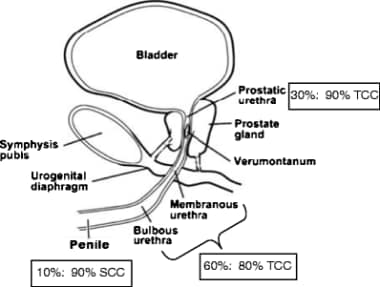 Illustration of the male urethra in the sagittal plane highlighting the percentage of urethral carcinoma by location (1st percentage) and the most common histological subtype in that location (2nd percentage). TCC = transitional cell carcinoma, SCC = squamous cell carcinoma. Image used with permission from Del Gaizo A et al, Magnetic resonance imaging of solid urethral and peri-urethral lesions. Insights Imaging. Aug 2013;4(4):461-9. Available at: http://www.ncbi.nlm.nih.gov/pmc/articles/PMC3731464/.
In general, most proximal tumors (prostatic urethra in men, proximal third in women) are conventional urothelial carcinomas. Distal carcinomas (membranous, bulbar, or penile urethra in men, distal two-thirds in women) may be transitional or squamous cell carcinomas. Adenocarcinoma may arise at any site along the urethra and is commonly associated with diverticula and prostatic adenocarcinoma. Other rare types of primary urethral cancer have been reported in the literature and include lymphoma, melanoma, paraganglioma, sarcoma, small cell cancer, and undifferentiated tumors. [14]
Staging
Once the diagnosis is confirmed by biopsy, clinical staging is important in establishing a therapeutic plan and in determining prognosis. Staging is the primary factor influencing the type and extent of treatment. Modalities used to clinically stage urethral cancers include physical examination, chest radiography, and CT scans of the abdomen and pelvis.
Urethral cancer is staged according to the tumor-node-metastasis (TMN) criteria outlined by the American Joint Committee on Cancer (AJCC) staging system (8th edition, 2017), as shown in the tables below. [17]
Table 1. TNM Classification for Urethral Cancer (Open Table in a new window)
Primary tumor (T)

Male penile urethra and female urethra

TX

Primary tumor cannot be assessed

T0

No evidence of primary tumor

Ta

Noninvasive papillary carcinoma

Tis

Carcinoma in situ

T1

Tumor invades subepithelial connective tissue

T2

Tumor invades the corpus spongiosum or periurethral muscle

T3

Tumor invades the corpus cavernosum or anterior vagina

T4

Tumor invades other adjacent organs (eg, bladder wall)

Prostatic urethra

TX

Primary tumor cannot be assessed

T0

No evidence of primary tumor

Ta

Noninvasive papillary carcinoma

Tis

Carcinoma in situ involving the prostatic urethra or periurethral or prostatic ducts without stromal invasion

T1

Tumor invades urethral subepithelial connective tissue immediately underlying the urothelium

T2

Tumor invades the prostatic stroma surrounding ducts either by direct extension from the urothelial surface or by invasion from prostatic ducts

T3

Tumor invades the periprostatic fat

T4

Tumor invades other adjacent organs (ie, extraprostatic invasion of the bladder wall, rectal wall)

Regional lymph nodes (N)

NX

Regional lymph nodes cannot be assessed

N0

No regional lymph node metastasis

N1

Single regional lymph node metastasis in the inguinal region or true pelvis or presacral lymph node

N2

Multiple lymph node metastases in the inguinal region or true pelvis or presacral lymph node

Distant metastasis (M)

MX

Distant metastasis cannot be assessed

MO

No distant metastasis

M1

Distant metastasis
Table 2. AJCC Prognostic Groups (Open Table in a new window)
Stage

T

N

M

Stage 0a

Ta

N0

M0

Stage 0is

Tis

N0

M0

Stage I

T1

N0

M0

Stage II

T2

N0

M0

Stage III

T1

N1

M0

T2

N1

M0

T3

N0

M0

T3

N1

M0

Stage IV

T4

N1

M0

Any T

N2

M0

Any T

Any N

M1
Histologic Grading
Urothelial carcinomas are designated as either low grade (LG) or high grade (HG), to match the current World Health Organization/International Society of Urological Pathology (WHO/ISUP)–recommended grading system. For squamous cell carcinoma and adenocarcinoma, the following grading system is recommended:
Gx - Grade cannot be assessed

G1 - Well differentiated

G2 - Moderately differentiated

G3 - Poorly differentiated
What would you like to print?