Workup
Imaging Studies
Computed tomography and magnetic resonance imaging
These studies have become even more important as trauma services rely more on initial computed tomography (CT) scanning as the major imaging modality. The "trauma" CT may well miss lower urinary tract injuries to the urethra and bladder and thus any suspicion for urethral injury should lead to performance of these studies in addition to any others. [11, 12]
Joshi et al report on their protocol of performing magnetic resonance imaging scans to assess urethral injury in patients with pelvic fractures. These authors note that contrary to conventional belief, the membranous sphincter is often intact and the injury is instead at the membranobulbar junction, suggesting that surgical reconstruction can be undertaken, preserving sphincter mechanisms and improving postoperative continence. [13]
Retrograde urethrography
Retrograde urethrography is the standard imaging study for the diagnosis of urethral injury. It is performed using gentle injection of 20-30 mL of contrast into the urethra while occluding the meatus, with a balloon of a Foley catheter inflated in the fossa navicularis. Films should be taken in a 30°-oblique position, unless this is not possible because of the severity of the pelvic fractures and associated patient discomfort.
A urethrogram allows for identification of the site of injury and assessment of the extent of any injury. Any extravasation outside the urethra is pathognomonic for urethral injury. The distinction between a complete and partial rupture is not always clear. A typical image for incomplete rupture shows extravasation from the urethra which occurs while the bladder is still filling. A complete rupture is suggested by massive extravasation without bladder filling. [6]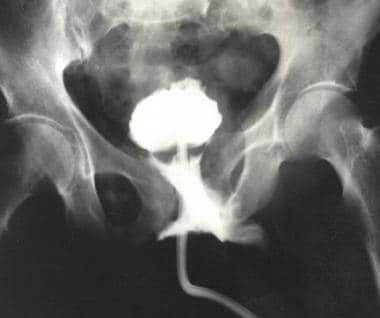 Urethrogram demonstrating partial urethral disruption.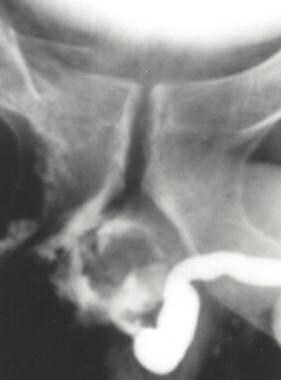 Urethrogram demonstrating complete urethral disruption.
Cystography
Static cystography allows for concurrent bladder injury to be excluded in the acute setting. "Pie in the sky" findings on cystography—a contrast-opacified floating bladder seen high in the pelvis due to a large pelvic hematoma—usually indicate urethral disruption. [14] ​When a delayed repair is being considered, voiding cystography (performed through the suprapubic catheter) demonstrates the bladder neck and prostatic urethral anatomy and allows for proper surgical planning.
Cystoscopy
Cystoscopy can be a valuable adjunct in the evaluation of a male urethral injury. In the acute setting, the feasibility of early endoscopic realignment can be determined (see Treatment). In the delayed setting, the quality of the urethra can be evaluated for surgical repair. When cystoscopy is combined with retrograde urethrography and cystography, a more accurate estimation of stricture length can be made, facilitating decisions in operative strategy.
Flexible cystoscopy is preferred over retrograde urethrography in suspected penile fracture–associated urethral injury. [6]
Staging
Classification of urethral injuries is based on location and retrograde urethrography [6] :
Anterior urethra partial disruption

Anterior urethra complete disruption

Posterior urethra stretched but intact

Posterior urethra partial disruption

Posterior urethra complete disruption

Posterior urethra complex (involves bladder neck and/or rectum)
What would you like to print?