Workup
Approach Considerations
Patients with urinary incontinence should undergo a basic evaluation that includes a history, physical examination, and urinalysis. Additional information from a patient's voiding diary, cotton-swab test, cough stress test, measurement of postvoid residual (PVR) urine volume, cystoscopy, and urodynamic studies may be needed in selected patients. Videourodynamic studies are the criterion standard for the evaluation of an incontinent patient but are typically reserved for the evaluation of complex cases of stress urinary incontinence.
Most authorities agree that diagnosis from the history alone is not an adequate basis for surgical therapy. [58] A review of the role of patient history in the diagnosis of urinary incontinence showed that a history of stress incontinence carries a sensitivity of about 0.91, but specificity is only 0.51. Positive predictive values in the range of 0.75-0.87 have been reported for a history of stress incontinence. [59]
Sensitivity and specificity are worse if the history is indicative of urge or mixed incontinence. Because some believe that many failed stress incontinence procedures are the result of incorrect or incomplete diagnoses, improving on the positive predictive value of history alone seems worthwhile.
The more difficult question to answer is which battery of tests and examinations produces a high positive predictive value at the lowest cost and inconvenience to the patient. One study demonstrated the benefit of combining the following 4 factors to improve diagnostic accuracy:
Predominant stress incontinence history

Postvoid residual (PVR) volume of no more than 50 mL

Positive cough stress test

Functional bladder capacity of at least 400 mL
Complex urodynamic testing in patients with these factors confirmed the diagnosis of stress incontinence 97% of the time; however, 15% of these patients also had coexisting detrusor instability. The positive predictive value, if one considers mixed incontinence as a separate disorder, is 82%.
The VALUE study concluded that for women with uncomplicated, demonstrable stress incontinence, urodynamic studies offered no superiority when compared with office evaluation alone for outcomes at one year. [60]
Emergency Department Workup
Urinary incontinence is not a common presenting complaint in the emergency department (ED); however, its presence is always abnormal. The role of the emergency physician is to rule out some of the serious causes such as cauda equina syndrome, cord compression, and paraspinal abscess, as well as, most commonly, overflow incontinence and infections. If life-threatening conditions exist, the patient needs to be admitted for a complete workup of the disease entity.
Depending on the clinical presentation, the following basic tests may be useful [26] :
Obtain a urinalysis and urine culture, as necessary

Hematuria should be evaluated as per American Urological Association hematuria guidelines

Check serum electrolytes and calcium levels

Check blood urea nitrogen (BUN)/creatinine levels; decreased muscle mass in elderly patients may affect kidney function measurement

Check glucose level, especially in diabetic patients or patients with polyuria or polydipsia
In addition, specialists consulted on cases of urinary incontinence may request a variety of urodynamic studies for diagnosing the underlying cause. Such studies will be conducted on an outpatient basis. [54, 61]
Imaging studies
In the ED setting, the following imaging studies are helpful for delineating serious causes of urinary incontinence, when appropriate [33, 54, 26] :
Spinal MRI should be performed for ruling out cord compression, cauda equina, or spinal abscess if symptoms support the diagnosis

Ultrasonography allows for evaluation of hydronephrosis, hydroureter, and urinary tract stones. Ultrasonography is noninvasive, widely available, and cost-effective
Additional imaging studies that can aid in delineating the characteristics of urinary incontinence but are usually not ordered from an emergency perspective include the following:
Fluoroscopy and video urodynamics determines bladder, intra-abdominal, and urethral pressures. It is often a valuable tool in the evaluation of complex stress incontinence

Cystourethrography is a useful diagnostic adjunct in suspected cases of urinary tract fistulas
Urinalysis and Urine Culture
Urinary tract infection (UTI) can cause irritative voiding symptoms and urge incontinence. UTI can cause or contribute to urinary incontinence disorders in several ways. Local inflammation can serve as a bladder irritant, causing uninhibited bladder contractions. Endotoxins produced by some bacterial strains can have an alpha-blocking effect on the urethral sphincter, thereby lowering intraurethral pressures.
Postmenopausal women are especially susceptible to these effects on the urethra and bladder. Hypoestrogenism may enhance the effects. Postmenopausal women with UTI may present without the classic symptoms of irritation and pain. The predominant symptom in some patients may be the onset or the worsening of urge urinary incontinence.
A screening urinalysis is generally recommended as part of the testing of women for urinary incontinence. In postmenopausal women, a urine culture should also be done. Cultures may show bacterial growth in patients whose urinalysis shows little or no evidence of inflammation. Colony counts of less than 105/mL may be of significance in postmenopausal women and merit treatment.
Urine Cytology
Patients with carcinoma in situ of the urinary bladder experience urinary frequency and urgency and show evidence of microscopic hematuria. Irritative voiding symptoms disproportionate to the overall clinical picture and/or persistent unexplained hematuria warrant urine cytology and cystoscopy. Other potential indications for this testing include bladder lesions and masses visible on cystourethroscopy.
Kidney Function Studies
BUN and creatinine levels should be checked when poor kidney function, obstructed ureters, or urinary retention is suggested. This is especially important in the case of a stage III or stage IV cystocele.
In stage III cystocele, the bladder protrudes out of the vaginal introitus to greater than 1 cm outside of the hymenal ring upon abdominal strain; in stage IV cystocele, the bladder protrudes out of the vagina to greater than 3 cm from the hymen with the patient at rest (see the image below). When the bladder herniates out of the vagina, it may drag ureters with it. Both ureters can become trapped and obstructed at the bony pelvis, causing hydroureteronephrosis. This results in elevated BUN and azotemia.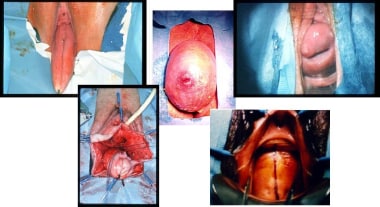 This photo illustrates a variety of pelvic organ prolapses, including grade-IV cystocele, uterine descensus, enterocele, and rectocele alone or in combination. In situations where a significant prolapse (eg, uterus, bladder) has occurred, evaluate for possible ureteral obstruction at the level of the pelvic inlet.
Diabetes Testing
Testing for diabetes mellitus is not routine in the setting of urinary incontinence. However, it should be considered if polyuria and polydipsia are a part of the clinical picture or if diabetes risk factors are present and poor bladder emptying is found.
Urodynamic Studies
Urodynamics are a means of evaluating the pressure-flow relationship between the bladder and the urethra for the purpose of defining the functional status of the lower urinary tract. The ultimate goal of urodynamics is to aid in the correct diagnosis based on pathophysiology.
Simple urodynamic tests involve performing a noninvasive uroflow study, obtaining a postvoid residual (PVR) urine sample, and performing single-channel cystometrography (CMG). A single-channel CMG (ie, simple CMG) is used to assess the first sensation of filling, fullness, and urge. Bladder compliance and the presence of uninhibited detrusor contractions (eg, phasic contractions) can be noted during this filling CMG. A simple CMG may be performed using water or gas (carbon dioxide). Water is the most common filling medium.
Multichannel urodynamic studies are more complex than simple urodynamics and can be used to obtain additional information, including a noninvasive uroflow, PVR urine, filling CMG, abdominal leak-point pressure (ALPP), voiding CMG (pressure-flow), and electromyography (EMG). Water is the fluid medium used for multichannel urodynamics.
The most sophisticated study is videourodynamics, the criterion standard in the evaluation of a patient with incontinence. In this study, the following are obtained: noninvasive uroflow, PVR urine, filling CMG, ALPP, voiding CMG (pressure-flow), EMG, static cystography, and VCUG. The fluid medium used for videourodynamics is radiographic contrast.
Go to Urodynamic Studies for Urinary Incontinence for more information on this topic.
Chain-Bead Cystography
The significance of this test is largely historical. Chain-bead cystography involves the passage of a radiopaque chain transurethrally, with a portion of the chain piled just within the bladder at the urethrovesical junction. Urethra and bladder neck mobility, the presence or absence of urethral funneling, and the posterior urethrovesical angle can be determined with this test.
Incontinence experts no longer use this test. Instead, less invasive techniques, including the cotton swab test, bladder neck ultrasound, video urodynamics, and dynamic pelvic floor magnetic resonance imaging (MRI), now are used to study bladder neck anatomy and function.
Postvoid Residual Volume
Measurement of postvoid residual urine volume, using either a bladder ultrasonography or urethral catheter, may be a part of the evaluation for urinary incontinence of patients with apparent failure to empty the bladder completely. If the PVR urine volume is high, the bladder may be acontractile or the bladder outlet may be obstructed. Both of these conditions cause urinary retention from overflow incontinence. Go to Urodynamic Studies for Urinary Incontinence for more information on this topic.
Cystoscopy and Urethroscopy
Cystourethroscopy allows an anatomical assessment of the bladder and the urethra. The precise role of cystourethroscopy in the evaluation of female urinary incontinence is controversial.
The general agreement is that cystoscopy is indicated for patients with persistent irritative voiding symptoms or hematuria, persistent postoperative incontinence, voiding dysfunction, and findings suggestive of a diverticulum or fistula. Obvious causes of bladder overactivity, such as cystitis, stone, and tumor, can be easily diagnosed. This information is important in determining the etiology of the incontinence and may influence treatment decisions.
Go to Cystoscopy and Urethroscopy in the Assessment of Urinary Incontinence for more information on this topic.
Pessary Trial
A pessary trial may be useful in the preoperative evaluation of female patients who have severe pelvic organ prolapse but no complaints of urinary incontinence. After being fitted with a pessary, which effectively reduces her prolapse, the patient is asked to wear the pessary for a few days during usual activities. The patient may also obtain commercially available incontinence pessaries for treating stress predominant incontinence.
In some instances, the patient may experience stress incontinence while using the pessary. Some experts consider this to be evidence of so-called occult or potential stress incontinence—in other words, that stress incontinence may develop after surgical correction of the prolapse in these patients, because kinking of the urethra and/or limitation of urethral mobility secondary to the large prolapse may contribute to their continence.
The preoperative diagnosis of potential stress incontinence prompts the surgeon to add an anti-incontinence procedure to the overall surgical management scheme.
MRI and Ultrasonography
MRI remains investigational in the assessment of urinary incontinence. It is not used in clinical practice.
Ultrasonography (US) is a readily available and versatile tool that has many potential uses in urology and urogynecology. [62] However, it has only recently begun to be used in the evaluation of urinary incontinence, such as post-void residual urine volume determinations.
What would you like to print?