Workup
Approach Considerations
Laboratory studies can include blood studies and urine studies, including culture, urinalysis, dipstick testing, and other tests (eg, urine cytology, sulfosalicylic acid (SSA) testing).
Imaging tests can include ultrasonography and intravenous pyelography.
Blood Studies
The following blood tests should be ordered at the physician's discretion, though the results do not aid in the diagnosis or change treatment unless they are markedly abnormal:
Complete blood count (CBC)

Serum electrolytes

Blood urea nitrogen (BUN)

Serum creatinine
Urine Studies
Urine specimen collection
In all pregnant patients, a urine specimen should be carefully collected for urinalysis and culturing during the first prenatal visit or at 12-16 weeks' gestation. [18] These tests help to identify patients with asymptomatic bacteriuria, as well as those with other concerning findings such as glucosuria.
For urine collection, a midstream clean catch is adequate, provided that the patient is given careful instructions. The technique is as follows:
With one hand, spread the labia

With the other hand, use a castile soap–moistened towelette to wipe the urethral meatus downward toward the rectum, then discard the towelette

Void the initial portion of the bladder contents into the toilet

Catch the middle portion of the bladder contents in the sterile collection container, while keeping the labia spread with the first hand
Unfortunately, a study on pregnant adolescents suggests that the cleansing process does not completely prevent contamination.
If the patient is unable to void, too ill, extremely obese, or bedridden, a catheterized specimen should be collected. Routine catheterization is not recommended, because of the risks of introducing bacteria into the urinary tract.
Several methods are available for specimen evaluation; all have benefits and limitations. The clean-catch specimen reduces, but does not eliminate, the possibility of cross-contamination from the urethra and vagina. The presence of more than 1 organism in a culture usually indicates a contaminated specimen.
The specimen should be sent for evaluation as soon as possible. Specimens that are allowed to sit at room temperature may have falsely elevated colony counts. Refrigerate the specimen at 4°C if it cannot be transported immediately.
Urine culture
Urine culture is the standard method for evaluating for urinary tract infection (UTI) during pregnancy. Indications for performing a urine culture include the following:
Failure to respond to initial treatment regimens

History of recent instrumentation
Two consecutive voided specimens with isolation of the same bacterial strain, at a colony count of 100,000 colony-forming units (CFUs) per milliliter or higher, has historically been used to define a positive culture result. A single catheterized specimen yielding a colony count of at least 100 CFU/mL is also diagnostic. [19] Counts lower than 100,000 CFU/mL, with 2 or more organisms, usually indicate specimen contamination rather than infection. Patients with pyelonephritis often have white blood cell (WBC) casts.
Culture results can be used to identify specific organisms and antibiotic sensitivities. Urine culture has an average cost of approximately $40. Results are often unavailable at the time of treatment.
Urinalysis
Positive results for nitrites, leukocyte esterase, WBCs, red blood cells (RBCs), and protein suggest UTI. Bacteria found in the specimen can help with the diagnosis.
Urinalysis has a specificity of 97-100%, but it has a sensitivity of only 25-67% when compared with culture in the diagnosis of asymptomatic bacteriuria.
Millar and Cox indicate that 1-2 bacteria in an unspun catheterized specimen or more than 20 bacteria per high-power field (HPF) in spun urine correlate closely with bacterial colony counts higher than 100,000 CFU/mL on a urine culture. [20]
Dipstick testing
Several reports describe the use of urine dip for nitrites and leukocyte esterase in the evaluation of asymptomatic bacteriuria. In comparison with culture, sensitivity ranges from 50% to 92% and specificity from 86% to 97%.
In the evaluation of symptomatic patients, dipstick testing is useful and inexpensive. However, the leukocyte esterase test may be unreliable in patients with low-level pyuria (5-20 WBCs/HPF). The addition of protein and blood increases the sensitivity and specificity of the test in the evaluation of UTI.
As suggested by Kodikara et al, nitrite dipstick testing may be a reasonable and cost-effective screening strategy for women who otherwise may not undergo screening for bacteriuria, as is often the case in developing countries. [21]
Other tests
Urine cytology may be a useful adjunct in detecting upper tract UTIs.
An antistreptolysin-O (ASO) titer greater than 200 Todd units suggests recent group A streptococcal infection; however, as many as 20% of patients with acute glomerulonephritis have ASO titers within the reference range.
The sulfosalicylic acid (SSA) test measures urine turbidity when a small amount of aspirin is added to the urine specimen. A finding of +2 to +4 suggests bacteriuria.
Renal Ultrasonography and Intravenous Pyelography
Unless an anatomic abnormality or renal disease is suspected, initial routine imaging studies are not necessary. Patients with suspected pyelonephritis who are not responsive to appropriate antibiotic therapy after 48-72 hours should also undergo imaging.
Renal ultrasonography (or limited intravenous pyelography [IVP] if the benefits of a definitive diagnosis outweigh the minor risk of radiation) may be helpful in patients with recurrent urinary tract infection (UTI) or symptoms that suggest nephrolithiasis (see the images below). Confusion about the diagnosis of urolithiasis, pyelonephritis, or both is an indication for obtaining imaging studies.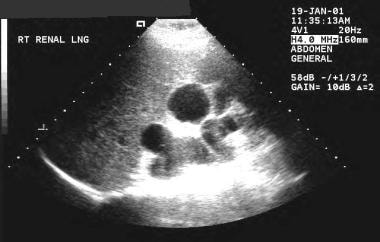 Twenty-nine-year-old pregnant woman with history of reflux uropathy and ureteral reimplantation at age 21 months presents with right-side flank pain and proteinuria. Renal cortical thinning suggests chronic hydronephrosis.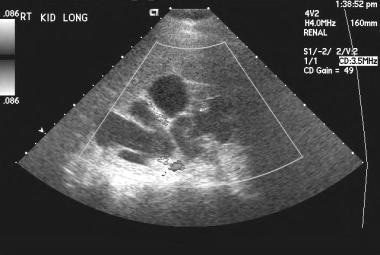 Color-flow Doppler highlights normal flow in right kidney of 29-year-old pregnant woman with history of reflux uropathy and ureteral reimplantation at age 21 months who presents with right-side flank pain and proteinuria.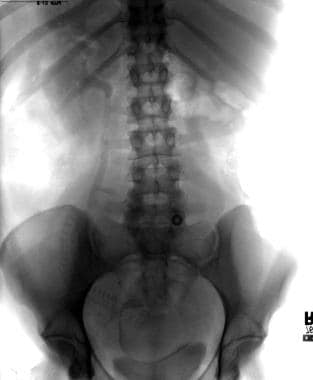 25-year-old pregnant woman with right lower quadrant pain and hematuria has proximal ureteral obstruction consistent with urolithiasis. After 25 minutes, intravenous pyelography reveals dense right nephrogram and no filling of right collecting system. Left side shows unremarkable nonhydronephrotic collecting system. This is consistent with right ureteral lithiasis.
Urolithiasis and pyelonephritis have many symptoms in common (eg, hematuria, flank pain, shaking chills, anorexia). Urolithiasis is usually not associated with fever, except in patients with concomitant pyelonephritis.
Urolithiasis presents a unique problem in pregnant women. Kidney stones should initially be treated conservatively because 50-67% of stones diagnosed during pregnancy pass spontaneously. Conservative therapy includes appropriate antibiotic coverage, adequate hydration, and systemic analgesics (usually narcotics, which are class C agents in pregnancy). Anti-inflammatory medications may cause oligohydramnios, premature closure of the patent ductus arteriosus, or both and should therefore be avoided if possible.
If ultrasonography reveals a stone, ultrasound-guided cystoscopic passage of a ureteral stent may relieve ureteral colic. In some cases (eg, pyonephrosis with an obstructing stone), percutaneous nephrostomy can be useful. Cystoscopic extraction of a distal ureteral stone (with fluoroscopic guidance) should be used sparingly because of the risk of ionizing radiation to the fetus.
The total dosage of ionizing radiation should not exceed 3-5 cGy during the course of pregnancy. Of particular concern is radiation delivered during the first trimester, during organogenesis (especially days 11-56). A limited IVP can deliver 0.4-1 cGy. Radiation doses greater than 5 cGy have been associated with an increased likelihood of benign and malignant tumors in the child after birth. No patient should receive more than 10-14 cGy.
Renal ultrasonography is often performed initially, but the findings are often inconclusive. A limited IVP (ie, kidneys-ureters-bladder [KUB] with a 30-minute shot after contrast injection) can be helpful in delineating the site of the obstruction.
Histologic Findings
On urine cytology, clumping white blood cells (WBCs) and WBC casts are consistent with pyelonephritis. Red blood cell (RBC) casts are characteristic of acute glomerulonephritis and should be suspected after a recent or concurrent streptococcal infection.
Renal involvement usually leads to proteinuria. Nephrotic syndrome includes high proteinuria (>3.5 g/24 h), edema, hypercholesterolemia, and hypoalbuminemia; however, this can be confused with preeclampsia. Oval fat bodies and fatty casts can suggest membranous glomerulonephritis.
What would you like to print?