Presentation
History
Suspect a possible fistula when a patient reports acute onset of urinary incontinence after recent gynecologic surgery (eg, hysterectomy or cesarean delivery), if the degree of incontinence is disproportional to the physical findings, or if the medical history and the nature of incontinence are inconsistent. If a fistula is small, the incontinence may mimic stress urinary incontinence.
The clinical history of vesicovaginal or ureterovaginal fistula is usually straightforward. Typically, a gynecologic procedure, such as hysterectomy, is involved. Often, the operation is reported to have been technically challenging. Poor intraoperative exposure, coupled with heavy bleeding at the operative site, are often risk factors. An associated bladder or ureteral injury may have occurred and may have been repaired.
Patients with vesicovaginal fistula often report painless unremitting urinary incontinence. This is also called total, or continuous, incontinence requiring the use of several thick pads per day. The urinary incontinence mimics stress incontinence, in which urine loss is more dramatic during physical activities or when the individual stands upright from a lying position. Symptoms of urinary frequency and urgency are typically absent. Patients may notice a clear vaginal discharge
Acute onset of vesicovaginal fistula immediately after pelvic surgery does not cause constitutional symptoms. If the Foley catheter is still in place, the first sign of impending fistula formation is the presence of hematuria.
Conversely, patients with ureterovaginal fistula may experience constitutional symptoms of fever, chills, malaise, flank pain, and gastrointestinal symptoms in association with continuous urinary incontinence. Constitutional symptoms may result from hydronephrosis secondary to ureteral obstruction or urinary extravasation into the retroperitoneal space. Acute-onset ureterovaginal fistulae are often associated with a difficult postoperative course. These patients present with fever, ileus, and abdominal and flank pain.
Approximately 10-15% of fistulae do not manifest clinically for 10-30 days after the inciting procedure. Some fistulas may not manifest for months. Radiation-induced fistulae may not become apparent for many years after radiation treatment. The development of a typical radiation-induced fistula is heralded by radiation cystitis, hematuria, and bladder contracture. These symptoms are improved dramatically by the sudden presence of vesicovaginal fistula.
Physical Examination
On physical examination, patients with new-onset ureterovaginal fistulae may demonstrate flank or abdominal tenderness due to hydronephrosis and/or urinary extravasation into the retroperitoneal space. Patients with vesicovaginal fistulae do not present with abdominal or flank symptoms.
A detailed pelvic examination reveals clear fluid pooling at the apex of the vagina. This fluid should be collected for evaluation of creatinine level. On close inspection, a pinpoint opening at the vaginal apex is often visible in patients with mature fistulas. When a fistula has not yet matured (immature fistula), the vaginal mucosa is inflamed and erythematous, with granulation tissue surrounding the fistulous tract. The fistulous opening is often difficult to localize in immature fistulas.
Patients with fistulae may tolerate pelvic examination poorly, further complicating the assessment. In these situations, pelvic examination under general anesthesia is warranted. In addition, involvement of a urologist for performance of cystoscopy with retrograde pyelograms should be encouraged.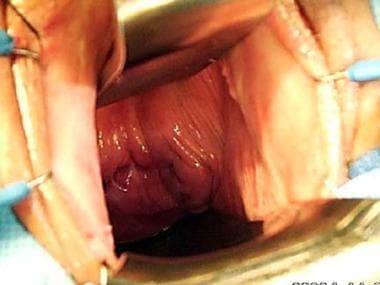 Vaginal view of vesicovaginal fistula.
What would you like to print?