Overview
Background
Vesicovaginal and ureterovaginal fistulas are perhaps the most feared complications of female pelvic surgery. More than 50% of such fistulas occur after hysterectomy for benign diseases such as uterine fibroids, menstrual dysfunction, and uterine prolapse. [1, 2]
Various views of vesicovaginal fistulas are depicted in the images below.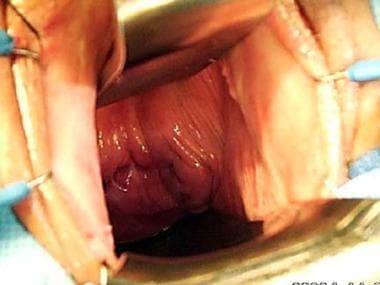 Vaginal view of vesicovaginal fistula.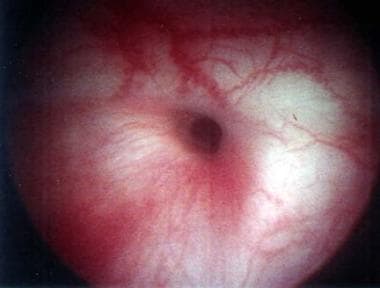 Cystoscopic view of vesicovaginal fistula.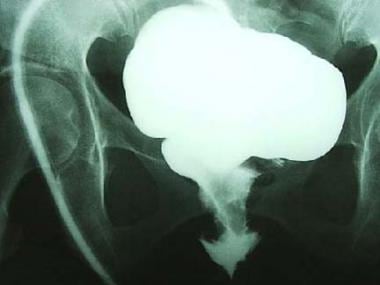 Cystogram of vesicovaginal fistula. Note the contrast extravasating from the bladder into the vaginal canal.
Urinary incontinence resulting from these fistulas may mimic symptoms of stress urinary incontinence. The acute onset of urinary incontinence occurring shortly after a difficult hysterectomy should raise suspicions for vesicovaginal or ureterovaginal fistulas.
A high index of clinical suspicion, coupled with appropriate diagnostic tests and surgical intervention, result in excellent outcomes.
History of the Procedure
Descriptions of urinary fistulas have been well described as early as ancient times by Hippocrates and Rufus. In developed countries, the most common cause of vesicovaginal fistula is gynecologic surgery (eg, hysterectomy). Obstetric trauma resulting in fistula formation is most common cause of urinary fistulas in underdeveloped countries.
Although he was not the first to perform a surgical repair for vesicovaginal fistula, J. Marion Sims described a surgical approach using 3 surgical principles of fistula repair, as follows: (1) excise all scar tissue, (2) obtain fresh margins, and (3) close the tract without overlapping suture lines (Harris, 1950).
The commonly chosen surgical approaches for the correction of vesicovaginal fistula include the transabdominal and transvaginal approaches. Historically, the site of the fistula often dictated the surgical approach. Supratrigonal fistulas (fistulas above the interureteric ridge) were typically approached transabdominally. Infratrigonal fistulas (fistulas below the interureteric ridge) were corrected transvaginally.
Most surgeons prefer the transabdominal approach for both supratrigonal and infratrigonal fistulas because access to the fistula is easier. Supratrigonal fistulas are more difficult to reach transvaginally.
Currently, the transvaginal approach is preferred because it results in less morbidity. The transvaginal approach is the safest and most comfortable for the patient. However, if the fistula site is difficult to access transvaginally, the transabdominal route remains a safe and effective alternative.
Problem
A fistula is defined as a communication between 2 organ sites. Vesicovaginal fistula is a free communication between the urinary bladder and the vagina. The urine from the bladder freely flows into the vaginal vault, leading to total or continuous incontinence. Ureterovaginal fistula is a communication between the distal ureter and the vagina. The urine from the ureter bypasses the bladder and flows into the vagina. This also results in total or continuous incontinence.
Epidemiology
Frequency
The actual incidence of vesicovaginal fistula is unknown. However, the incidence of vesicovaginal fistula resulting from hysterectomy is estimated to be less than 1%. Approximately 10% of such fistulas may involve one or both ureters. Some fistulas may be more complex, involving adjacent organs. If the rectum is involved in the inflammatory reaction, rectovaginal fistula may develop. [3]
Etiology
In the United States, more than 50% of vesicovaginal and ureterovaginal fistulas occur after hysterectomy for benign diseases such as uterine fibroids, menstrual dysfunction, or uterine prolapse.
Pelvic radiation is the primary cause of delayed fistula, which can occur from one month to many years after the initial radiation treatment. Radiation treatment is typically used to treat cervical or endometrial carcinoma. Vesicovaginal fistula may occur with or without cancer recurrence.
In developing countries, obstetrical complications are the most common cause of vesicovaginal and ureterovaginal fistulas. This may develop in cases of longstanding and obstructed labor leading to pressure necrosis on the anterior vaginal wall. Fistulas in this setting may be large and have extensive local tissue damage and necrosis.
Pathophysiology
Unrecognized bladder injury during a difficult hysterectomy or cesarean delivery may result in vesicovaginal fistula formation. Most vesicovaginal fistulas are caused by dissection of the bladder during the mobilization of the bladder flap, which causes devascularization or an unrecognized tear of the posterior bladder wall. Alternatively, if the vaginal cuff suture was unknowingly incorporated into the bladder, this can result in tissue ischemia, necrosis, and subsequent fistula formation.
The ureter may become injured during the dissection around the infundibulopelvic ligament or ligation of the uterine vessels. Unexpected pelvic hemorrhage may obscure the surgeon's vision and result in ureteral injury that manifests as delayed ureterovaginal fistula.
Fistulas resulting from vaginal birthing occur during difficult or prolonged labor. The head of the fetus compresses the trigone or the bladder neck against the anterior arch of the pubic symphysis. This may result in tissue ischemia, necrosis, and eventual fistula formation. Today, this is rare in the United States.
Presentation
The clinical history of vesicovaginal or ureterovaginal fistula is usually straightforward. Typically, a gynecologic procedure, such as hysterectomy, is involved. Often, the operation is reported to have been technically challenging. Poor intraoperative exposure, coupled with heavy bleeding at the operative site, are often risk factors. Associated bladder injury may have occurred and may have been repaired.
Patients with vesicovaginal fistula often report painless unremitting urinary incontinence. This is also called total, or continuous, incontinence. Urinary incontinence may be exacerbated during physical activities, leading some women to confuse this with stress incontinence.
Conversely, patients with ureterovaginal fistula may experience constitutional symptoms of fever, chills, malaise, flank pain, and gastrointestinal symptoms in association with continuous urinary incontinence. Constitutional symptoms may result from hydronephrosis secondary to ureteral obstruction or urinary extravasation into the retroperitoneal space.
Acute onset of vesicovaginal fistula immediately after pelvic surgery does not cause constitutional symptoms. If the Foley catheter is still in place, the first sign of impending fistula formation is the presence of hematuria.
Conversely, acute-onset ureterovaginal fistulas are often associated with a difficult postoperative course. These patients present with fever, ileus, and abdominal and flank pain.
Approximately 10-15% of fistulas do not appear for 10-30 days. Some fistulas may not manifest for months. Radiation-induced fistulas may not become apparent for many years after radiation treatment. The development of a typical radiation-induced fistula is heralded by radiation cystitis, hematuria, and bladder contracture. These symptoms are improved dramatically by the sudden presence of vesicovaginal fistula.
For non–radiation-induced postsurgical fistulas, patients may notice a clear vaginal discharge or experience a new onset of urinary incontinence. The urinary incontinence mimics stress incontinence, in which urine loss is more dramatic during physical activities or when the individual stands upright from a lying position. Patients may experience continuous incontinence, requiring the use of several thick pads per day. Symptoms of urinary frequency and urgency are typically absent.
Suspect a possible fistula when a patient reports acute onset of urinary incontinence after a recent gynecologic surgery (eg, hysterectomy or cesarean delivery), if the degree of incontinence is disproportional to the physical findings, or if the medical history and the nature of incontinence are inconsistent.
During a physical examination, patients with newly onset ureterovaginal fistulas may demonstrate flank or abdominal tenderness due to hydronephrosis and/or urinary extravasation into the retroperitoneal space. Patients with vesicovaginal fistulas do not present with abdominal or flank symptoms.
A detailed pelvic examination reveals clear fluid pooling at the apex of the vagina. On close inspection, a pinpoint opening at the vaginal apex is often visualized in mature fistulas. When a fistula has not yet matured (immature fistula), inflamed erythematous vaginal mucosa is visible, with granulation tissue surrounding the fistulous tract. The fistulous opening is often difficult to localize in immature fistulas. In addition, pelvic examination may be tolerated poorly by the patient, further complicating the examination. In these situations, pelvic examination under general anesthesia is warranted.
If vesicovaginal or ureterovaginal fistula is suspected, proceed with a detailed workup as discussed below. As an immediate therapy, insertion of a urethral catheter to minimize urine leakage and the patient's distress should be tailored to each individual.
Indications
Vesicovaginal and ureterovaginal fistulas recognized within 3-7 days after the causative operation may be repaired immediately via a transabdominal or transvaginal approach.
Fistulas identified after 7-10 days postoperatively should be monitored periodically until all signs of inflammation and induration have resolved. Before embarking on fistula repair, the fistula tract should be well epithelialized and the vaginal wall should be soft and supple.
The traditional approach has been to wait at least 3-4 months before attempting fistula closure. However, this philosophy has been challenged. Some surgeons have successfully closed the fistula with or without using a tissue interposition, such as Martius flap or peritoneal flap, without waiting 3-4 months. The main issue being that satisfactory tissue quality and healing must be evident or the operative intervention may not be satisfactory.
Patients with a history of multiple failed repairs, patients with associated enteric fistula with pelvic phlegmon, or patients with a history of pelvic radiation should not undergo fistula repair for at least 6-8 months.
Relevant Anatomy
Vesicovaginal fistula is a free communication between the urinary bladder and the vagina. Ureterovaginal fistula is a communication between the distal ureter and the vagina. For further discussion of relevant anatomy, see Surgical Therapy.
Contraindications
The presence of an active vaginal infection or persistent inflammatory or malignant process at the fistula site is a contraindication to surgical repair. Historically, the transvaginal approach has been contraindicated for supratrigonal fistulas. However, this is no longer an absolute contraindication. Whether to use a transabdominal or transvaginal approach is now dictated by the surgeon's experience and preference and ease of access to the fistula site.
In the past, surgical repair of any vesicovaginal fistula before 3 months was discouraged for fear of recurrence and inadequate healing. However, the principle of delayed repair is no longer absolute. The timing of fistula repair is now dictated by the nature of the local tissues around the fistula site. Surgical repair may commence if no vaginal infection is present and if the inflammatory process at the fistula site has resolved.
What would you like to print?