DDx
Diagnostic Considerations
The diagnosis of idiopathic overactive bladder (OAB) requires the performance of a focused history and physical examination, as well as appropriate investigative studies (see Workup), to rule out conditions that may mimic or cause OAB. Failure to identify an underlying neurologic condition may lead to persistent symptoms. Differential diagnoses for OAB include dysfunctional voiding and voiding postponement (see the image below).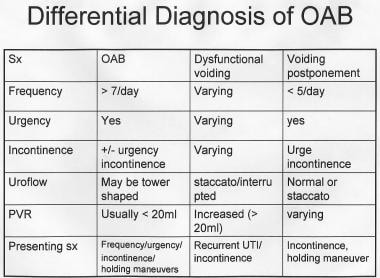 Differential diagnosis of overactive bladder (OAB).
Dysfunctional voiding refers to an inability to relax the urinary sphincter or pelvic floor muscles fully during voiding. Unlike people with detrusor-sphincter dyssynergia, people with dysfunctional voiding do not have an underlying neurologic abnormality. Children with dysfunctional voiding typically present with a history of urinary incontinence, recurrent urinary tract infections (UTIs), and constipation.
Although thought to be primarily a voiding phase disorder, dysfunctional voiding may develop in some children with OAB because of overactivity of the pelvic floor muscles in response to attempts to control uninhibited detrusor contractions. In most children, however, it is believed to be a learned condition that occurs during the toilet-training years. It may develop after episodes of dysuria, UTIs, constipation, or prior sexual abuse.
These children typically have either a staccato voiding pattern characterized by periodic bursts of pelvic floor muscle activity during voiding and a prolonged voiding time or an interrupted voiding pattern characterized by incomplete and infrequent voiding with micturition in separate fractions (see the image below).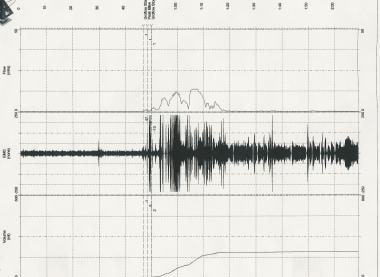 Uroflow and electromyography (EMG) study demonstrating dysfunctional voiding: staccato flow pattern and failure to relax sphincter during voiding.
The term voiding postponement is a new classification of voiding dysfunction proposed by Lettgen et al. [18] In this condition, children postpone urination until overwhelmed by urgency. Urgency forces them to rush to the toilet, and leakage often occurs along the way. Initially, this disorder was attributed to detrusor overactivity. However, clinically significant behavioral symptoms were found to be more common in children with voiding postponement, suggesting more of a behavioral etiology.
These children tend to relax their pelvic floor muscles when voiding; thus, most of these children have a normal uroflow pattern, and only 20% have a staccato pattern. [18]
Differential Diagnoses
What would you like to print?