Workup
Laboratory Studies
Blood gas analysis in an arteriovenous fistula (AVF) reveals a higher oxygen saturation in the venous blood immediately distal to the fistula as compared with normal venous blood.
Hemodynamic assessment with flow directed balloon catheter (Swan-Ganz catheter) reveals high cardiac output and low peripheral vascular resistance (PVR).
Extremely large AVFs or arteriovenous malformations (AVMs) may present with low platelet count (due to turbulence and trapping of platelets) and occasionally with laboratory findings of consumptive coagulopathy, such as low platelets, elevated prothrombin time (PT) and partial thromboplastin time (PTT), increased bleeding time, low fibrinogen, and elevated euglobulin clot lysis time (signs of fibrinolysis).
Imaging Studies
Plain films may demonstrate soft tissue masses or abnormalities within bony structures.
Duplex ultrasonography (US) is usually the initial study to delineate the extent and flow characteristics of the malformation. Doppler US can be used preoperatively and intraoperatively, but it does not have any therapeutic use. Duplex scans will show reversal of flow in the artery distal to the AVF, the steal phenomenon, or proximal flow augmentation in mixed arteriovenous malformations.
Contrast-enhanced computed tomography (CT) is useful to locate the abnormality, to evaluate for aneurysm formation, and to identify bony involvement. A retrospective review by Biswas et al found four-dimensional (4D) CT angiography (CTA) to be accurate in characterizing AVMs and dural AVFs, yielding findings that agreed well with those of digital subtraction angiography (DSA). [12] ​ A prospective cohort study by In 't veld et al compared the diagnostic accuracy of 4D-CTA with that of DSA in 76 patients with either a dural AVF or a cerebral AVM and found 4D CTA to have very high sensitivity and specificity while being less invasive than DSA. [13]
Magnetic resonance imaging (MRI) is the criterion standard in the preoperative evaluation of patients with AVMs. MRI generates multiplanar views and can be used to accurately define tissue planes and to identify critical flow characteristics. It is the best modality for defining local soft-tissue and adjacent organ involvement, which helps with preintervention planning. Magnetic resonance sequences can be postprocessed into magnetic resonance angiography (MRA) images (see the image below), which help define the malformation more clearly. [14, 15]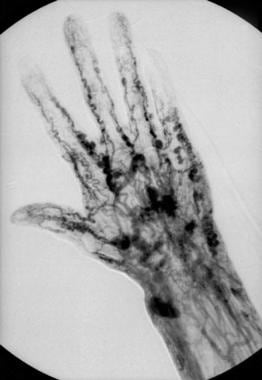 Hand angiogram demonstrating arteriovenous connections. Note the steal of blood from the fingertips.
Contrast angiography is the most important method for investigating AVMs or AVFs while also affording the capability for therapeutic interventions. It is an excellent method of delineating the number, location, and extent of the arteriovenous connections. Angiographic signs include early filling of veins, hypertrophied and tortuous arteries proximal to the malformation, and varicose and dilated veins distal to the fistula.
Radiolabeled studies can determine the shunt fraction, which is the proportion of blood being shunted through the fistulous tract.
Other Tests
Plethysmography is useful for quantifying flow in a whole limb, but assessing blood flow through circumscribed areas is difficult. Ideally, plethysmography data are compared with normal data from the contralateral limb.
Thermography determines heat loss from a region. However, results are of limited clinical value because they do not reveal the location of the lesion accurately, and the data cannot be used to differentiate among various types of vascular malformations.
In AVFs involving limbs, segmental limb pressure measurements can document a significant drop in pressure distal to the fistula. This can be used before and after surgical correction of the fistula to confirm that the fistula has been eliminated.
Procedures
Percutaneous biopsy is never indicated in the workup of a known vascular malformation; bleeding that is difficult to control may result. Biopsy should be performed if the suspected lesion is solid and falls into the category of vascular tumors.
Invasive and noninvasive cardiac evaluation may be indicated in patients with congestive heart failure because cardiac output can be markedly elevated in patients with large proximal AVMs. Cardiac output is best measured with invasive right-heart catheter techniques but can be evaluated noninvasively with echocardiography. In order to document success, measurement of cardiac output is indicated before and after surgical or interventional procedures to reduce the size of these larger AVMs.
Histologic Findings
Histology documents arterialization of the thickening of the wall of the vein, including its muscular layer, and thinning of the artery in large, long-standing AVFs.
What would you like to print?