Treatment
Approach Considerations
The mainstays of management of vascular malfomations, including arteriovenous malformations (AVMs), are not medical; rather, they involve interventional radiology procedures and surgery (eg, embolization, sclerotherapy, surgical resection, and reconstruction). [14, 6, 2, 11, 25, 26]
Nonoperative Therapy
Embolization/sclerosing agents
Absolute to 80% ethanol, N-butyl cyanoacrylate (NBCA) glue, various types of coils, and/or contour particles such as Ivalon (First Aid bandage Company, New London, CT) can be used in various combinations, simultaneously or in stages, as primary or adjunctive embolization/sclerosing agents, depending upon the location, severity, and extent of an AVM.
Ethanol is usually contraindicated and NBCA relatively contraindicated for high-flow fistulous lesions because of the high risk of early wash into the systemic circulation. These fistulous AVMs can generally be treated through a staged approach. Coil embolization is used as a preliminary procedure to slow down the flow, resulting in decreased risk of subsequent distal thromboembolism; then, agents such as ethanol or NBCA glue can be used to definitively treat the lesion. [27]
Absolute to 80% ethanol can be given via transarterial, transvenous, or direct puncture injection. [28] Ethanol injection has a high complication rate but results in the fewest recurrences when used as a primary treatment for surgically inaccessible lesions. Major complications include deep vein thrombosis, transient nerve palsy, and ear cartilage necrosis. Minor complications are mainly skin changes. [29]
NBCA glue is predominantly used for surgically excisable lesions as preoperative embolization therapy to reduce blood loss intraoperatively. It is not typically used as a permanent sclerosing agent, because convincing evidence that it induces permanent damage to endothelial cells is lacking. Pulmonary embolism is rare but can occur. [29]
In addition to adhesive compounds such as those based on cyanoacrylate, various nonadhesive compounds have been developed for use in embolization of AVMs. [30]
A small (N = 19) study by Lee et al suggested that transarterial bleomycin sclerotherapy using flow-control techniques could be a safe and feasible treatment option for early-stage facial AVM. [31]
Radiosurgery
Radiosurgery may be performed to treat AVMs not amenable to surgical resection (eg, intracranial AVMs).
In a retrospective study of 26 patients with intracranial AVMs (median age, 41 years) who underwent computed tomography (CT)-guided frameless robotic radiosurgery and were followed for a median of 25 months, Oermann et al found this approach to yield results comparable to those of frame-based methods. [32]
Rojas-Villabona et al described the use of triple magnetic resonance angiography (MRA) to delineate radiosurgery targets in 15 patients undergoing gamma knife radiosurgery for brain AVMs. [33]
Surgical Therapy
Treatment is rare during infancy and early childhood for stage I AVM. Stage I AVMs can be followed with yearly examinations. Infrequently and after careful consideration, resection may be performed for a well-localized quiescent stage I AVM (ie, when complete resection is possible without poor cosmesis; however, this remains controversial).
Usually, invasive treatment is delayed until local endangering signs (stage III) are present or cardiac complications (stage IV) develop. In the uncommon occurrence of congestive heart failure caused by an AVM, prompt embolization may be necessary.
As mentioned previously, proximal embolization of feeding arterial vessels should never be performed, because this leads to rapid recruitment of new vessels from adjacent arteries to supply the nidus, with growth and progression of the lesion. Similarly, partial surgical excision leads to only temporary improvement, followed by reexpansion of the AVM over time.
Management of AVMs is challenging because selecting the optimal therapy to minimize recurrence is often difficult. Sometimes, complete resection is not possible or would result in severe disfigurement, as in the case of diffuse or infiltrating AVMs that invade pelvic tissues, permeate deep craniofacial structures, or penetrate all tissue planes of an extremity. In these cases, embolization or sclerotherapy is indicated and may be successful.
Generally, the treatment of AVMs either is palliative to control a complication (intractable pain, skin ulceration, tissue necrosis, bleeding, or lytic bone lesion with risk of fracture) or aims to be curative (embolization followed by wide surgical resection and reconstruction). [6, 2] Indications for surgery are listed in Table 3 below.
Table 3. Indications for Surgical Treatment of AVMs (Open Table in a new window)
Absolute Indications

Relative Indications

Hemorrhage

Ischemia (arterial insufficiency or ulceration, gangrene)

Chronic venous insufficiency with venous hypertension

Lesions that compromise breathing, vision, hearing, or eating

High-output cardiac failure

Poor quality of life (disabling or intractable pain, functional impairment, severe cosmetic deformity)

Lesions with potentially high risk of complications (eg, hemarthrosis, fracture, or limb-threatening location)

Vascular-bone syndrome with limb length discrepancy

Table modified from Lee et al. [29]
Preoperative surgical planning should involve a thorough review of results from magnetic resonance imaging (MRI), MRA, or angiography. Surgical resection is usually preceded by arterial embolization for temporary nidus occlusion. This minimizes intraoperative bleeding but does not reduce the limits of the planned resection. Both the AVM nidus and the involved skin must be excised widely, though if the overlying skin appears normal, it can be saved. (See the image below.)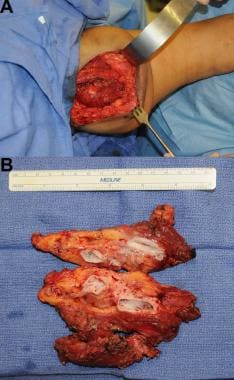 Left thigh arteriovenous malformation (AVM). Panel A: intraoperative. Panel B: bisected.
To minimize recurrence, the goal of surgery for an AVM is complete resection, in contrast to the staged resection applicable to slow-flow vascular malformations. The best wound coverage is primary closure with local or distant tissue flaps. Amputation is a viable option for the ischemic or nonfunctional extremity. The combination of embolization and surgical resection is most successful for well-localized stage I/II AVMs; however, these patients must still be followed for years.
In one series, all 16 patients with surgically accessible, localized, noninfiltrating AVMs who underwent preoperative angioembolization with subsequent surgical excision demonstrated no evidence of recurrence on angiography during a follow-up averaging 24.3 months. [29]
Surgical risk has commonly been determined by using the AVM grading system proposed by Spetzler and Martin. [34] In this system, AVMs were graded from I through V by adding up the numerical values for the following three variables:
Size of nidus - Small (< 3 cm), 1; medium (3-6 cm), 2; large (>6 cm), 3

Eloquence of adjacent brain - Noneloquent, 0; eloquent, 1

Venous drainage - Superficial only, 0; deep, 1
Grade VI lesions are essentially unresectable. Lawton et al described a supplement to the Spetzler-Martin system that added up to five additional points for three more variables: age, unruptured presentation, and diffuseness. [35]
In 2011, Spetzler and Ponce simplified the original Spetzler-Martin grading into a three-tier system, by which grades I and II were combined into class A, grade III became class B, and grades IV and V were combined into class C. [36]
Complications
Complications that may occur after embolization/sclerotherapy or surgical excision include the following:
Expansion

Recurrence

Poor cosmesis, disfigurement
Diet
No special diet is required or recommended.
Activity
Activity is not limited unless the patient is undergoing an interventional or surgical procedure.
Consultations
As mentioned previously, the management of vascular anomalies requires interdisciplinary care and collaboration between many specialities. Specific consultations depend on the type of vascular anomaly and its location. With regard to AVMs in particular, possible consultations include the following:
Pediatric or general surgery

Plastic surgery

Vascular surgery

Neurosurgery

Otolaryngology

Orthopedic surgery

Radiology

Interventional radiology

Hematology

Gastroenterology

Physical therapy

Occupational therapy

Speech therapy
Long-Term Monitoring
The chance of recurrence after surgical resection of an AVM is high, and experienced surgeons recognize that long-term follow-up is critical to ensure a cure. [6, 2] Accordingly, patients must be followed for years with regular physical examination, ultrasonography (US), MRI, or some combination thereof.
What would you like to print?