Treatment
Medical Care
In the management of superior vena cava syndrome (SVCS), the goals are to relieve symptoms and to attempt cure of the primary malignant process. Only a small percentage of patients with rapid-onset obstruction of the superior vena cava (SVC) are at risk for life-threatening complications. [14]
Patients with clinical SVCS often gain significant symptomatic improvement from conservative treatment measures, including elevation of the head of the bed and supplemental oxygen. [24] Emergency treatment is indicated when brain edema, decreased cardiac output, or upper airway edema is present. Corticosteroids and diuretics are often used to relieve laryngeal or cerebral edema, although documentation of their efficacy is questionable.
Radiotherapy has been advocated as a standard treatment for most patients with SVCS. It is used as the initial treatment if a histologic diagnosis cannot be established and the clinical status of the patient is deteriorating; however, reviews suggest that SVC obstruction alone rarely represents an absolute emergency that necessitates treatment without a specific diagnosis. [5, 26]
The fractionation schedule for radiotherapy usually includes two to four large initial fractions of 3-4 Gy, followed by daily delivery of conventional fractions of 1.5-2 Gy, up to a total dose of 30-50 Gy. The radiation dose depends on tumor size and radioresponsiveness. The radiation portal should include a 2-cm margin around the tumor.
During irradiation, patients improve clinically before objective signs of tumor shrinkage are evident on chest radiography. Radiation therapy palliates SVC obstruction in 70% of patients with lung carcinoma and in more than 95% of those with lymphoma.
In patients with SVCS secondary to non–small-cell carcinoma of the lung, radiotherapy is the primary treatment. The likelihood of patients benefiting from such therapy is high, but the overall prognosis of these patients is poor. [27]
Chemotherapy may be preferable to radiation for patients with chemosensitive tumors. [27] In 1983, Maddox et al reported on 56 patients with small-cell lung cancer who presented with SVCS. Correction of SVCS was obtained in 9 (56%) of 16 patients treated with radiation therapy alone, in 23 (100%) of 23 given chemotherapy, and in 5 (83%) of 6 who received combined therapy. [28]
The most extensive experience with management of SVCS secondary to non-Hodgkin lymphoma is reported from the M.D. Anderson Cancer Center. Patients were treated with chemotherapy alone, chemotherapy combined with radiation therapy, or radiation therapy alone. [29] All patients achieved complete relief of SVCS symptoms within 2 weeks of the institution of any type of treatment. No treatment modality appeared to be superior in achieving clinical improvement.
When SVCS is due to thrombus around a central venous catheter, patients may be treated with thrombolytics (eg, streptokinase, urokinase, or recombinant tissue-type plasminogen activator) or anticoagulants (eg, heparin or oral anticoagulants). Removal of the catheter, if possible, is another option, and it should be combined with anticoagulation to prevent embolization. [8, 18] . These agents are most effective when patients are treated within 5 days after the onset of symptoms.
In a 1988 report, Adelstein et al discussed prophylaxis against embolic events in the presence of SVC obstruction in the management of 25 patients with malignant SVCS. [30] Ten patients were retrospectively reviewed after having been diagnosed clinically without venography and treated without anticoagulation. Five thromboembolic complications occurred, two of which proved fatal.
Fifteen patients were prospectively evaluated by means of angiography and then treated with anticoagulants. [30] Angiographic evidence of intraluminal subclavian vein or SVC thrombosis was found in five of these patients, and no thromboembolic complications occurred. Of the 20 patients who were ultimately given anticoagulation therapy, two had fatal intracranial hemorrhages. The authors suggested that randomized prospective trials would be needed to determine the roles of venography and anticoagulation in the management of SVCS.
Admit the patient to the hospital if symptoms of SVCS are moderate to severe or if a patient requires the administration of thrombolytic therapy or anticoagulation. Transfer may be required for further diagnostic evaluation and surgical intervention.
Oxygen supplementation may be provided if needed. Antiemetics may be provided as needed to prevent nausea and vomiting. If a patient has been started on steroids, the steroids should be tapered slowly, depending on the patient's condition.
Surgical Care
Surgical bypass
Surgical bypass of the SVC may be a useful way to palliate symptoms in carefully selected patients with SVCS. Indications for proceeding with such procedures are not fully clear. For the most part, these are patients with advanced intrathoracic disease amenable only to palliative therapy (ie, after failure of radiation therapy and chemotherapy). Patients with benign disease appear to be the best candidates for bypass. [31, 32]
Stenting
The principal options for endovascular therapy today are stenting, percutaneous transluminal angioplasty (PTA), thrombolysis, or some combination thereof. In most patients with SVCS, stenting of the SVC provides rapid symptomatic relief within few days (see the images below).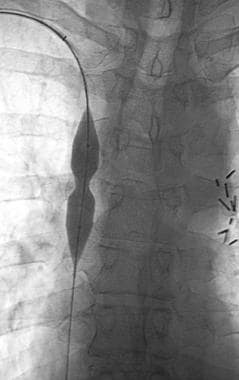 Superior vena cava syndrome (case 1, continued). Palmaz P308 stent mounted on 12-mm balloon was deployed in superior vena cava after it was predilated to 8 mm. Stent was subsequently dilated to 14 mm.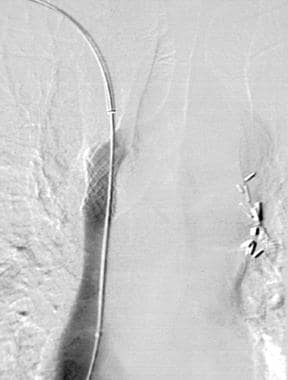 Superior vena cava syndrome (case 1, continued). Venogram obtained after stenting shows widely patent superior vena cava with no collateral drainage. Pressure measurements after stenting showed 1- to 2-mm residual gradient.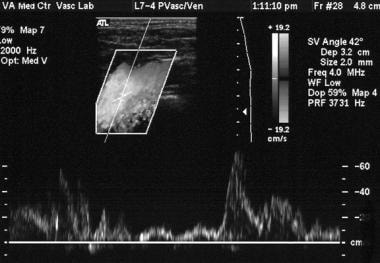 Superior vena cava syndrome (case 1, continued). Sonogram obtained 1 year after stenting shows near-normal venous pulsatility and respiratory phasicity. Patient experienced complete resolution of symptoms.
SVC stenting may provide relief of severe symptoms for patients while the histologic diagnosis of the malignancy causing the obstruction is being actively pursued. [17, 26, 32] It may also be indicated in patients in whom chemotherapy or radiation has failed. [33, 34, 35]
There is growing support for recommending stenting as a first-line treatment to be performed early in the management of SVCS. [33, 34, 35] A 2008 study by Rizvi et al concluded that stenting should be considered first-line therapy for SVCS of benign origin, with open surgical reconstruction still a good option if endovascular repair fails or is unsuitable. [36]
A 2016 study by Breault et al reported that the use of percutaneous endovascular techniques to treat benign SVCS yielded good long-term patency, with recurrences easily addressable by repetition of the procedure. [37]
A 2017 review by Sfyroeras et al examined the results of open (four studies; N = 87) and endovascular (nine studies; N = 136) treatment of benign SVCS. [38] Endovascular interventions included percutaneous transluminal angioplasty (PTA) and stenting (73.6%); PTA only (17.3%); and thrombolysis, PTA, and stenting (9%). Open procedures included spiral saphenous interposition graft, other vein graft, PTFE graft, and human allograft.
In this review, the technical success rate in the endovascular group was 95.6%, the 30-day mortality was 0%, 97.3% of patients reported symptom regression, and 26.9% underwent secondary procedures (58 secondary procedures in total). [38] The 30-day mortality in the open group was 0%, 93.5% of patients reported symptom regression, and 28.4% underwent secondary procedures (33 secondary procedures in total).
The use of endovascular therapy for SVCS of malignant origin has been discussed by del Río Solá et al. [39]
A systematic review and meta-analysis by Azizi et al (38 articles; N = 2200) reported high technical success rates, low restenosis rates, and low recurrence rates after endovascular therapy for SVCS. [40] These findings lent further support to the paradigm of endovascular therapy as a first-line treatment for SVCS of either malignant or benign origin.
Cases of excimer laser removal of pacemaker leads followed by venoplasty and stenting have been reported. [41]
Consultations
Consultations to be considered include the following:
Thoracic surgeon

Hematologist/oncologist

Radiation therapist

Interventional radiologist
Long-Term Monitoring
Carefully monitor the patient's symptoms and the adverse effects of the administered treatment. Patients should notify the physician immediately if any change in symptoms occurs.
What would you like to print?