Treatment
Approach Considerations
Patients with atherosclerotic occlusive plaques in the subclavian artery are usually asymptomatic and therefore require no treatment. However, if either vertebrobasilar symptoms or exercise-induced arm pain occurs, a search for subclavian artery occlusive disease should be undertaken.
No medical therapy is known to be capable of effectively treating subclavian steal syndrome. However, if the cause of subclavian steal syndrome is determined to be atherosclerotic stenosis or occlusion of the proximal subclavian artery, patients should be treated with lifelong antiplatelet therapy to reduce the risk of associated myocardial infarction, stroke, and other vascular causes of death.
If the ischemic symptoms are due to retrograde vertebral artery blood flow, surgical or interventional (ie, angioplasty or stenting) therapy is indicated. The goal is to restore antegrade blood flow in the vertebral artery, thereby alleviating symptoms. This goal can be achieved by restoring adequate perfusion pressure to the affected arm so that collateral blood flow from the head and neck is not required during arm exercise. At present, it is unclear whether stenting is more effective than angioplasty alone for stenosis of the subclavian artery. [2]
Surgical or interventional treatment should not be offered to treat subclavian artery stenosis or occlusion in the absence of symptoms related to either cerebral or ipsilateral arm ischemia. Symptoms (eg, ataxia, dysarthria, diplopia, and muscle cramping in the arm) must be associated with exercise and resolve quickly after cessation of exercise.
Proximal Subclavian Endarterectomy
First described in 1962 by DeBakey, the transthoracic approach to endarterectomy provided an excellent anatomic view for revascularizing the subclavian artery. Currently, direct surgical approaches to the proximal subclavian artery are of historical interest only, because endarterectomy has largely been replaced by less invasive extrathoracic bypass procedures; intraoperative mortality had ranged from 6% to 19%.
With endarterectomy, the artery is opened after vascular control is obtained, and the plaque, diseased intima, and internal elastic lamina of the vessel are removed, thus disobliterating the lumen.
Because the occlusive lesions in the proximal left subclavian artery develop as an extension of plaque from the aortic arch, partial occlusion of the arch must be performed to ensure that the entire lesion is effectively removed. On the left side, surgical exposure must be obtained through an anterolateral thoracotomy in the third intercostal space. On the right side, exposure can be accomplished through a transverse incision in the base of the neck without the need for thoracotomy.
Carotid Intervention
In patients with severe concomitant carotid artery disease, this condition may contribute to cerebral hypoperfusion in the setting of subclavian steal. Carotid endarterectomy for carotid bifurcation disease may improve cerebral perfusion. Proximal common carotid artery disease may be best approached angiographically for angioplasty or stenting.
Surgical Bypass or Transposition
Extrathoracic carotid-subclavian bypass
Extrathoracic carotid-subclavian bypass using a prosthetic conduit has largely replaced subclavian endarterectomy; mortality is 0.5%. Surgical exposure is easily obtained through a transverse incision at the base of the neck that extends 5-7 cm laterally from the sternal notch parallel to the clavicle.
Conventionally, 6- to 8-mm Dacron or polytetrafluoroethylene (PTFE) prosthetic grafts are used; autogenous vein has poor 5-year patency rates. [10] End-to-side (graft-to-artery) anastomoses can be performed without difficulty. The procedure is generally well tolerated.
Subclavian transposition
The subclavian artery can also be transposed to a new origin on the side of the common carotid artery. This operation is also performed through a transverse incision at the base of the neck and has the advantages of not requiring prosthetic material and of excluding the stenosis as a source of potential emboli. The dissection required is more extensive than that required for carotid-subclavian bypass, and care must be taken to avoid injury to the thoracic duct on the left side. An end-to-side subclavian-to-carotid anastomosis is performed.
Long-term results are similar to those of carotid-subclavian bypass. In patients who have an early origin of the vertebral artery or have had an internal thoracic artery harvested for coronary surgery, the bypass procedure is preferred.
Axillary-axillary bypass and variants
In settings where the ipsilateral carotid is unsuitable for carotid-subclavian bypass, the axillary artery may be revascularized via axillary-axillary bypass using a subcutaneously tunneled ring-reinforced prosthetic graft. Alternatively, axillofemoral bypass may be performed. These grafts are often superficial and are prone to infection. In severe innominate artery disease, antetracheal or sequential retroesophageal carotid-carotid and carotid-subclavian bypass can be performed.
Operative details
Before surgical bypass or transposition, arch aortography must be performed to ensure that the proximal common carotid and distal subclavian arteries are relatively free of disease. During aortography, it is important also to visualize the carotid and vertebral arteries because these vessels often contain other hemodynamically significant lesions that can contribute to the symptoms of subclavian steal syndrome.
For either carotid-subclavian bypass or subclavian transposition, an incision is made approximately 2 cm cephalad to the clavicle, extending laterally through the attachments of the clavicular head of the sternocleidomastoid. The scalene fat pad is identified, and care is taken to preserve the phrenic nerve that traverses from lateral to medial across the anterior aspect of the scalenus anticus. The muscle is divided, exposing the subclavian artery. The common carotid artery is easily exposed through the medial aspect of the same incision.
On the left side, the thoracic duct must be avoided. This structure is visualized near its junction with the proximal internal jugular vein. After systemic heparinization, control of the carotid and subclavian arteries is achieved, and a bypass is performed with a 6- to 8-mm PTFE or Dacron prosthetic graft. End-to-side anastomoses are performed to the common carotid and subclavian arteries.
Subclavian transposition requires more proximal dissection of the subclavian artery to ensure that a sufficient length of the artery is available to allow the anastomosis to be performed without undue tension. Additional care must be undertaken to control the proximal stump of the subclavian artery; bleeding in the superior mediastinum is difficult to manage. A partially occluding clamp on the common carotid is not necessary.
Complete carotid occlusion with a proximal and distal clamp affords a better view of the intima, and the short period of ischemia is generally well tolerated. Shunting of the common carotid artery during occlusion is usually unnecessarys but may be warranted if there is disease of the contralateral common or internal carotid arteries. Drains may also be placed during closure.
In the early postoperative phase, patients should be monitored for neurologic deficit. Head elevation helps reduce swelling in the surgical incision. Brachial blood pressures are taken in both arms and are expected to be remarkably similar after the procedure.
Endovascular Treatment
Currently, endovascular (ie, catheter-based) treatment of the proximal subclavian artery is the most common approach to the management of proximal subclavian lesions. Although open bypass or transposition is the gold standard, retrospective analysis shows that in appropriately selected patients, endovascular treatment has equally good outcomes. A study comparing early and long-term outcomes of endovascular repair with those of open surgical repair in patients with subclavian artery atherosclerotic occlusive disease found the two approaches to be comparably safe, effective, and durable. [11]
The technical success rate is 86-100%. In comparison with the open technique, complications with the endovascular technique are associated more with plaque emboli and bleeding from access sites than with local nerve injury. Moreover, most of these endovascular procedures can be performed successfully on an outpatient basis.
Although to date, there have been no double-blind randomized, controlled trials comparing balloon angioplasty alone with angioplasty and stenting for this condition, a systemic review of multiple retrospective observational studies concluded that stenting was superior to balloon angioplasty alone. [12]
Endovascular recanalization and stenting improve perfusion to the arm and treat subclavian steal syndrome (see the image below). Because plaque in the proximal subclavian artery is actually part of the atherosclerotic lesion in the aortic arch, the stent must traverse the entire plaque and protrude slightly into the lumen of the aortic arch. [13]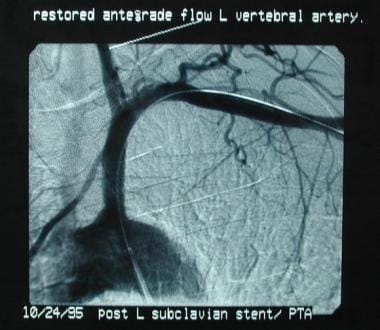 Successful stent treatment of subclavian stenosis, with restored antegrade flow into vertebral artery.
Procedural details
As with carotid-subclavian bypass or subclavian transposition, arch aortography should be performed before the procedure. This can be done via a right femoral access by using a multiple-sidehole catheter and a power injector.
As in any endovascular procedure, a guide wire must first be placed across the lesion. If the origin of the subclavian artery is not well defined, guide-wire placement may be more easily accomplished through the ipsilateral brachial artery or the radial artery in a retrograde direction. [14] On the other hand, if a stump of the patent proximal subclavian artery is visible, an antegrade approach via a right femoral artery access can be attempted.
Proper preparation of both access sites (brachial and femoral) is essential. If stenting is planned, the patient is given 5000 U of intravenous (IV) heparin. In general, balloon-expandable stents perform well in this location; they can be precisely placed and possess greater radial strength than self-expanding stents do. Care is taken to ensure that the subclavian stent does not compress the lumen of the ipsilateral vertebral artery or internal mammary artery. After stent placement, a selective subclavian arteriogram is obtained to confirm technical success.
After the procedure, patients should be monitored for 3-4 hours in a recovery area to confirm that no bleeding or hematoma has occurred in the access site. Neurologic status should also be monitored, and blood pressure should be recorded in both arms.
Complications
Surgical treatment
Complications related to surgical treatment may be classified as either local or cerebral. Local complications are related to injury to adjacent structures that may be encountered during the course of the operation (eg, the thoracic duct injury or the phrenic nerve) and are quite uncommon.
Cerebral complications are related to brain ischemic symptoms and can be caused either by thrombosis of the repair or by embolism up the carotid or vertebral arteries during the course of the procedure. Cerebral ischemia during common carotid occlusion is most unusual; therefore, a shunt is not used for the procedure. Postoperative stroke rates are in the range of 1.5-2.1%.
Endovascular treatment
Complications related to endovascular treatment can occur at the access site (femoral or brachial artery) or at the target vessel (subclavian or vertebral artery). Access site bleeding or hematoma is very uncommon but can occur. Target vessel thrombosis, dissection, or distal embolization have also been reported. These complications occur less than 4% of the time.
In a study comparing immediate and long-term results of endovascular treatment of steno-occlusive disease of subclavian arteries in 245 patients (125 with subclavian stenosis and 120 with subclavian occlusion), Karpenko et al reported intraoperative transitory ischemic attacks in the vertebrobasilar system in one patient from group 1 and three from group 2. [15] Nine patients from group 1 and 12 from group 2 had repeat interventions in the long term. Cumulative primary 4-year stent patency was 89.8% in group 1 and 87% in group 2. There was an increased risk of stent thrombosis or in-stent restenosis in patients with stents longer than 40 mm.
Long-Term Monitoring
There are no standardized guidelines for follow-up after treatment. Patients are seen at 3- to 6-month intervals for the first year and annually thereafter. At every visit, blood pressures should be checked in both arms. A decline in pressure on the operated side may be the first sign that recurrent stenosis may be developing.
Follow-up duplex scans of the reconstruction should be obtained at 6-month and 1-year intervals. Patients who have had subclavian stents should be treated with both aspirin and clopidogrel for a period of 6-12 months. Thereafter, a single antiplatelet agent is appropriate.
What would you like to print?