Workup
Laboratory Studies
No laboratory studies are required for the workup of thoracic outlet syndrome (TOS), because no laboratory study aids in the diagnosis of this condition. However, laboratory studies are useful for ruling out other diseases, such as a hypercoagulable state in venous thrombosis, and they also may be useful in preparing a patient for general anesthesia.
Chest Radiography
Chest radiography may be helpful in evaluating patients with neurogenic or arterial TOS. Cervical ribs or rudimentary first ribs often can be identified on chest radiography.
Computed Tomography
Standard computed tomography (CT) may help rule out other pathologic conditions that might cause symptoms mimicking TOS. For example, a herniated cervical disk or spinal stenosis is diagnosed by means of CT.
CT with three-dimensional (3D) reconstruction has become popular for evaluating the thoracic outlet. With the use of 3D CT scanning, compression of the structures at the thoracic outlet can be demonstrated clearly by using dynamic positioning (see the images below).
CT arteriography (see the first and second images below) and venography (see the third and fourth images below) can produce excellent images by using maximal intensity projection (MIP).
Magnetic Resonance Imaging
Standard magnetic resonance imaging (MRI) also can be used to rule out alternative diagnoses. It may be the noninvasive imaging modality of choice for suspected TOS. [10] Dynamic MRI with gadolinium infusion provides detail of the thoracic outlet and may be helpful when evaluating for compression. Gadolinium-enhanced magnetic resonance angiography (MRA) is thought to hold significant potential for imaging the thoracic outlet.
Poretti et al described an MRA protocol for evaluation of TOS that permitted separate assessment of veins and arteries through the use of a single, simultaneous and bilateral (SB-MRA) contrast injection that was valid for both abduction and adduction. [11] The investigators found this protocol to be safe and reliable and to be helpful for the diagnosis of TOS of arterial or venous origin.
Arteriography and Venography
Arteriography with dynamic positioning is used to demonstrate compression of the subclavian artery. Angiography may identify axillary-subclavian aneurysm (see the image below), and if an aneurysm is present, it is useful in planning surgery. Arterial stenosis with poststenotic dilatation also may be identified angiographically.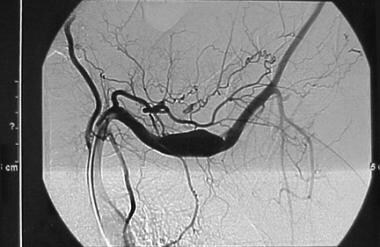 Thoracic outlet obstruction. Angiogram showing subclavian artery aneurysm in abduction/external rotation (AER).
Venography with dynamic positioning demonstrates abnormalities of the subclavian vein in patients with Paget-Schroetter syndrome (see the image below). Interestingly, venography of the contralateral arm of patients with venous TOS identifies compression with dynamic positioning in as many as 80% of patients. Despite the compression that occurs in the contralateral extremity, the incidence of contralateral DVT is only 15%.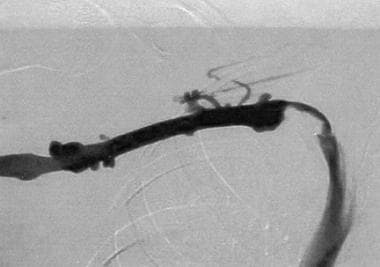 Thoracic outlet obstruction. Venogram showing venous stenosis.
During venography, abduct patients' arms to only 30° to avoid an erroneous diagnosis of complete vein occlusion. Always perform provocative maneuvers under fluoroscopy to document venous compression in patients with presumed Paget-Schroetter syndrome. If compression of the vein is not identified at 30º of abduction, then rotation of the neck, flexion or extension of the neck, or further abduction may be useful.
Ultrasonography
In venous TOS, ultrasonography (US) is useful as a noninvasive test to search for collateral circulation and evaluate the extent of thrombosis. Identification of significant collaterals may help with operative planning and may determine the type of exposure used in order to limit damage to these collaterals. Intravascular US (IVUS) has also been used to evaluate residual subclavian vein stenosis in patients who have undergone first-rib resection with anterior scalenectomy for venous TOS. [12]
In arterial TOS, US can document stenosis, poststenotic dilatation or aneurysm of the subclavian artery, and mural thrombus.
In neurogenic TOS, the finding of compression of the subclavian vein or artery on duplex US can facilitate diagnosis. [13]
Other Tests
Electromyography (EMG) and nerve conduction studies are useful in the workup of patients suspected of having neurogenic TOS. EMG usually yields normal findings in patients with TOS, but it is helpful in ruling out other neuromuscular problems. Nerve conduction velocity studies usually are more helpful than EMG is. A reduction in nerve conduction velocity of less than 85 m/s in either ulnar or median nerves across the thoracic outlet corroborates the diagnosis of neurogenic TOS. These studies also can be used as baseline values before treatment.
In evaluating a patient with neurogenic TOS, careful examinination of the scalene muscles and supraclavicular fossa is important. Scalene muscle block with local anesthetic has a 94% correlation with good early results of surgery.
The Adson sign is the loss of the radial pulse upon rotation of the head to the ipsilateral side and inspiration. A positive test result was considered pathognomonic for TOS, but the Adson test no longer is considered reliable, because these findings occur in as many as 53% of subjects without TOS.
Histologic Findings
Muscle biopsy specimens from patients with neurogenic TOS show that type I fibers predominate and type II fibers atrophy. Increased fibrosis also has been noted in the scalene muscles of these patients. These findings suggest that repetitive trauma may have a role in the development of neurogenic symptoms.
What would you like to print?