Treatment
Medical Therapy
Medical therapy alone is rarely an option in penetrating or blunt trauma to the extremity vasculature when hard signs of injury are present. Patients who are asymptomatic or who have only soft signs can often be observed, but such observation is best performed by a surgeon who is prepared to operate if changing circumstances require it. The observation must be performed with the understanding that if the examination findings change or if hard signs develop, surgical intervention is necessary.
Nonocclusive injuries diagnosed on computed tomography (CT) angiography (CTA) can often be managed nonoperatively. [1] Temporary vascular control can be achieved by simply applying pressure to the vessel proximal to the injury (eg, femoral pressure in a lower-extremity wound). The application of tourniquets, while helpful in the operating room, should be limited to patients at risk for exsanguination in the prehospital and field environments who are not responsive to direct pressure for hemorrhage control.
The use of tourniquets, especially those left for prolonged periods, markedly increases the incidence of amputation of an injured extremity. Any medical personnel applying a prehospital tourniquet for extremity vascular injury should clearly document its necessity as a lifesaving anti-exsanguination device when direct pressure fails and should understand that, in most cases, a tourniquet saves a life but results in loss of an extremity.
Some studies have suggested that lessons from military use of emergency tourniquets can be applied to civilian settings to achieve better results than have previously been reported. [36, 37]
Whereas pharmacologic anticoagulation is a viable therapy for arterial thrombosis in some situations, acute injury of the arteriovenous tree usually necessitates surgical intervention and mechanical repair. Limited anticoagulation or antiplatelet drugs may be helpful after vascular repair, especially with prosthetic material, but the potential benefit of these drugs must be carefully weighed against the potential for hemorrhage in other injured tissue, especially with concurrent brain or spinal injury.
Surgical Therapy
Surgical intervention for suspected peripheral vascular injuries can be as minor as operative visualization of normal vascular anatomy for diagnostic purposes or as extensive as reconstruction and replacement of entire segments of injured vessels. [38]
The timing of surgical intervention can be critical to outcome in extremity vascular injury. Vascular reconstruction that occurs within 3 hours of injury has generally been accepted as having the best outcome. This can frequently be accomplished in urban level 1 trauma centers, but it becomes more difficult in rural areas, where the hospital may be geographically distant and the availability of rapid Emergency Medical Services (EMS) transport and of interventional radiology and surgical subspecialists may be limited.
In a study of 4406 patients with lower-extremity arterial injuries, Alarhayem et al found that optimal limb salvage was achieved when revascularization of these injuries took place within 1 hour of injury. [39] The amputation rate was 6% for those undergoing repair within 60 minutes, 11.7% for those undergoing repair after 1-3 hours, and 13.4% for those undergoing repair after 3-6 hours.
In most cases where the injured segment is no longer than 1 cm, dissecting and freeing edges and performing a primary anastomosis is frequently possible. Care must be taken to avoid traction on perforating branches or excessive dissection, which may devascularize surrounding tissue. Attention to vascular surgical technique should minimize tension on the vessel and stricture at the anastomotic site.
In more severe cases with multiple associated injuries, hemorrhage control through ligation of actively bleeding arterial or venous vessels may be all that is possible. Tissue viability distal to an arterial ligation depends on regional arterial anatomy, collateral blood flow, preexisting atherosclerotic disease, competent venous outflow, and volume status.
Although venous ligation is counterintuitive, it may carry a higher risk than arterial ligation. Certain vessels, such as the popliteal vein, carry a high postligation amputation rate, whereas the rate for femoral or external iliac vein ligation is statistically lower. The risk of subsequent amputation after any ligation is much higher than that after vascular repair, but patients with severe brain injury or hemodynamic instability may not tolerate a 2- to 3-hour operation to repair a vascular injury, and damage-control techniques with arterial or venous ligation may save lives.
Use of intravenous (IV) chemical vasoconstrictors (eg, phenylephrine or norepinephrine) should be minimized in the postoperative period.
If the patient's condition and hemodynamic status allow prolonged operative intervention, general replacement of an injured peripheral arterial segment is accomplished with an autologous vein. The saphenous or cephalic veins harvested from the same or contralateral extremity are the most commonly used vein segments.
Polytetrafluoroethylene (PTFE) can be used in some situations but is commonly reserved for above-the-knee or above-the-elbow applications. PTFE has been successfully used in contaminated fields with a low infection rate [40] for both venous and arterial reconstruction. In some trauma centers, PTFE is the preferred conduit and has replaced the use of an autologous vein in above-the-knee, below-the-knee, and elbow reconstruction. Stevens et al [41] summarized the causes of failure of arterial reconstruction.
Typically, in most acute situations, venous injuries are primarily ligated, but for a select number of injuries in hemodynamically stable patients, venous reconstruction may be an option. Little in the way of prospective data is available in the trauma literature, but readers are directed to an older but more pertinent retrospective review in the Journal of Vascular Surgery for more information. [42]
After reconstruction in the stable patient or vascular ligation in damage-control situations has been completed, the surgeon should consider the risk of reperfusion injury and the potential for compartment syndrome. [43] This is more common in distal lower extremities but is also possible in proximal compartments and the upper extremities.
Fasciotomies increase the risk of infection, increase fluid and blood loss, and eventually require reoperation for either skin closure or skin grafting. [44, 45] These complications should be weighed against the risk of compartment syndrome with risk of limb loss, renal failure from myoglobin release, and tissue gangrene. Monitoring compartment pressures in the postoperative period in conjunction with the clinical examination is possible, but prophylactic fasciotomies, even with the attendant risks noted above, are to be recommended in the more severe cases.
The most challenging injuries are those of the mangled extremity, with concurrent bony, soft-tissue, nerve, and vascular injury (see the image below). The treatment of these complex injuries precludes detailed description in a short review, but many authors have evaluated the factors that determine the risk of amputation.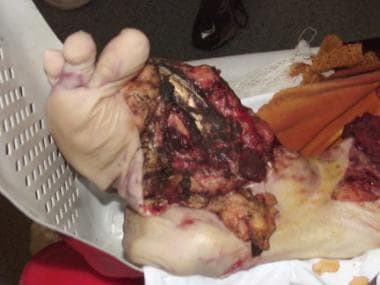 Crushed and mangled foot of a person who was involved in a motor vehicle accident.
Scoring systems have been developed as a means to predict amputation and functional outcome. Scoring systems such as the Mangled Extremity Syndrome Index (MESI), the Mangled Extremity Severity Score (MESS), [46] the Predictive Salvage Index (PSI), and the Limb Salvage Index (LSI) were reviewed by Durham et al, [47] who found that prediction of amputation was sensitive and specific but prediction of functional outcome was universally poor.
The MESS score appears to be the most commonly used method and is based on criteria that include the following [48] :
Degree of skeletal/soft-tissue injury

Limb ischemia

Shock

Patient age
Note that some authors have been unable to validate individual scoring systems, and no one system is universally accepted. [49]
Interventional radiologic techniques should also be noted as an option in acute injury, but the indications and timing are still being developed. Coil embolization of complications of vascular trauma (eg, arteriovenous malformations and pseudoaneurysms) is relatively commonplace.
Endovascular stenting has been reported for acute traumatic injuries since 1994, but not all facilities have access to it. [50, 51, 52, 53] Long-term outcomes and complication rates remain to be defined; more long-term follow-up study is necessary. [54, 55, 56]
The use of a temporary intravascular shunt (TIVS) for vessel injury has primarily been associated with military as opposed to civilian settings; however, there is some evidence to suggest that it might reasonably be considered as a damage-control measure for a patient in extremis or as a temporizing measure for orthopedic fixation. [57, 58]
Procedural details
When reconstruction is planned, the best results have been reported in patients who are hemodynamically stable with normal laboratory findings and who have undergone preoperative arteriography to localize the injury. In some cases, operative intervention is primarily performed for life-saving hemorrhage control rather than for operative repair with limb salvage.
Initial ligation for life-threatening vascular hemorrhage may allow stabilization of patients and subsequent exploration and repair of the injured vessels. In the patient who remains hemodynamically unstable, the surgeon should balance the desire to save the limb with the desire to preserve the patient's life.
Postoperative Care
Frequent monitoring and vascular checks (eg, pulse presence, quality, and capillary refill) should continue for the first 24-48 hours. Consideration of anticoagulation and antiplatelet agents should be weighed against the risk of fatal hemorrhage from other injuries (eg, head and chest injuries).
Adequate hydration must be maintained, especially after administration of contrast dye, after episodes of hypotension, and in the presence of concomitant renal injury. A urine output of 20 mL/hr or higher is ideal in adult patients.
Complications
Thrombosis of the graft remains the most common complication of vascular injury and blood vessel repair. Narrowing of the vessel with primary repair or kinking of the graft, especially after repetitive orthopedic intervention, may compromise volume of flow and may necessitate revision of the repair. Ligation of vessels for emergency hemorrhage control may result in ischemia, leading to amputation more frequently than vascular repair.
One of the more difficult situations for patients and surgeons occurs when permanent nerve injury ensues but is diagnosed late because of concurrent head or other injury. Functional vasculature with significant irreparable denervation of motor and sensory components of the extremity usually results in a useless appendage, which causes more problems or complications than amputation.
Splinting or bracing the extremity occasionally provides an acceptable functional result and should be considered, but many patients opt for amputation and a functional prosthesis rather than a nonfunctional insensate extremity that requires constant care and monitoring.
Long-Term Monitoring
Vascular repair with palpable pulses in the postoperative period rarely warrants repeat angiography. If a completion angiogram was not performed in the operating room, duplex Doppler ultrasonography (US) may provide a less invasive method of monitoring graft status.
Advise patients of the risks and symptoms of thrombosis or vascular occlusion so that they may quickly contact the surgeon or obtain evaluation in a local emergency department if problems occur. The clinician should consider the need for anticoagulation or antiplatelet medications (eg, warfarin or aspirin), balancing the overall risk to patients against the requirements posed by the graft and vascular repair.
What would you like to print?