Treatment
Approach Considerations
Indications for intervention in patients with a renal artery aneurysm (RAA) include the following [9, 22, 7, 27] :
Rupture

Symptomatic RAA - Hypertension (from associated renal artery stenosis, refractory to medical management), pain, renal ischemia or infarction secondary to embolization from the aneurysm sac

RAAs in females who are pregnant or are contemplating pregnancy

Diameter greater than 2 cm

Enlarging RAA

RAA associated with acute dissection
Currently, there is no consensus regarding the size at which an RAA should be repaired in an asymptomatic patient. Experts have recommended RAA repair at diameters ranging from 1.5 to 3 cm, [22] though most suggest 2 cm. Some reports have even suggest that larger asymptomatic saccular aneurysms may be managed expectantly. It should be noted that aneurysm rupture at a diameter of 1.5 cm has been reported.
Complete calcification of the wall of the aneurysm sac manifests in about 40% of patients. Such calcification was once believed to confer protection against rupture [10] ; however, this belief has since been questioned. [33]
Asymptomatic small (< 2 cm in diameter) RAAs do not usually require treatment. One notable exception is an RAA in a woman who is pregnant or contemplating pregnancy. In view of the increased risk of rupture in such cases, [34] even small asymptomatic aneurysms should be repaired in this population.
For diagnosis and preinterventional planning, gadolinium-enhanced magnetic resonance angiography (MRA) and computed tomography (CT) angiography (CTA) with three-dimensional (3D) reconstruction have essentially replaced conventional arteriography.
Regular follow-up examination with ultrasonography (US) or CT is recommended in patients who are treated expectantly. Spontaneous cure by thrombosis of small aneurysms has been described.
Ongoing refinements in endovascular techniques have allowed more RAAs to be treated in this manner. Excellent short- and intermediate-term results have been described in the literature. [35, 36]
Case reports have described the use of robot-assisted laparoscopic approaches to the treatment of RAAs. [37, 38, 39, 40, 41]
Surgical Therapy
Emergency surgical repair of ruptured aneurysm
Emergency surgery is required to control hemorrhage and prevent death from a ruptured RAA. A midline approach with supraceliac aortic control is required because exposure of the renal vessels may be difficult in the presence of a large perinephric hematoma. The aortic cross-clamp can be removed once the renal artery is controlled.
In most cases of rupture, renal salvage may not be possible because of hemodynamic instability; therefore, nephrectomy may be necessary. In a hemodynamically stable patient, renal salvage with renal artery reconstruction may be considered. [2]
Management of the gravid uterus in a pregnant patient with acute RAA rupture should follow the same principles observed in treating hemorrhage caused by intra-abdominal trauma in a pregnant patient. Cesarean delivery should be avoided if possible because it increases operating time and results in additional blood loss.
Specific indications for cesarean delivery at the time of emergency laparotomy include interference of the gravid uterus with adequate exposure, fetal distress that outweighs the risk of fetal prematurity, and impending or recent maternal death. [42, 21]
Elective open repair
Elective repair of an RAA is generally undertaken to obviate the risk of rupture or treat the symptoms from RAA. Various operations are available for patients; the morphology and anatomic location of the aneurysm determine which approach to use. At times, partial nephrectomy may be needed, but with improved surgical technique, renal preservation is now the standard of care.
Tangential excision with primary repair or patch angioplasty
This is the procedure of choice for solitary saccular aneurysm at a proximal bifurcation and should be performed whenever feasible. It is associated with good anatomic and clinical results. Approximately one third of RAAs are amenable to such treatment. Aneurysms with small necks may be repaired primarily; otherwise, a patch angioplasty using autogenous saphenous vein or prosthetic material may be needed (see the image below). [9, 22]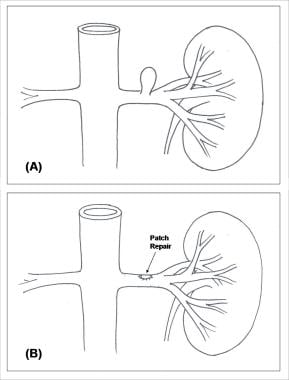 (A) Extraparenchymal saccular aneurysm. (B) Tangential excision with patch angioplasty.
Aneurysm excision with reconstruction using bypass
This is indicated if excision of the aneurysm and patch angioplasty is not possible. Fusiform aneurysm, large aneurysms, and aneurysms associated with proximal renal artery stenosis or fibromuscular dysplasia (FMD) are usually repaired in this manner.
After segmental excision of the aneurysm and renal artery, the preferred arterial reconstruction is with an autogenous saphenous vein aortorenal bypass graft. This is typically constructed with an end-to-side configuration for the proximal anastomosis and an end-to-end configuration for the distal anastomosis (see the image below). [9, 43] Saphenous vein graft and prosthetic material are both acceptable options, though saphenous vein graft is preferred because of its superior patency rates. [22]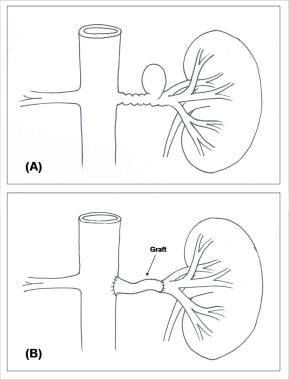 (A) Fibromuscular dysplasia with string-of-beads appearance and wide-necked extraparenchymal saccular aneurysm. (B) Aneurysm excision with reconstruction using a bypass graft.
If the aorta is heavily diseased by atherosclerosis, alternative bypass donor arteries may be used. These include splenorenal bypass, hepatorenal bypass, and iliac-to-renal bypass.
Extracorporeal vascular reconstruction with autotransplantation
With complex hilar or intrarenal aneurysms involving multiple arterial segments, in-situ exposure of the renal hilum is difficult. Extracorporeal or ex-vivo surgery allows adequate exposure. [44, 45, 46] The renal artery and vein are divided to facilitate elevation of the kidney from the renal fossa onto the abdominal wall.
Simple continuous perfusion of the kidney via the renal artery with a cold (4°C) preservative solution such as that used in kidney transplantation allows the kidney to be maintained ex vivo for an extended time. Surface hypothermia is also maintained with a constant drip of chilled solution onto the kidney wrapped in an iced laparotomy pad. [47, 22, 43]
Once ex-vivo reconstruction with saphenous vein is complete, the kidney may be autotransplanted [48] into the iliac fossa, as in renal transplant recipients, or may be placed into the original renal fossa and revascularized by attaching the arterial graft to the aorta and the renal vein to the vena cava or renal vein remnant.
Autotransplantation into the renal fossa is favored over autotransplantation into the iliac fossa because many ex-vivo procedures are performed in relatively young patients. The iliac arterial system is susceptible to significant atherosclerotic disease, and attachment of the kidney there may adversely affect the long-term success of renovascular reconstruction. [47]
As a consequence of the complex nature of repairs at the hilum, there can be up to 45 minutes of warm ischemia time. Making the determination that ex-vivo repair will be needed before surgery is important. If not, considerable warm ischemia time may accumulate while in-situ repair is being attempted, thus dooming the eventual ex-vivo repair to failure.
The advantages of extracorporeal reconstruction include a superficial blood-free operating field and the possibility of needing an operating microscope.
Nephrectomy
Nephrectomy is often needed to treat intrarenal aneurysms because these commonly are not amenable to other repair techniques, except possibly coil embolization.
Partial nephrectomy may be combined with RAA repair in certain scenarios, as follows:
Multiple RAAs in both intraparenchymal and extraparenchymal location

RAA with associated renal lesions (malignancy or tumors)
Total nephrectomy is indicated in patients with the following conditions:
Multiple large intrarenal aneurysms that are not amenable to partial nephrectomy

RAA with associated renal lesions that are not amenable to partial nephrectomy

Aneurysmal rupture in a patient with shock who cannot tolerate the operating time needed for renal artery reconstruction

RAA in a nonfunctional kidney (as in severe ischemic renal atrophy or end-stage renal disease)
Minimally invasive surgery
Laparoscopic RAA repair with robotic assistance has been described. [40, 41] Such an approach may be considered as an alternative to open surgical repair when endovascular treatment is not an option.
Operative details
Once a patient is deemed a candidate for surgery, appropriate preparations are needed. At a minimum, all patients should have a complete blood count (CBC), chemistry panel, coagulation profile, urinalysis, and blood cross-match for 2 units. Patients older than 35 years should undergo electrocardiography (ECG) and be appropriately screened and evaluated for cardiac disease prior to elective surgery. Patients who are older than 50 years or have a history of pulmonary disease should undergo preoperative chest radiography.
Depending on the planned procedure, the patient should be positioned for either a transperitoneal or a retroperitoneal approach. In most cases, a retroperitoneal incision provides adequate exposure for the renal artery and ex-vivo repairs. A transperitoneal incision is indicated mainly for ruptured RAAs, but this incision requires bowel manipulation, causing postoperative ileus. This is minimized with a retroperitoneal incision. [21]
As with all aneurysm surgery, the principles of carefully obtaining proximal and distal control before dissecting around the aneurysm are essential. If a complex repair is anticipated, early consideration should be given to performing an ex-vivo reconstruction.
Endovascular Therapy
Advances in endovascular techniques have led investigators to attempt endovascular therapy for visceral aneurysms, including RAAs. [14, 50, 51, 52, 53] Such therapy has come to be preferred to open repair in many centers. [4] Cases have been reported where endovascular approaches have been applied to ruptured RAAs; however, larger studies are required to evaluate long-term outcomes. [54]
Although the clinical and angiographic success rates using these techniques are very high, there remains a need for additional data on long-term results. Periodic surveillance for patients treated with endovascular techniques is essential.
Coil embolization
Coils are thin platinum or steel wires with retained memory that allows them to coil once deployed from a catheter. They cause a disturbance of blood flow with subsequent thrombosis (see the first image below). With the advent of microcoils and more flexible delivery catheters, coil embolization is being used more often, [55] but potential disadvantages remain. If the entire aneurysm sac is not filled with coils, the aneurysm will continue to expand (see the second image below).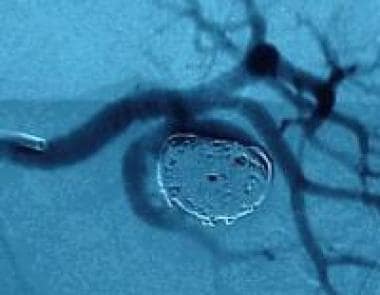 Arteriogram of saccular renal artery aneurysm after coil embolization.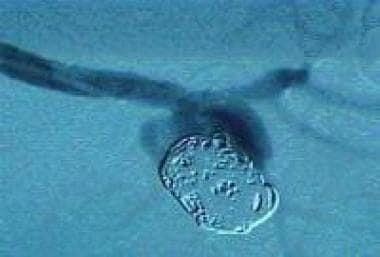 Subsequent expansion of aneurysm 6 months after coil embolization.
Originally, only saccular aneurysms with small necks were filled with coils because of the fear of coil migration. Subsequently, investigators began to treat wide-necked saccular aneurysms by placing a bare-metal stent across the neck, then filling the aneurysm with coils through the interstices of the stent. [56, 57] An advantage of coil embolization is that it can be used in extraparenchymal or intrarenal aneurysms. [58]
Liquid embolization
An alternative technique uses ethylene vinyl alcohol copolymer as a liquid embolization agent. While placing an inflated angioplasty balloon in the main renal artery for protection, the operator is able to infuse the polymer directly in the aneurysm sac in a controlled manner under visualization. One of the advantages of this method is that it can be used to provide precise treatment for wide-necked RAAs. [59]
Stent graft
Stent grafts are bare-metal stents lined with polytetrafluoroethylene (PTFE) or Gore-Tex. They were originally handmade, but devices with greater flexibility and lower profiles were subsequently developed. [60] Stent grafts require a length of nondilated artery proximal and distal to the aneurysm in order to form a seal and exclude the aneurysm from circulation. They are of limited utility at renal artery bifurcations but can be used in fusiform or saccular aneurysms more proximally located in the main renal artery. An additional benefit is the ability to treat both renal artery stenosis and RAA (see the image below). [61, 62]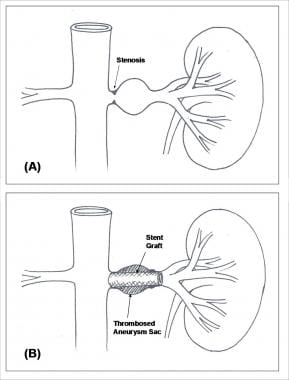 (A) Renal artery stenosis with poststenotic fusiform aneurysm. (B) Exclusion of aneurysm and dilatation of stenosis with endovascular stent graft.
Some studies have suggested that flow diverters, first developed for use in the treatment of cerebrovascular aneurysms, may be useful in the treatment of complex RAAs presenting side branches arising from the aneurysmal sac [63] ; additional data from prospective studies are needed to determine their long-term efficacy.
Postoperative Care
Postoperatively, attention should be paid to a patient's renal function (with urine output) and chemistries. Otherwise, standard principles of postoperative care should be applied.
Complications
Aside from the usual complications that may accompany any major abdominal surgical procedure, the complications inherent in RAA surgery include the following:
Native renal artery or graft occlusion in the early postoperative period, most often due to technical error

Diminished renal function due to prolonged warm ischemia time

Greater risk of postoperative cardiac events due to the high prevalence of atherosclerotic disease in this group of patients

Postoperative graft occlusion due to technical error, the prothrombotic nature of some graft material, or hypercoagulability from a variety of sources

Segmental ischemia of the kidney from occlusion of a branch vessel by emboli during open repair, coil migration, or incorrect stent graft placement

In the case of endovascular repair, possible continued aneurysmal expansion from inadequate embolization or seal after stent placement
Barrionuevo et al performed a systematic review and meta-analysis of studies involving the management of visceral artery aneurysms, which included 1279 RAAs. [64] For RAAs, they reported a postembolization syndrome rate of 9% and a coil migration rate of 29%; otherwise, access-site complication rates were low.
Long-Term Monitoring
Ideally, patients should have yearly postoperative renal artery duplex US scanning to monitor the patency of arterial reconstruction and identify new aneurysms. Abnormal findings on duplex US can be confirmed by performing CT, MRA, or conventional arteriography. Those who have undergone endovascular repair merit close follow-up because long-term data on the success of this approach are limited. [65, 35]
What would you like to print?