Workup
Laboratory Studies
Laboratory studies to be considered in the workup of carotid atherosclerosis include the following:
Complete blood count (CBC)

Electrolytes, blood urea nitrogen (BUN), and creatinine

Lipid profile

Prothrombin time (PT) and activated partial thromboplastin time (aPTT) - Heparin is administered during carotid endarterectomy (CEA), and knowing the PT or aPTT preoperatively is important
Computed Tomography Angiography
Computed tomography (CT) angiography (CTA) of the neck can provide important anatomic details useful for preoperative planning of CEA and transfemoral carotid stenting, including arch type, atherosclerotic burden, location of carotid bifurcation, and degree of stenosis. Additionally, it can be useful for determining anatomic suitability for transcarotid artery revascularization (TCAR).
Ultrasonography
Carotid duplex ultrasonography (US), with or without color, is the screening test of choice to evaluate for carotid stenosis. Many surgeons operate after seeing the results of a carotid duplex study alone if the laboratory has credentials and is validated. (See the images below.)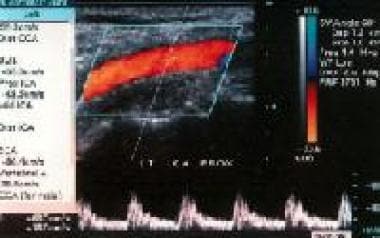 Normal carotid arteries on color flow duplex ultrasonography.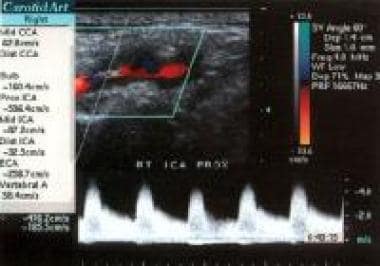 Color flow duplex ultrasonogram reveals 80-99% left carotid stenosis and normal right carotid.
In a study by van Engelen et al that used three-dimensional US to evaluate 298 patients with carotid atherosclerosis, changes in carotid plaque texture and volume were found to be strong predictors of vascular events (eg, myocardial infarction [MI], transient ischemic attack [TIA], and stroke). [20]
Arteriography
Aortic arch and carotid arteriography was used in the North American Symptomatic Carotid Endarterectomy Trial (NASCET) to evaluate the percentage of stenosis. The diameter of the narrowest portion of the lesion is divided by the normal internal carotid artery diameter distal to the lesion. This procedure may be associated with a 1-2% risk of stroke.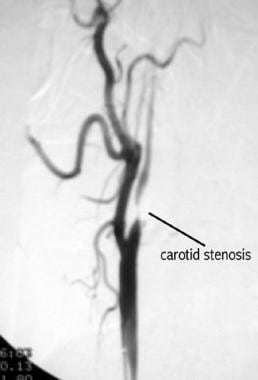 Arteriogram of carotid stenosis.
Other Studies
All symptomatic patients should undergo a head scan with CT or magnetic resonance imaging (MRI) to rule out other intracranial lesions and identify the presence of new and old cerebral infarcts.
Evidence of prior MI and ischemic changes on electrocardiography (ECG) are important to identify. The most common cause of mortality after CEA is MI.
Carotid magnetic resonance angiography (MRA) has a tendency to overstate the significance of the stenosis. Its exact role is not well defined; it may be useful in collaborating the finding of an occluded carotid with duplex.
What would you like to print?