Workup
Approach Considerations
Key questions in cases of superficial thrombophlebitis concern the location and extent of the thrombosis, as well as its proximity to the deep venous system at the saphenofemoral or saphenopopliteal junction.
Patients who present with spontaneous thrombophlebitis without a previous indwelling intravenous (IV) catheter or other precipitating cause should be considered for evaluation for a hypercoagulable state. Certainly, all patients with a past history of another thromboembolic event should undergo a workup as well.
Migratory thrombophlebitis, especially without good cause, may be an indication for a more detailed evaluation of the patient to determine whether a malignant lesion exists. This evaluation should include selective application of serum carcinoembryonic antigen (CEA) testing, prostate-specific antigen (PSA) testing, colonoscopy, computed tomography (CT), and mammography.
A combination of functional and semianatomic or anatomic techniques allows a complete understanding of most venous system pathology. Functional tests are extremely useful as measures of whole-leg or regional venous function, but they can detect only regionally significant reflux or a significant impediment to venous outflow, which would predispose to the development of a thrombus.
Anatomic imaging of the venous system can detect small amounts of local and regional reflux, as well as the presence of an obstructing or nonobstructing thrombus. Unfortunately, anatomic imaging often fails to identify important functional deficits.
Histologic findings include inflammatory reaction in the vein wall and thrombus in the lumen of the vein.
Laboratory Studies
Blood tests rarely are helpful in the diagnosis of thrombophlebitis, except in those patients at risk for an underlying hypercoagulable state. Several common hypercoagulable states, including the following, can be identified through laboratory studies:
Resistance to activated protein C (most often due to factor V Leiden)

Antiphospholipid antibodies

Prothrombin gene 2010-a mutation (factor II mutation)
Schönauer et al reported a high factor VIII concentration to be an independent risk factor for superficial thrombophlebitis. [19] In another study, de Godoy and Braile reported that 5.5% of patients with repetitive superficial thrombophlebitis were positive for protein S deficiency. [20] Other authors have reported that factor V Leiden and the prothrombin gene mutation significantly increase the risk of superficial thrombophlebitis.
The prothrombin time (PT) and activated partial thromboplastin time (aPTT) are not useful in the diagnostic evaluation of patients with suspected superficial or deep thrombophlebitis. Most patients with thrombophlebitis have a normal PT and aPTT, and active thrombophlebitis is not uncommon in patients with a therapeutically elevated international normalized ratio (INR) due to warfarin therapy.
A low white blood cell (WBC) count lowers the likelihood of an infectious process and raises the likelihood of phlebitis. An elevated WBC count is not specific, because normal and elevated WBC counts are common in patients with thrombophlebitis. Chronic venous insufficiency (venous congestion due to reflux) and superficial thrombophlebitis or deep venous thrombosis (DVT) can mimic leg cellulitis very closely, and true cellulitis (with an elevated WBC count) is a frequent complication of both diseases.
D-dimer is a unique degradation product produced by plasmin-mediated proteolysis of cross-linked fibrin that is often measured in the evaluation for DVT and pulmonary embolism (PE). However, it is of little clinical use for detecting thrombophlebitis. [21]
Venography
Venography is rarely required to diagnose superficial thrombophlebitis. The modality is also not necessary to exclude the diagnosis of DVT, which can be excluded with duplex scanning.
Invasive contrast venography, once the criterion standard for evaluation of the venous system, has fallen out of favor because of its invasiveness, as well as its use of ionizing radiation and IV contrast. In addition, it can lead to venous scarring and thrombophlebitis. If information on the pelvic veins or iliac venous outflow tract is required, CT venography, if available, is usually preferable.
Magnetic resonance venography (MRV) is a noninvasive test that probably is more sensitive and more specific than ultrasonography (US) in the detection of deep venous thrombophlebitis; however, this is not readily available and is not practical at most institutions.
Ultrasonography
Duplex US evaluation is the diagnostic study of choice for venous thrombosis. Thrombosed veins may appear thickened or inflamed on US, but the most accurate diagnostic finding is a lack of compressibility of the vein using the scan head (see the image below). An experienced sonographer should be able to diagnose superficial thrombophlebitis with a high sensitivity and specificity. [22]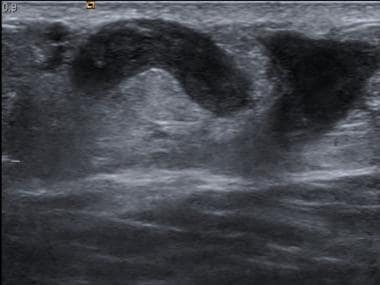 Thrombosis of great saphenous vein and tributaries. Note lack of full compressibility of vein secondary to intraluminal thrombus. Courtesy of Wikimedia Commons ©Nevit Dilmen.
All patients with superficial thrombophlebitis above the knee should undergo duplex US as the initial diagnostic modality of choice to rule out DVT. When the patient has superficial thrombophlebitis below the knee, duplex US is only indicated for signs and symptoms consistent with DVT (eg, asymmetrical swelling, erythema, pain). Superficial thrombophlebitis in lower-extremity varicose veins has an extremely low incidence of DVT. [23]
After an initial diagnosis of superficial thrombophlebitis, especially in the thigh region, a follow-up duplex US examination in 48-72 hours should be performed to look for progression of disease after treatment is initiated. A finding of no clot extension indicates successful therapy. Thrombus extension or encroachment toward the deep venous system should prompt more aggressive treatment.
Results from a study by Quéré et al indicated that in patients with symptomatic superficial venous thrombosis, compression US of an affected limb's entire venous system provides valuable treatment information. [24] The investigation involved 844 patients from the Prospective Observational Superficial Thrombophlebitis (POST) study, all of whom had symptomatic superficial venous thrombosis. A complete lower limb scan of both legs using compression US was performed on all of the patients, with imaging of the superficial and deep venous systems.
Among the report's findings were that concomitant DVT was present in 198 patients (23.5%) and that 41.8% of those individuals had proximal DVT. [24] Superficial venous thrombosis was not contiguous with DVT in 83 (41.9%) of the 198 patients.
Diagnosis in Pregnancy
Venous thrombophlebitis and PE are common during all trimesters of pregnancy and for 6-12 weeks after delivery.
Superficial varicosities and superficial phlebitis, along with associated DVT, are also common during pregnancy because of a pregnancy-related reduction in intrinsic plasminogen activator activity. Failure to treat the mother properly is the most common cause of fetal demise.
The diagnostic approach, as follows, should be exactly the same in a pregnant patient as in a nonpregnant one:
Duplex US is safe in pregnancy

If indicated, a nuclear perfusion lung scan may be performed safely in pregnancy

If indicated, heparin may be used in pregnancy

If indicated, fibrinolytics may be used in pregnancy
What would you like to print?