Presentation
History
Early in the clinical course of superior vena cava (SVC) syndrome (SVCS), signs or symptoms may be subtle or absent. Typically, symptoms accelerate as the underlying malignancy increases in size and/or invasiveness. Dyspnea is the most common symptom, followed by trunk or extremity swelling. Other symptoms include the following:
Neurologic symptoms, such as dizziness and confusion, are late findings as cerebral edema occurs.
Physical Examination
Physical examination often reveals facial or upper extremity edema. The degree of facial edema has been described as facial engorgement (as is seen in the image below).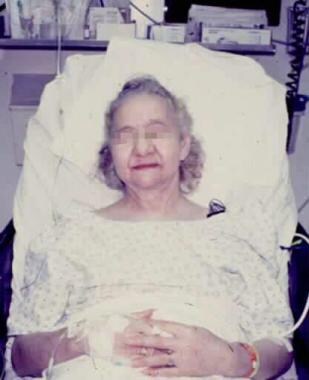 Superior Vena Cava Syndrome in Emergency Medicine. Patient with a 4-week history of increasing facial edema and known lung cancer.
The degree of jugular venous distention varies but often progresses through the course of disease.
Other markers of lung malignancy, such as Horner syndrome, paralysis of the vocal cords, and paralysis of the phrenic nerve, are rarely present.
Stridor may occur as the syndrome progresses and airway obstruction occurs.
What would you like to print?