Workup
Approach Considerations
The diagnosis of superior vena cava syndrome (SVCS) is often made on clinical grounds alone, combining clinical presentation with an often-obtained history of thoracic malignancy.
Imaging Studies
Plain radiography is often helpful and reveals a mediastinal mass in most patients (as is seen in the image below).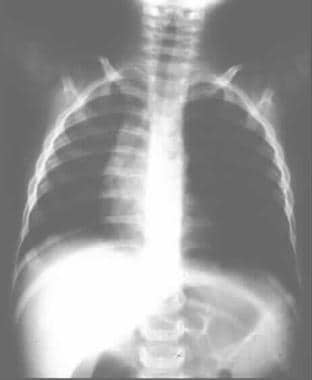 Superior Vena Cava Syndrome in Emergency Medicine. Chest radiograph of a patient with known superior vena cava syndrome (SVCS) and bronchogenic carcinoma (CA).
When in doubt, venography can aid in the diagnosis, but this is usually not necessary.
Thoracic CT scanning is helpful, but the histologic diagnosis is important in initiating therapy.
Procedures
In a Danish retrospective study, Andersen and Duvnjak reported that palliative treatment of malignant superior vena cava syndrome with self-expanding nitinol stents may be a safe method with good clinical effect. [9] The investigators found a 76% procedure success rate and a 96% clinical success rate. Although there were no procedure-related complications noted, 5 patients had 50% residual stenosis, 1 had stent occlusion within 48 hours of stent deployment, 1 each had stent occlusion at 2- and 4-month follow-up, and 3 patients had stent compression with 50% reduction in stent diameter at follow-up. Death in 22 patients at a mean follow-up of 3.5 months was determined to be related to their underlying malignancy. [9]
What would you like to print?