Overview
Background
Thoracic aortic aneurysm (TAA) is a life-threatening condition that causes significant short- and long-term mortality due to rupture and dissection. Aneurysm is defined as dilatation of the aorta of greater than 150% of its normal diameter for a given segment. For the thoracic aorta, a diameter greater than 3.5 cm is generally considered dilated, whereas greater than 4.5 cm would be considered aneurysmal.
Aneurysms may affect one or more segments of the thoracic aorta, including the ascending aorta, the arch, and the descending thoracic aorta. As many as 25% of patients with TAA also have an abdominal aortic aneurysm. Thoracic aortic aneurysm most commonly results from degeneration of the media of the aortic wall as well as from local hemodynamic forces.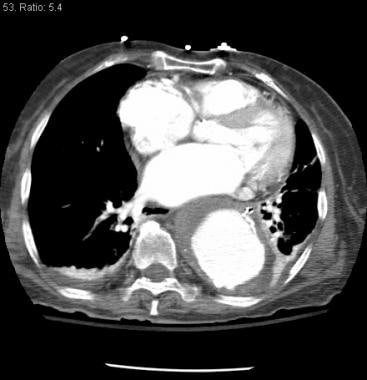 Descending thoracic aortic aneurysm with mural thrombus at the level of the left atrium.
Pathophysiology
Degenerative changes in the wall of the aorta lead to cystic medial necrosis. This causes damage to collagen and elastin, loss of smooth muscle cells, and increased amounts of basophilic ground substance in the medial (elastic) layer of the aorta. The ascending thoracic aorta is generally most affected by cystic medial necrosis, whereas a descending thoracic aneurysm is primarily a consequence of atherosclerosis.
In Marfan syndrome, abnormalities of the gene encoding for the synthesis of fibrillin have been implicated in the predisposition to form aneurysms. Mutations in the gene responsible for this structural lipoprotein found in the aortic wall have been found in patients who do not have Marfan syndrome but have aneurysms.
As many as 75% of patients with a bicuspid aortic valve have shown evidence for cystic medial necrosis, which may be because of inadequate fibrillin production. Other inherited forms of medial degeneration have been associated with defects in the genes for fibrillin and are associated with higher rates of thoracic aortic aneurysm (TAA).
Weakening of the aortic wall is compounded by increased shear stress, especially in the ascending aorta. This segment of the aorta is most exposed to the pressure of each cardiac systole (dP/dt) as well as the dynamic heart motion transmitted from each cardiac cycle. As local wall weakness causes dilatation of the aorta, wall tension increases (described by the Laplace law (T=PR), where wall tension equals the radius of a cylinder multiplied by the pressure within it). Small tears in the intimal (innermost) layer of the aorta can permit blood to penetrate the medial layer, leading to aortic dissection.
Epidemiology
Frequency
United States
The incidence of aortic aneurysm is 5.9 cases per 100,000 person-years. [1]
Mortality/Morbidity
The cumulative risk of rupturing a thoracic aortic aneurysm (TAA) is related to aneurysm diameter. In a recent series of 133 patients with TAA, risk of rupture at 5 years was 0% for diameter less than 4 cm, 16% for diameter 4-5.9 cm, and 31% for aneurysms greater than 6 cm in diameter. [2]
Race
Thoracic aortic aneurysm is most common among whites.
Sex
Men are affected 2-4 times more frequently than women.
Age
The mean patient age at diagnosis is 60-65 years.
What would you like to print?