Overview
Practice Essentials
Dental fractures are commonly observed with other oral injuries. Early recognition and management can improve tooth survival and functionality. Approximately 82% of traumatized teeth are maxillary teeth. Fractures to the maxillary teeth are distributed among the central incisors (64%), lateral incisors (15%), and canines (3%). See the image below.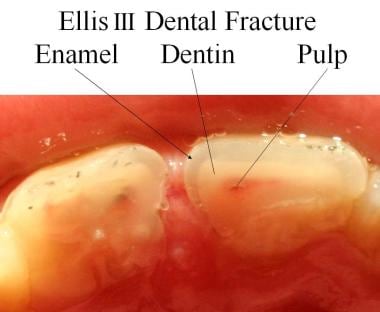 Cross section of an Ellis III dental fracture.
Pathophysiology
The typical cause is severe force to the teeth sufficient to disrupt the enamel, dentin, or both of a tooth. In a study of 1610 children, predisposing factors included postnormal occlusion, an overjet exceeding 4 mm, a short upper lip, an incompetent lip, and mouth breathing.
Etiology
Causes of tooth fracture are listed below:
Motor vehicle collisions (10.8%)
Among the risk factors for tooth fracture are failure to wear a seatbelt in a motor vehicle, failure to wear a helmet while riding a motorcycle or bicycle, and injuries associated with the use of earphones and smartphones. [3]
Epidemiology
United States data
More than 50% of physical trauma in child abuse occurs in the head and neck region.
International data
In a study conducted in Sweden, approximately 7% of all physical injuries involved the oral cavity. In patients aged 0-19 years, 9% of injuries involved the oral cavity. During the Korean War, 3000 maxillofacial injuries occurred.
Sex- and age-related demographics
The male-to-female ratio is 2-3:1. A Norwegian study found that boys were more likely to sustain traumatic dental injuries than girls were (P< .05); the peak age for injury was 8-10 years. [4]
The average age of injury varies. In youths, falls and sporting activities account for most injuries. In later teenaged years, motor vehicle collisions (MVCs) account for most injuries.
Prognosis
Morbidity/mortality
Trauma to the teeth is not life threatening; however, associated maxillofacial injuries and fractures can compromise the airway. In trauma with mandibular fracture, the teeth in the upper jaw may be at higher risk than teeth in the lower jaw. [5] Morbidity to the teeth may be individualized to primary and permanent teeth. Fractures are more common in permanent teeth; primary teeth usually become displaced.
Primary teeth - Failure to continue eruption, color changes, infection, abscess, loss of space in the dental arch, ankylosis, injury to the permanent teeth, abnormal exfoliation

Permanent teeth - Color changes, infection, abscess, loss of space in the dental arch, ankylosis, resorption of root structure, abnormal root development
Complications
Complications are listed below:
Patient Education
What would you like to print?