Workup
Laboratory Studies
No definitive studies are required to diagnose peritonsillar abscess. Physicians may consider basic laboratory tests (ie, CBC, electrolytes, C-reactive protein) if the patient has significant comorbidities.
Monospot test/heterophile antibody test can be performed to rule out infectious mononucleosis if the etiology is unclear. Infectious mononucleosis can coexist in 1.5-6% of patients with peritonsillar abscesses. [16]
Culture of the fluid from needle aspiration may be performed to guide antibiotic selection or changes. A recent literature review recommends obtaining aspirate culture in those at risk of infection with resistant organisms (ie, those with recurrent or persistent infection, diabetes, or immunocompromise). [16]
Blood cultures may be indicated if the clinical presentation is severe.
Imaging Studies
Lateral soft tissue neck radiographs may help rule out other causes. The anteroposterior (AP) view of the neck may demonstrate distortion of soft tissue.
A study by Huang et al indicated that ultrasonography is an accurate means of evaluating patients for peritonsillar abscess, finding that compared with patients diagnosed with peritonsillar abscess via traditional examination methods and/or CT scanning, those who were diagnosed with transcervical ultrasonography demonstrated significant reductions in surgical drainage and length of hospital stay. [17]
Intraoral ultrasonography (US) has a sensitivity of 95.2% and specificity of 78.5%. This method is cost-effective and fast, although it does require a cooperative patient. A study carried out at an academic level I emergency department included 43 patients who received intraoral US for suspected peritonsillar abscess. Thirty-five were diagnosed with an abscess on US, and these patients subsequently received needle aspiration using US guidance. There was one false positive, but no patients returned unexpectedly after drainage, and, on reexamination, there was no evidence of persistent or recurrent peritonsillar abscess or cellulitis. This study supports the use of US for both the diagnosis and treatment of peritonsillar abscesses. [18]
Another study demonstrated that intraoral US can reliably distinguish peritonsillar abscess from peritonsillar cellulitis; this not only helps direct treatment, but it also results in fewer CT scans of the neck and fewer ENT consultations. [19] Prior studies of US use have shown similar successful results.
Head and neck CT scanning with intravenous (IV) contrast is useful if incision and drainage fails, if the patient cannot open his or her mouth, or if the patient is young (age < 7 years) and uncooperative. A hypodense fluid collection with rim enhancement may be seen in the affected tonsil. Foreign bodies, such as fish or chicken bones, may also be found as an inciting factor.
Procedures
Three options are available for acute surgical management of peritonsillar abscess: needle aspiration, incision and drainage, and quinsy tonsillectomy (eg, simultaneous tonsillectomy with open abscess drainage).
A systematic review by Johnson et al attempted to determine the best technique for acute surgical management. Forty-two articles were analyzed. Five level I clinical studies indicated that all 3 techniques were equally effective for initial management. [2]
Needle aspiration
The main advantages of needle aspiration are ease of the procedure, decreased pain for the patient, and cost-effectiveness. [9, 2]
The patient should be sitting upright.
Lidocaine with epinephrine should be used to anesthetize the area.
A 16- to 18-gauge needle with a 10-mL syringe should be used to aspirate from the area that is most fluctuant.
A needle guard may be used to prevent accidental carotid artery puncture due to the tip of the needle migrating too far posteriorly. Only 0.5 cm of the needle needs to be exposed. If a needle guard is unavailable, a curved clamp can be used to expose a small portion of the needle before inserting it into the area for aspiration.
Aspirate at the superior pole initially, as this is the most common place for abscess development. Aspiration of the middle one third and then the lower one third should then be attempted if pus is not returned from the superior pole. Also, see Drainage, Peritonsillar Abscess.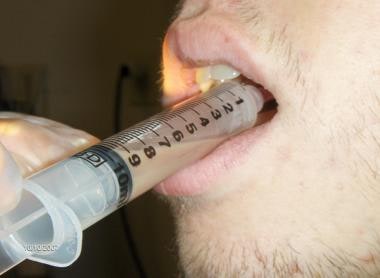 Pus is aspirated through a wide-bore needle from the right peritonsillar abscess. An additional incision will be made to drain any other pus pockets.
Abscess incision and drainage [20]
The patient should be sitting upright with a pan available to spit out any blood or pus.
A tongue depressor is used to retract the tongue.
After local infiltration with lidocaine with epinephrine, a No. 11 blade scalpel is used to make a small incision 0.5 cm long and no more than 1 cm deep. Be certain that the incision is not extended laterally as the carotid artery lies in that vicinity.
Use a small hemostat to probe the abscess and release the pus.
To prevent the risk of aspiration, allow the patient to hold the Yankauer catheter tip and to suction the pus.
Tonsillectomy
No clear evidence indicates that routine elective tonsillectomy is indicated to prevent future peritonsillar abscesses. However, if the patient has had multiple recurrent episodes of peritonsillar abscesses or has other clear indications (ie, sleep-disordered breathing), elective tonsillectomy should be considered. [9]
Additionally, if general anesthesia is required because of the patient's age or lack of cooperation, tonsillectomy should be considered, as the complication rate is low. Although the data do not support this, consideration for the most definitive procedure should be made. [9, 2]
An Italian study indicated that following incision and drainage for peritonsillar abscess, the risk of abscess recurrence is not significantly different between patients who are subsequently managed conservatively and those who undergo tonsillectomy, as long as the patients have not had previous episodes of peritonsillar abscess. The study involved 4199 hospital inpatients who, after incision and drainage, received either conservative treatment (2667 patients) or tonsillectomy (1532 patients). Although the tonsillectomy rate among these patients fell by 45% between 1997 and 2006, the investigators found that the incidence of hospitalization for peritonsillar abscess remained stable during this period. [21]
What would you like to print?