Workup
Laboratory Studies
GABHS rapid antigen detection test
This is the preferred method for diagnosing GAS infection in the emergency department because of difficulties with culture follow-up. (See the image below.)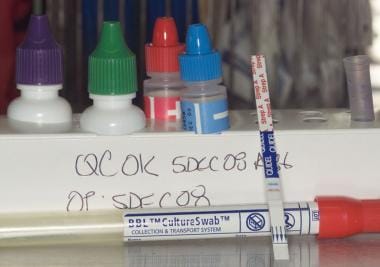 Rapid antigen detection test for group A beta-hemolytic streptococci.
Only patients with a high clinical likelihood of GAS pharyngitis should be tested. Patients with a Centor score of 0-1 should be treated symptomatically without testing. [22] (On the other hand, in a multicenter, prospective, cross-sectional study, Cohen et al suggested that all children with pharyngitis undergo the rapid antigen detection test for GAS, stating that assessment of signs and symptoms is an inefficient means of determining in which patients the test should be used. [23] )
Antigens are specific, but sensitivities vary. The sensitivity of the GABHS rapid antigen detection test is 70-90%, and the specificity is 90-100%, depending on the manufacturer. [24, 25, 26, 27] Children with a negative antigen test should have a follow-up culture unless the antigen being used in the office has been shown to be as sensitive as a culture. [17]
The use of a GABHS rapid antigen detection test can decrease the use of unnecessary antibiotics in pediatric patients when used properly. [28]
Adults do not need follow-up culture after a negative antigen test because of the low incidence of GAS in this population. [13]
Throat culture
This is the criterion standard for diagnosis of GAS infection (90-99% sensitive). [29] Although less expensive than the rapid antigen detection test, it is not be the best test to use in the emergency department because of difficulty with follow-up. The guidelines that recommend cultures for GAS screening are aimed at office-based practices and not the emergency department.
Patients can be treated up to 9 days after onset of symptoms to prevent acute rheumatic fever, so immediate antibiotic therapy is not crucial if patients can be easily contacted for follow-up should a culture become positive. [2]
Other
Additional tests include the following:
Mono spot is up to 95% sensitive in children (less than 60% sensitivity in infants)

Peripheral smear may show atypical lymphocytes in infectious mononucleosis

[3]

Perform gonococcal culture as indicated by history

A complete blood count (CBC), erythrocyte sedimentation rate (ESR), and C-reactive protein have a low predictive value and usually are not indicated

[30]
Imaging Studies
See the list below:
Imaging studies generally are not indicated for uncomplicated viral or streptococcal pharyngitis.

Lateral neck film should be taken in patients with suspected epiglottitis or airway compromise.

Soft tissue neck CT can be used if concern for abscess or deep-space infection exists; however, peritonsillar abscess is almost always a clinical diagnosis. Imaging is rarely needed for diagnosis.
Procedures
See the list below:
The procedure for a throat swab is to vigorously rub a dry swab over the posterior pharynx and both tonsils, obtaining a sample of exudate. If any exudate is obtained, then transport it dry (not in a liquid medium).
What would you like to print?