Workup
Imaging Studies
Head CT
CT is useful in patients with focal neurologic findings or in atypical cases of suspected HACE. CT can help confirm the diagnosis of stroke, subdural hematoma, subarachnoid hemorrhage, or occult cerebral neoplasm that becomes symptomatic at altitude. Note that no specific changes due to HACE are seen on CT scan. The study is used to exclude other conditions.
Head MRI
Head MRI is useful in demonstrating changes specific to HACE, which is indicated by an increased T2 signal in the white matter of the splenium of the corpus callosum. MRI may be helpful in confirming HACE and in evaluating causes of focal neurologic deficits. See the image below.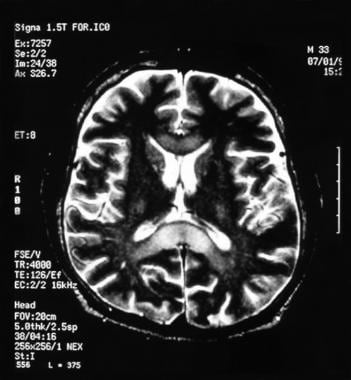 High-altitude cerebral edema (HACE). Image courtesy of Dr Peter Hackett.
Other Tests
Pulse oximetry is not helpful in diagnosing or managing AMS and HACE because values do not correlate with severity of illness. It may be helpful, however, in diagnosing HAPE.
Chest radiography is indicated if concomitant diagnosis of HAPE is being considered.
What would you like to print?