Workup
Laboratory Studies
No specific diagnostic studies, laboratory tests, or imaging studies are helpful in the evaluation and treatment of patients with injuries inflicted by tarantulas.
Procedures
Careful slit-lamp biomicroscopic examination is indicated for a patient presenting with ocular concerns. Examination with fluorescein is then also indicated. Look for tortuous vessels at the limbic margin and presence of flare or cells in the anterior chamber, findings that can indicate an anterior uveitis. Examine for central infiltrates as shown below.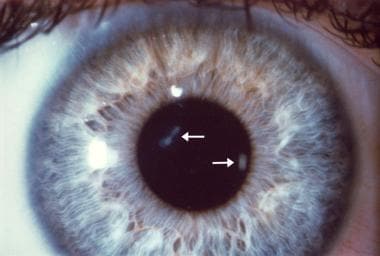 Slit-lamp photograph showing 2 central infiltrates caused by urticating tarantula hairs (arrows). Courtesy of Southern Medical Journal and David A. Belyea, MD.
What would you like to print?