Presentation
Physical Examination
The wound may bleed freely and the patient may have systemic symptoms, including the following:
Puncture wounds can cause injury to large vessels, and exsanguination following laceration of lower extremity arteries has been reported. Pseudoaneurysm of the superficial femoral artery has been reported following stingray envenomation. [10]
Stringray wounds are shown in the images below.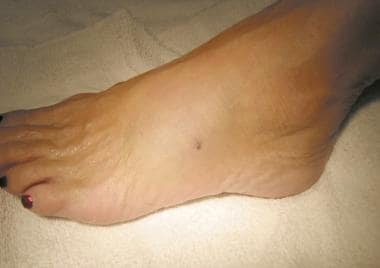 Typical stingray puncture wound on a foot, approximately 60 minutes after injury. Photo by John L. Meade, MD.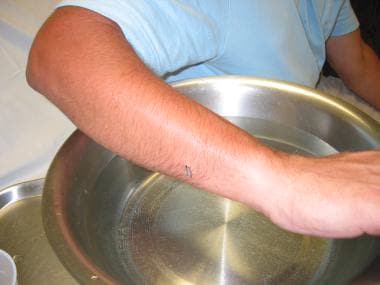 Stingray barb in forearm. Photo by John L. Meade, MD.
Complications
The most frequent complication seen with stingray injuries is bacterial infection. The infection may originate from the stingray barb, the surrounding water, or debris that enters the wound, such as sand. In 1 recorded case, an iatrogenic infection developed after a sting to ankle was treated with application of a chewed unknown plant root and attempts to suck the venom out by mouth. Sepsis ensued, and the wound culture grew normal oral flora. Treatment using intravenous antibiotics, surgical debridement, and vacuum dressing was successful, but this case underscores the importance of avoiding oral suction on any wound. [11]
Necrotizing fasciitis from Photobacterium damsela resulted in a stingray laceration case from Florida. [12]
In a rare case from Costa Rica, a 12-year-old male experienced a stingray injury to the spine with fracture of the posterior elements of the C6 vertebra. The patient suffered significant neurologic impairment, presenting with a complete asymmetric right C6/left T1 American Spinal Cord Injury Association (ASIA) A examination, loss of anal sphincter tone, and priapism. He made a good recovery over the following 3 months. This case illustrates a stingray injury instance in which the chief medical concern is not envenomation but penetrating injury from the barb. [13]
Note that some patients have experienced refractory pain after stingray envenomation. There is at least 1 reported case of regional anesthesia, specifically an ultrasound-guided sciatic popliteal nerve block, being used to treat hyperalgesia in the setting of stingray envenomation. [14]
What would you like to print?