Presentation
History
Stingrays commonly are found lying half-buried in the sand or mud of coastal temperate areas.
Injuries tend to occur when an unsuspecting person steps on the fish, causing the animal to reflexively strike the person with its defensive mechanism.
The stingray's tail has one or more barbed stingers and two ventrolateral venom-containing grooves that are encased in an integumentary sheath. The tail is thrust into the victim, usually in the foot or lower leg, producing a deep jagged laceration from the serrated spine(s). A stingray spine is shown below.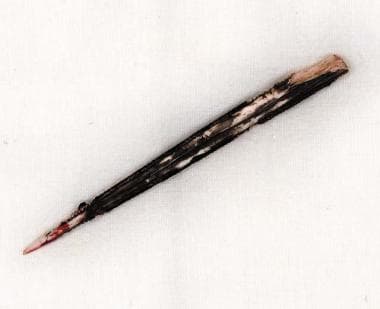 Spine removed from stingray injury. Image courtesy of Scott Plantz, MD.
The stinger apparatus then injects a protein-based toxin into the wound, causing immediate intense (even excruciating) pain in the victim. Injury may occur without envenomation because many stingrays lose or tear the integumentary sheath covering the venom glands.
This subject has taken on worldwide interest due to the unfortunate death of the celebrity wildlife naturalist Steve Irwin (also known as "The Crocodile Hunter") on September 4, 2006. Irwin was filming a documentary on stingrays in Queensland, Australia, when he reportedly suffered a puncture wound of the heart from a stingray barb. He died on the scene. This is a very rare injury since most stingray puncture wounds occur on the extremities and are superficial.
Physical Examination
The wound may bleed freely and the patient may have systemic symptoms, including the following:
Puncture wounds can cause injury to large vessels, and exsanguination following laceration of lower extremity arteries has been reported. Pseudoaneurysm of the superficial femoral artery has been reported following stingray envenomation. [2]
Stringray wounds are shown in the images below.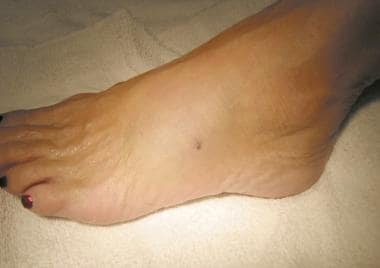 Typical stingray puncture wound on a foot, approximately 60 minutes after injury. Photo by John L. Meade, MD.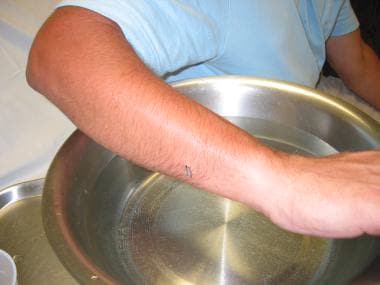 Stingray barb in forearm. Photo by John L. Meade, MD.
What would you like to print?