Workup
Laboratory Studies
No laboratory studies are indicated in the usual case of stingray injury.
Imaging Studies
Plain radiography should generally be used to obtain images of the injured area in at least 2 planes. Plain radiography is useful to rule out the presence of any foreign bodies, such as retained components of the barb mechanism, as well as to differentiate injuries caused by some other object (eg, sharp object stepped on in the water, causing a retained foreign body). [3]
A stingray barb is shown in the radiograph below.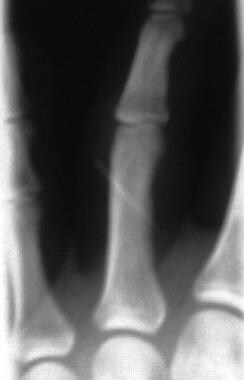 Stingray barb broken off in ring finger. Photo by John L. Meade, MD.
What would you like to print?