Overview
Background
Millipedes are elongated cylindrical segmented arthropods that bear two pairs of legs per body segment. They are found in a wide variety of habitats. They are generally very slow-moving creatures and are relatively innocuous. Falling into the class Diplopoda and the phylum Arthropoda, millipedes comprise some 7000 species. [1, 2, 3, 4, 5, 6, 7]
See the images below.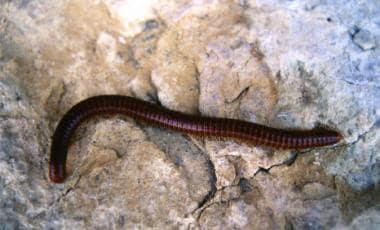 The desert millipede, Orthoporus ornatus. Photo by Robert Norris, MD.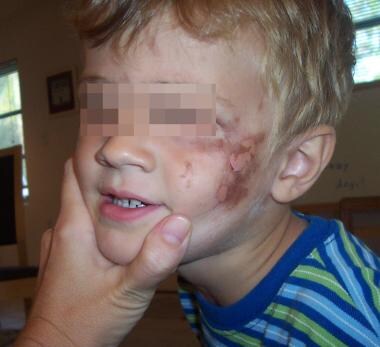 Millipede contact injury on day 3 following exposure.
Pathophysiology
Millipedes do not have biting mouthparts or fangs. Their medical importance comes from their ability to secrete an irritating defensive liquid from pores along their sides. Such secretions contain benzoquinones, aldehydes, hydrocyanic acid, phenols, terpenoids, nitroethylbenzenes, and other substances. [8, 9, 10, 11, 12]
Some species are capable of squirting these liquids to distances of up to 80 cm. [13] Most envenomations occur from direct contact of the millipede with the skin.
Prognosis
Millipede envenomations are self-limited. No deaths have been documented from millipede exposures, and it is unlikely that such an exposure could be fatal, even to a small child. [14]
What would you like to print?