DDx
Diagnostic Considerations
Important considerations
A strategy to avoid misdiagnosis remains elusive because patient presentation generally suggests other more common diagnosis for which radiographs are not usually indicated. Misdiagnosis of disk batteries as coins on radiographs can generally be prevented by with an anteroposterior or posteroanterior, view along with a lateral view of the ingested battery. Conversely, ingestion of two coins may be initially misdiagnosed as a disk battery (see images below).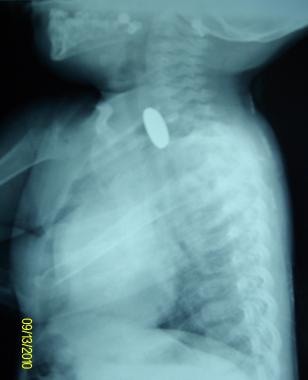 Lateral chest radiograph of a child with a nickel and penny adhered to each other in the upper esophagus initially misdiagnosed as a disk battery.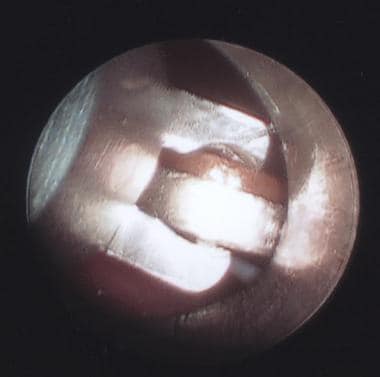 Endoscopic view of a nickel and penny in the esophagus of a child that was initially misdiagnosed as a disc battery.
Special concerns
The National Button Battery Ingestion Hotline (202-625-3333) was established in 1982 at Georgetown University Hospital's National Capital Poison Center and functions as an emergency consultation service and case registry.
Disk batteries placed in the ear have been reported to cause the following:
Tympanic membrane perforation

Skin necrosis in the external auditory canal

Dysacusis from ossicle destruction
Nasal septal perforation with resultant saddle deformity has been reported after disk battery placement in the nose. The clinical presentation of a nasal disk battery is usually unilateral nasal discharge with or without features of a secondary infection. Early recognition and removal of the battery is important to prevent adverse sequelae.
Differential Diagnoses
What would you like to print?