Workup
Laboratory Studies
Consider obtaining blood and urine mercury levels only if a mercury-containing cell has been observed to fragment in the gastrointestinal tract or if radiopaque droplets are observed in the gut on radiographs.
Imaging Studies
Radiography is indicated to confirm the ingestion and to establish the location of ingested disk batteries. Disk batteries have a relatively characteristic appearance on radiograph. When viewed from above, they appear much like a coin; however, a double density is often present. When viewed on edge, a much more rounded edge with a step off at the junction of the cathode and anode is seen (see the image below).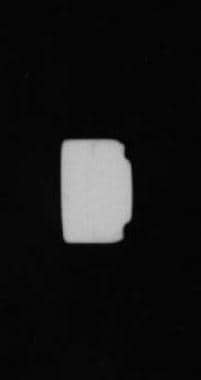 Lateral radiographic appearance of a 7.9-mm disk battery. Photographed by Daniel J. Dire, MD.
Batteries located in the esophagus on initial radiographs frequently (28%) pass into the stomach spontaneously.
Radiopaque droplets in the gut may be found on radiograph in patients with fragmented mercuric oxide cells.
What would you like to print?