Workup
Approach Considerations
Laboratory studies are of little value in confirming the diagnosis.
If a diagnostic thoracentesis is performed on a pleural effusion, the presence of food particles, pH < 6, or an elevated pleural fluid amylase are compatible with esophageal perforation.
Imaging Studies
Radiography
Chest radiographs can be very helpful in diagnosing esophageal perforation, with suggestive abnormalities reported in about 90% of cases. Pneumomediastinum and subcutaneous emphysema are often present an hour after the injury and are highly suggestive of perforation. Mediastinal air-fluid levels, pleural effusions (often left sided), free air under diaphragm, pneumothorax, and hydropneumothorax encompass later potential findings. The V sign classically seen in esophageal perforation is indicative of pneumomediastinum. Air outlines the left lower mediastinal border and medial left hemidiaphragm, forming a "V". [13]
Lateral neck radiographs may demonstrate air in the fascial planes early in cases of cervical perforations.
A contrast esophagogram should be performed in any patient with suspected perforation. [14] Despite a modest sensitivity (60-75%), a water-soluble contrast agent Gastrografin (diatrizoate meglumine and diatrizoate sodium solution) should be the initial study of choice. A barium study should be undertaken immediately afterward should the initial study show no evidence of perforation. Barium has a higher sensitivity (90%) for detecting small perforations but may cause a severe inflammatory response in tissues, most notably a mediastinitis. Studies should be performed with the patient in the right lateral decubitus position. (See the image below.)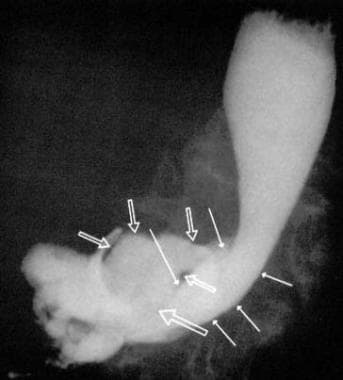 Esophageal Rupture and Tears in Emergency Medicine. Water-soluble contrast esophagram from a patient with esophageal perforation after esophageal dilation shows contrast leak (arrowheads) and normal esophageal lumen (arrows).
Esophagoscopy
Esophagoscopy often can be used to visualize perforations and is especially useful in acute traumatic perforations, but it is not appropriate when small mucosal tears are suspected, as insufflated air can cause further dissection of the perforation.
CT Scanning
A contrast-enhanced computed tomography (CT) scan of the chest should be obtained if it is not possible to obtain a contrast esophagogram, if the esophagogram was negative despite a high clinical suspicion, or if seeking to evaluate for a more likely alternative diagnosis. [14] Perforation may be suggested by mediastinal air, extravasated luminal contrast, periesophageal fluid collections, pleural effusions, or actual communication of an air-filed esophagus with an adjacent mediastinal air-fluid collection; definitive esophageal communication with outside structures is often difficult to visualize.
What would you like to print?