Presentation
History
Most laypersons and many practitioners attribute all perianal symptoms to hemorrhoids. The astute clinician can often listen to a patient's description of symptoms and ascertain the source of the problem or condition before confirmatory examination. Nonhemorrhoidal causes of symptoms (eg, fissure, abscess, fistula, pruritus ani, condylomata, and viral or bacterial skin infection) need to be excluded.
The most common presentation of hemorrhoids is rectal bleeding, pain, pruritus, or prolapse. Because these symptoms are extremely nonspecific and may be seen in a number of anorectal diseases, the physician must therefore rely on a thorough history to help narrow the differential diagnosis and must perform an adequate physical examination (including anoscopy when indicated) to confirm the diagnosis.
Familial predisposition, diet, a history of constipation or diarrhea, and a history of prolonged sitting or heavy lifting are also relevant, as are weight loss, abdominal pain, or any change in appetite or bowel habits. The presence of pruritus or any discharge should also be noted.
Inflammatory bowel diseases (eg, ulcerative colitis, Crohn disease) need to be ruled out as the cause of symptoms. [13] Human immunodeficiency virus (HIV) infection and other immunosuppressive diseases can also alter treatment plans.
Symptoms
An adequate history should include a disease-specific history and physical examination, particularly focused on the onset, duration, and degree of the symptoms and risk factors. [14] In addition to characterizing any pain, bleeding, protrusion, or change in bowel habits, special attention should be placed on the patient's coagulation history and immune status.
Rectal bleeding is the most common presenting symptom. The blood is usually bright red and may drip, squirt into the toilet bowl, or appear as streaks on the toilet paper. The physician should inquire about the quantity, color, and timing of any rectal bleeding. Darker blood or blood mixed with stool should raise suspicion of a more proximal cause of bleeding.
A patient with a thrombosed external hemorrhoid may present with complaints of an acutely painful mass at the rectum (see the image below). Pain truly caused by hemorrhoids usually arises only with acute thrombus formation. This pain peaks at 48-72 hours and begins to decline by the fourth day as the thrombus organizes. New-onset anal pain in the absence of a thrombosed hemorrhoid should prompt investigation for an alternate cause, such as an intersphincteric abscess or anal fissure. As many as 20% of patients with hemorrhoids will have concomitant anal fissures.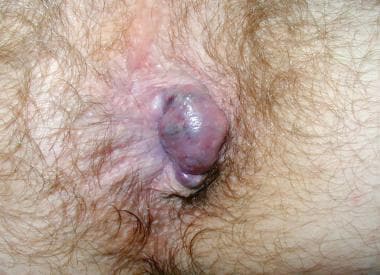 Hemorrhoids. Thrombosed hemorrhoid. This hemorrhoid was treated by incision and removal of a clot.
The presence, timing, and reducibility of prolapse, when present, will help classify the grade of internal hemorrhoids and guide the therapeutic approach (see Grading of Internal Hemorrhoids). Grade I internal hemorrhoids are usually asymptomatic but, at times, may cause minimal bleeding. Grades II, III, or IV internal hemorrhoids usually present with painless bleeding but also may present with complaints of a dull aching pain, pruritus, or other symptoms due to prolapse.
Physical Examination
In addition to the general physical examination, physicians should also perform visual inspection of the rectum, digital rectal examination, and anoscopy or proctosigmoidoscopy when appropriate.
The preferred position for the digital rectal examination is the left lateral decubitus with the patient's knees flexed toward the chest. Topical anesthetics (eg, 20% benzocaine or 5% lidocaine ointment) may help to reduce any discomfort caused by examination.
Inspect and examine the entire perianal area. Warn the patient before any probing or poking. Because patient apprehension is great before any anal examination, go to great lengths to reassure the patient. Gentle spreading of the buttocks allows easy visualization of most of the anoderm; this includes the distal anal canal. Anal fissures and perianal dermatitis (pruritus ani) are easily visible without internal probing. Note the location and size of skin tags and the presence of thromboses. Normal corrugation of the anoderm and a normal anal wink with stimulation confirms intact sensation.
The following are external findings that are important to note:
Skin tags from old thrombosed external hemorrhoids

Signs of infection or abscess formation

Rectal or hemorrhoidal prolapse, appearing as a bluish, tender perianal mass
Digital examination of the anal canal can identify any indurated or ulcerated areas. Also assess for any masses, tenderness, mucoid discharge or blood, and rectal tone. Because internal hemorrhoids are soft vascular structures, they are usually not palpable unless thrombosed.
Guidelines from most gastrointestinal and surgical societies advocate anoscopy and/or flexible sigmoidoscopy to evaluate any bright-red rectal bleeding. The American Society of Colon and Rectal Surgeons (ASCRS) recommends complete endoscopic evaluation of the colon in select patients with symptomatic hemorrhoids and rectal bleeding. [14] Colonoscopy should be considered in the evaluation of any rectal bleeding that is not typical of hemorrhoids such as in the presence of strong risk factors for colonic malignancy or in the setting of rectal bleeding with a negative anorectal examination. Other colonoscopic screening criteria include the following patient features [14] :
Age 50 years or older, if there hasn't been a complete examination within 10 years

Age 40 years or older or 10 years younger than the age at diagnosis for a positive history for: (1) a single first-degree relative with colorectal cancer or advanced adenoma diagnosed at younger than 60 years; or (2) two first-degree relatives with colorectal cancer or advanced adenomas

A positive fecal immunochemical testing (FIT)

A positive FIT-fecal DNA test
Grading of Internal Hemorrhoids
Most clinicians use the grading system proposed by Banov et al in 1985, which classifies internal hemorrhoids by their degree of prolapse into the anal canal. This system both correlates with symptoms and guides therapeutic approaches, as follows.
Grade I hemorrhoids project into the anal canal and often bleed but do not prolapse

Grade II hemorrhoids may protrude beyond the anal verge with straining or defecating but reduce spontaneously when straining ceases (ie, return to their resting point by themselves)

Grade III hemorrhoids protrude spontaneously or with straining and require manual reduction (ie, require manual effort for replacement into the anal canal)

Grade IV hemorrhoids chronically prolapse and cannot be reduced; these lesions usually contain both internal and external components and may present with acute thrombosis or strangulation
Similarly and more simply, the 2018 American Society of Colon and Rectal Surgeons (ASCRS) guidelines for the management of hemorrhoids classify internal hemorrhoids into the following four grades [14] :
Grade I: Prominent hemorrhoidal vessels, no prolapse

Grade II: Prolapsed hemorrhoids with Valsalva maneuver; spontaneously reduces

Grade III: Prolapsed hemorrhoids with Valsalva maneuver; manual reduction is required

Grade IV: Chronically prolapsed hemorrhoids; manual reduction is ineffective
However, the classification of hemorrhoids continues to evolve, with potential future elements to include prolapse, bleeding, and pain, and may involve considerations of comorbidities and female sex. [15] One new classification proposes taking into account the following three factors [15, 16] :
The evolutionary nature of hemorrhoidal disease (to overcome the internal/external hemorrhoids division; consider prolapse)

The prevalent symptomatology regardless of prolapse grade

The etiopathogenetic and (female) sex aspect
What would you like to print?