Workup
Laboratory Studies
Laboratory studies for elderly patients with abdominal pain may include the following:
Complete blood count
Generally perform a complete blood count (CBC).
Although an elevated white blood cell (WBC) count may indicate infection or inflammation, it has poor sensitivity and specificity. Do not make treatment decisions based on a normal WBC count in elderly patients.
Serum chemistries
Comprehensive metabolic panel or basic metabolic panel with liver function tests can be useful in assessing renal function, diabetes, acidosis, biliary tract disease, and liver dysfunction.
An anion gap may be an indication of a serious intra-abdominal process; look for a gap and other signs of acidosis particularly with concern for ischemic bowel.
Again, maintain caution despite the presence of normal results of liver function tests, since elderly patients with acute cholecystitis may not demonstrate elevations.
Serum lipase or amylase
These studies are useful as screening tests for pancreatitis. Little evidence supports obtaining both, and lipase is the superior test.
Urinalysis
Urinalysis is essential to aid in excluding urinary tract infection and detecting the presence of hematuria. Hematuria can have many causes in elderly patients, including ruptured AAA.
In female patients, a catheterized specimen has higher specificity when evaluating for urinary tract infection.
Blood cultures
Blood cultures are recommended for elderly patients presenting with abdominal pain associated with either fever or hypothermia or when sepsis is suspected.
Prothrombin time (PT) and activated partial thromboplastin time (aPTT)
Obtain these in patients in whom liver disease, sepsis, or GI bleeding is suspected and in those expected to require operative intervention.
Arterial blood gases
This is indicated for patients in whom bowel ischemia, diabetic ketoacidosis, or sepsis is suspected.
Arterial blood gas also is a rapid method of determining hematocrit in patients with GI bleeding or if ruptured AAA is suggested.
Serum lactate
This is helpful in sepsis or unexplained high anion gap acidosis.
Type and crossmatch
This is indicated in patients with GI bleeding, ruptured AAA, or in unstable patients.
Radiography
Imaging plays a larger role in the workup of elderly patients with abdominal pain than in younger patients. Preference of imaging modality may vary among institutions according to what is available.
Plain abdominal films
Although of limited utility in younger patients, an abdominal series may be helpful in elderly patients because of the wide differential diagnosis.
Plain film radiography can be useful in detecting bowel obstruction, adynamic ileus, nephrolithiasis, and perforation. Occasionally, gallstones may be observed, as well as late findings of mesenteric ischemia (ie, pneumatosis intestinalis). However, the overall sensitivity is very low and a negative abdominal series should not influence management. See the images below.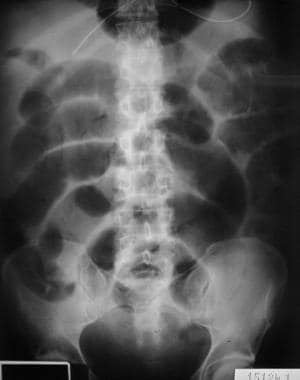 Radiograph of a 79-year-old woman with several hours of diffuse abdominal pain. Initial examination of the plain films suggests bowel obstruction.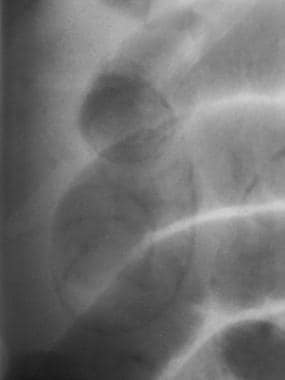 Radiograph of a 79-year-old woman with several hours of diffuse abdominal pain. Initial examination of the plain films suggests bowel obstruction. Close-up view reveals pneumatosis intestinalis, indicating mesenteric ischemia.
Chest radiography
Chest radiography is helpful in excluding pneumonia, which is a cause of abdominal pain.
It may demonstrate free intraperitoneal air under the diaphragm in patients with ruptured viscus. The lateral chest radiography has been demonstrated to be more sensitive in detecting free air.
Abdominal Ultrasonography
Generally, abdominal ultrasonography is the initial study of choice when evaluating for biliary tract disease because of availability and speed.
Bedside ultrasonography is an excellent rapid screening test for abdominal aortic aneurysm.
Some studies report that it is reasonably sensitive in detecting hydronephrosis and nephrolithiasis, but it is highly operator dependent and not considered the optimal test for urolithiasis.
Ultrasonography findings may also aid clinicians in differentiating complicated from uncomplicated appendicitis, which in turn guides the decision making regarding whether to administer antibiotic therapy first or initiate and perform appendectomy. [10] In a retrospective, blinded study, the medical records of 119 patients with acute appendicitis were reviewed, of which 32 patients had complicated appendicitis (including gangrenous, with or without perforation). Investigators found that the only significant independent predictor of complicated appendicitis was loss of the normally echogenic submucosal layer, with 100% sensitivity and 92.0% specificity. [10]
Computed Tomography Scanning
Computed tomography (CT) scanning plays an increasingly important role in the evaluation of elderly patients with abdominal pain, especially when the diagnosis is unclear. [11] This imaging modality allows the identification of the site of gastrointestinal perforations and of ischemia and the determination of the most predictive signs in this diagnosis. Reginelli et al do not recommend delaying obtaining CT scan results until all clinicobiologic data are available. [11]
In another study that evaluated routine versus selective CT imaging in 300 adult patients with acute abdominal pain (n = 74 aged >65 y), Lehtimaki et al found a higher likelihood of obtaining a specific diagnosis with increasing age and, if determining a specific diagnosis was essential, then routine CT scanning was more cost effective in elderly patients than in younger patients. [12] In general, routine CT scanning was more expensive than selective CT scanning. The investigators indicated that liberal use of CT scanning may be supported in the geriatric population owing to the diagnostic challenges of assessing acute abdominal pain in this group. [12]
Millet et al reported that systematic unenhanced CT scanning for acute nontraumatic abdominal symptoms in 401 seniors (age ≥75 y) improved emergency department diagnosis (from 76.8% to 85%) and management (from 88.5% to 95.8%) compared to the current practice in a prospective study. [13] In addition, systematic unenhanced abdominal CT scanning identified 30.3% of acute unsuspected abdominal disease, of which 3.4% required unexpected surgical intervention.
CT scanning is the study of choice for suspected diverticulitis, having a sensitivity of 93%, and is very sensitive in patients with possible appendicitis when the diagnosis is not clear. [14, 15]
When performing CT scanning to exclude diverticulitis, allow enough time for the oral contrast to reach the distal colon (usually 2-3 h). One study demonstrated that using CT scan with only water-soluble contrast administered by enema without intravenous (IV) or oral contrast had a sensitivity for diverticulitis of 99% and appeared to be safe. Avoid barium enema in patients with suspected diverticulitis. See the images below.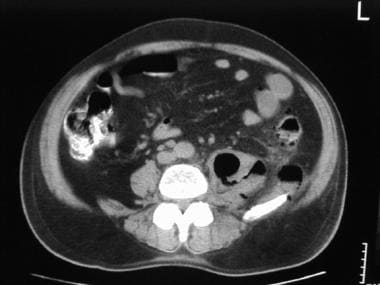 CT scan of a 62-year-old man who reported 2 weeks of left lower quadrant abdominal pain. CT scan reveals fat stranding and multiple diverticula around the descending colon. A phlegmon containing bowel and inflammatory tissue has eroded into the left psoas muscle.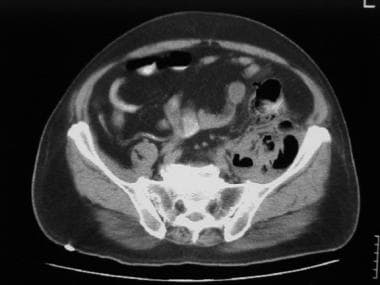 A lower CT scan slice from a 62-year-old man who reported 2 weeks of left lower quadrant abdominal pain. Multiple diverticula are observed with an inflammatory mass overlying the left ilium.
In stable patients with suspected abdominal aortic aneurysm (AAA), CT scanning with IV contrast is approximately 100% sensitive.
Noncontrast helical CT scan is reported to be 95-100% sensitive in detecting nephrolithiasis and ureterolithiasis. Unfortunately, many elderly patients have vascular calcifications in the pelvis, making interpretation more difficult. The presence of ureteral dilatation or perinephric stranding can help establish the diagnosis.
CT scanning combined with CT angiography is increasingly used in the evaluation of suspected mesenteric ischemia. In a 2000 position statement by the American Gastrointestinal Society, it was stated that CT was of limited use in the diagnosis of mesenteric ischemia. Subsequent studies have strongly advocated for the use of multidetector-row CT in the evaluation of mesenteric ischemia, [16, 17] including one prospective study that found an overall sensitivity of 96%, with specificity of 94%. [18] Multidetector-row CT scanning had the additional advantage of identifying an alternate diagnosis in 58% of patients without mesenteric ischemia.
Angiography
Although this is difficult to obtain on an emergency basis in some institutions, angiography remains the study of choice for mesenteric ischemia.
Nuclear medicine imaging (hepatic 2,6 dimethyliminodiacetic acid [HIDA] scan or diisopropyl iminodiacetic acid [DISIDA] scan)
This is helpful for patients in whom cholecystitis is suspected when the diagnosis is not clear. HIDA and DISIDA scanning both provide a very high negative predictive value.
Electrocardiography
Perform an ECG in all elderly patients with upper abdominal pain and in all unstable patients.
What would you like to print?