Workup
Laboratory Studies
Laboratory studies generally do not add much useful information in the acute presentation. A hematocrit may be useful if bleeding is present. Obtain a white blood cell (WBC) count with differential when infection is suspected.
For patients who are operative candidates (eg, patients who show signs of peritonitis, sepsis, or perforation or who have rectal foreign bodies that cannot be removed in the emergency department), obtain routine preoperative laboratory studies.
Radiography
A flat plate radiograph of the abdomen or pelvis is indicated. The foreign object can be identified and localized in most cases (see the images below). A lateral pelvic film sometimes gives additional information regarding the orientation of the foreign body, particularly whether its position is high- or low-lying. An upright chest radiograph is indicated if perforation is suspected. If concerns arise about perforation or abscess, computed tomography is indicated.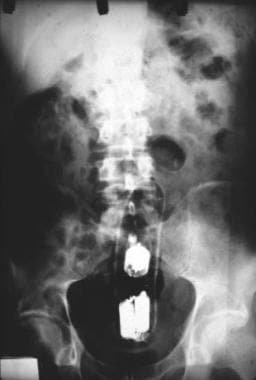 Typical appearance of a vibrator in the rectum.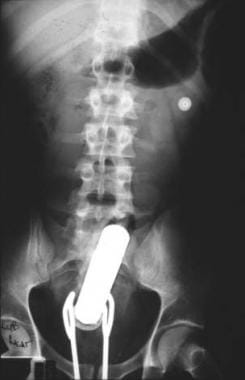 Vibrator in the rectum. The patient attempted self-removal with a pair of salad tongs, which also became lodged, resulting in two rectal foreign bodies. Multiple attempts at self-removal are typical in patients with rectal foreign bodies.
What would you like to print?