Presentation
History
Patients with balanitis usually present with the following complaints:
Pain or difficulty with retraction of foreskin

Difficulty urinating or controlling urine stream (in very severe cases)

Inability to insert a Foley catheter

Tenderness and erythema of the glans penis

Systemic symptoms such as fever and nausea are uncommon
Observe the patient with balanitis for the following signs and symptoms:
Inability to retract foreskin
Physical
Physical examination findings may include the following:
Erythema and edema of glans penis or foreskin

Ulceration and/or plaques

Signs of urinary obstruction (rare)

Meatal stenosis

Bladder distension

Ballooning of the foreskin when voiding
Causes
Diabetes is the most common underlying condition associated with adult balanitis. [11] In a study of patients with type 2 diabetes mellitus, treatment with dapagliflozin (2.5 mg, 5 mg, or 10 mg once daily) was found to be associated with an increased risk of vulvovaginitis or balanitis, related to the induction of glucosuria. According to the authors, events were generally mild to moderate, were clinically manageable, and rarely led to discontinuation of treatment. For dapagliflozin 2.5 mg, 5 mg, and 10 mg, infections were reported in 4.1%, 5.7%, and 4.8% of patients, respectively, as compared to 0.9% in patients with type 2 diabetes who were given placebo. [14, 15]
Other causes include the following [16] :
Chemical irritants (eg, soap, petroleum jelly)

Edematous conditions, such as congestive heart failure (right-sided), cirrhosis, and nephrosis

Drug allergies (eg, tetracycline, sulfonamide)
Several organisms and viruses cause balanitis, including the following:
Candidal species (most commonly associated with diabetes)

Group B and group A beta-hemolytic streptococci

Treponema pallidum (syphilis)

Borrelia vincentii and Borrelia burgdorferi
Balanitis xerotica obliterans (lichen sclerosus) is a chronic dermatosis identified by whitish plaques involving the glans and foreskin (shown in the image below). [2, 3, 17]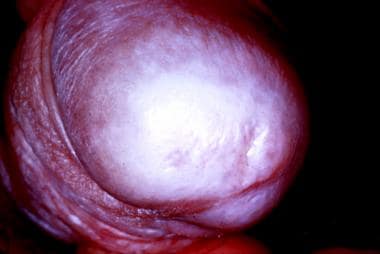 Balanitis xerotica obliterans (lichen sclerosus). Courtesy of Wilford Hall Medical Center Slide collection.
Zoon balanitis is a reddish velvety lesion on the glans. [18, 19, 20] It is typically found in older, uncircumcised males. It can be asymptomatic or pruritic or may cause dysuria. [21]
Reiter disease consists of circinate and eroding lesions on the glans.
Complications
Complications of balanitis may include meatal stenosis and possible urethral strictures; urinary retention; and vesicoureteral reflux.
In a study of 250 patients after circumcision for balanitis xerotica obliterans (lichen sclerosus), approximately 20% required a subsequent operation for meatal stenosis. According to the authors, precircumcision topical steroids may help decrease this rate of subsequent meatal pathology. They added that submission of the foreskin for histologic analysis should always be considered, because the prognosis differs for lichen sclerosus and nonlichen sclerosus histology. Those patients with balanitis xerotica obliterans who later underwent meatal procedures rarely underwent a meatal procedure at circumcision and were less likely to have received preoperative topical steroids, as compared to patients who did not need a subsequent meatal procedure. [22]
What would you like to print?