Overview
Practice Essentials
Balanitis is inflammation of the glans penis [1] and is a common condition affecting an estimated 3-11% of males. Balanitis can occur in males at any age. Morbidity is associated with the complications of phimosis. [2, 3, 4] Balanitis involving the foreskin and prepuce is termed balanoposthitis. According to European guidelines outlining the current management of balanoposthitis, the aims of management are to minimize sexual dysfunction and urinary dysfunction, exclude penile cancer, treat premalignant disease, and diagnose and treat STIs.
Predisposing factors include poor hygiene and overwashing, use of over-the-counter medications, and nonretraction of the foreskin. [5] Though uncommon, a complication of balanitis (usually only in recurrent cases) is constricting phimosis, or inability to retract the foreskin from the glans penis. Other complications of balanitis may include meatal stenosis and possible urethral strictures; urinary retention; and vesicoureteral reflux.
Balanitis xerotica obliterans (BXO), or penile lichen sclerosus, is a progressive sclerosing inflammatory dermatosis of the glans penis and foreskin. BXO is uncommon in children. [2, 3, 4, 6, 7, 8, 9, 10]
Uncircumcised men with poor personal hygiene are most affected by balanitis. Lack of aeration and irritation because of smegma and discharge surrounding the glans penis causes inflammation and edema. Though uncommon, complications of balanitis include phimosis and cellulitis. Meatal stenosis with urinary retention may rarely accompany balanitis. In very few cases, balanitis may contribute to the "buried penis syndrome." Diabetes is the most common underlying condition associated with adult balanitis. [11, 12, 13] Older age has been identified as a risk factor for candidal balanitis. Zoon's balanitis is a disease of older men who are uncircumcised. [5]
If the patient is able to retract the foreskin and does not have uncontrolled diabetes, he may be discharged to follow up with a urologist.
Bacitracin should be used for children, and clotrimazole in adults, and possibly a steroid cream.
(See the image below of balanitis xerotica obliterans.)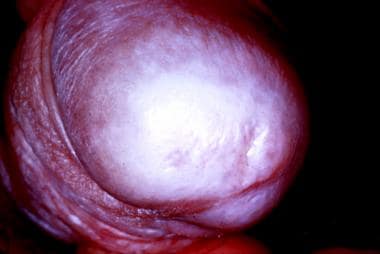 Balanitis xerotica obliterans (lichen sclerosus). Courtesy of Wilford Hall Medical Center Slide collection.
For additional information, see Medscape's Urology Resource Center.
For excellent patient education resources, visit eMedicineHealth's Men's Health Center. Also, see eMedicineHealth's patient education articles Foreskin Problems and Circumcision.
What would you like to print?