Overview
Practice Essentials
In phimosis, the prepuce (foreskin) is too tight to be retracted to reveal the glans penis. Physiologic phimosis occurs naturally in newborn males. Pathologic phimosis defines an inability to retract the foreskin after it was previously retractible or after puberty, usually secondary to distal scarring of the foreskin. Paraphimosis is the entrapment of a retracted foreskin behind the coronal sulcus and is a disease of uncircumcised or partially circumcised males. [1, 2, 3, 4, 5]
Physiologic phimosis results from adhesions between the epithelial layers of the inner prepuce and glans. These adhesions spontaneously dissolve with intermittent foreskin retraction and erections, so that as males grow, physiologic phimosis resolves with age.
Poor hygiene and recurrent episodes of balanitis or balanoposthitis lead to scarring of preputial orifices, leading to pathologic phimosis. Forceful retraction of the foreskin leads to microtears at the preputial orifice that also leads to scarring and phimosis. Elderly persons are at risk of phimosis secondary to loss of skin elasticity and infrequent erections.
Patients with phimosis, both physiologic and pathologic, are at risk for developing paraphimosis when the foreskin is forcibly retracted past the glans and/or the patient or caretaker forgets to replace the foreskin after retraction. Penile piercings increase the risk of developing paraphimosis if pain and swelling prevent reduction of a retracted foreskin.
With time, impairment of venous and lymphatic flow to the glans leads to venous engorgement and worsening swelling. As the swelling progresses, arterial supply is compromised, leading to penile infarction/necrosis, gangrene, and eventually, autoamputation.
Pathologic phimosis may be detected in males who report painful erections, hematuria, recurrent urinary tract infections, preputial pain, or a weakened urinary stream. (See below.)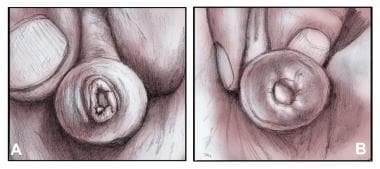 Physiologic phimosis versus pathologic phimosis.
The uncircumcised male penis comprises the penile shaft, the glans penis, the coronal sulcus, and the foreskin/prepuce, as shown below.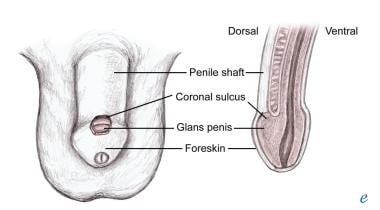 Anatomy of the penis.
There are many techniques of paraphimosis reduction, including manual reduction and the osmotic method, puncture method, and hyaluronidase method (see Treatment). The main goal of each method is to reduce the foreskin to its naturally occurring position over the glans penis by manipulating the edematous glans and/or the distal prepuce. Sterile technique should be used for all invasive procedures. [6, 7, 8, 9, 10, 11, 12, 13, 14, 15, 16]
Epidemiology
Up to 10% of males will have physiologic phimosis at 3 years of age, and a larger percentage of children will have only partially retractible foreskins. One to five percent of males will have nonretractible foreskins by age 16 years. [1, 2, 5]
In a Danish study, phimosis was the most frequently reported indication (95.0%) for foreskin surgery in boys younger than 18 years. The remaining 5.0% underwent surgery because of frenulum breve causing problems during erection. Nine patients needed a second surgery because of recurrent phimosis. [3]
A study of adult patients who underwent circumcision found that the most common indications were phimosis (46.5%), dyspareunia (17.8%), balanitis (14.4%), and concurrent phimosis and balanitis (8.9%). In most older patients, the reason for adult circumcision was concurrent phimosis and balanitis or cancer, whereas in younger patients, dyspareunia was the most common cause. The complication rate was 3.5%, and there was no significant difference in complication rates between the older patient group and the younger patient group. [17]
Patient Education
Parents should be educated about the normalcy of congenital phimosis and the time course of its resolution. The dangers of forcibly retracting the foreskin for hygienic purposes should be stressed. If the prepuce does not readily retract, parents should not attempt to clean under it.
Patients and parents of children should be educated on the importance of reduction of the foreskin after each cleaning.
All providers of adult care should be made aware of the risk of paraphimosis associated with bladder catheterization. They should be reminded to always reduce the foreskin after cleaning and catheterization.
For patient education resources, see the Men's Health Center, as well as Foreskin Problems and Circumcision.
What would you like to print?