Overview
Practice Essentials
Torsion of testicular appendages can result in the clinical presentation of acute scrotum. Two such appendages are the appendix testis, a remnant of the paramesonephric (müllerian) duct, and the appendix epididymis, a remnant of the mesonephric (wolffian) duct. Most acute presentations of scrotal pain and swelling can be attributed to epididymitis, testicular torsion, or torsion of a testicular appendage. Presentation of these conditions typically can be distinguished by history and physical examination. However, in many cases, torsion of a testicular appendage, although a benign condition, may present identically to testicular torsion—a true urologic emergency.
The term acute scrotum encompasses a plethora of testicular pathologies that are detrimental to survival and sustenance of the testes. [1]
Acute scrotum pain is defined as "the constellation of new-onset pain, swelling, and/or tenderness of the intrascrotal contents." Patients may describe the onset of symptoms as rapidly occurring within minutes or over up to 1-2 days, depending on the etiology. Acute scrotum is an umbrella term that includes a wide variety of unique disease processes. Rapid evaluation and diagnostics are necessary because of the time dependency of certain morbid but reversible conditions, such as acute testicular torsion. [2]
Acute testicular pain in childhood can be caused by testicular torsion, torsion of the appendix testis, or epididymo-orchitis. Quick and reliable diagnosis is essential for determining the further course of action (surgery or a conservative treatment approach). [3] Delay in diagnosis and subsequent delay in surgery, if needed, can lead to loss of testicular viability and orchidectomy. [4]
Torsion of the testicular appendices is virtually a benign condition but must be distinguished from testicular torsion, which can have permanent consequences for testicular viability.
Testicular torsion as reported in children and preadolescents is an emergency medical condition that requires prompt surgical treatment. In cases of testicular torsion, early and accurate diagnosis of acute scrotum is important for preserving testicular fertility. A retrospective study reported that patient age, white blood cell count, and laterality are key factors distinguishing testicular torsion from acute scrotum. Trial authors reported that salvageability depended to a great extent on the duration of symptoms and the degree of testicular torsion. The salvage rate of the testis can be improved by educating pediatricians, parents, patients, and medical staff about the importance of early diagnosis of torsion and prompt treatment. [5]
Diagnosis
Lab studies include urinalysis and CBC with differential.
Imaging of the scrotum in the setting of acute symptoms such as pain or swelling is commonly performed emergently to differentiate between patients who require immediate surgery and those who do not. [6]
Ultrasound is the well-established first-line imaging modality for acute scrotum. Contrast-enhanced ultrasound and magnetic resonance imaging (MRI) can be useful as problem-solving tools when ultrasound studies are inconclusive or equivocal. [6]
Treatment
Necrotic tissue of the testicular appendices causes no damage other than damage to itself. Most cases, therefore, are treated conservatively. Pain usually resolves within 1 week but may persist for several weeks. Uncontrolled pain can be relieved by surgical excision of the appendix.
NSAIDs and ice are the mainstays of therapy for inflammation, and reduced activity and scrotal support are indicated.
If the diagnosis is unclear and testicular torsion cannot be ruled out, or if pain persists, surgical exploration is warranted. [7]
The prognosis for patients with torsion of testicular appendages is excellent. Long-term sequelae do not exist. Virtually all patients have an uneventful recovery.
(See the images below.)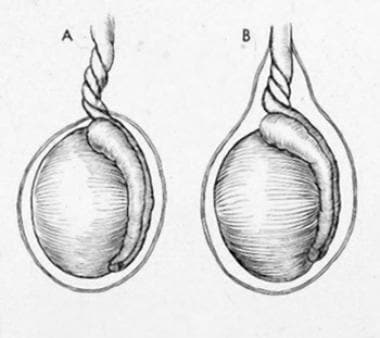 Testicular torsion: (A) extravaginal; (B) intravaginal.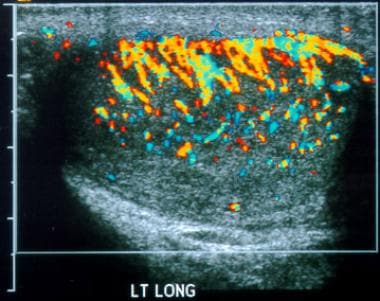 Testicular torsion. Epididymo-orchitis. Longitudinal color Doppler image of the left testis shows diffuse, markedly increased vascularity.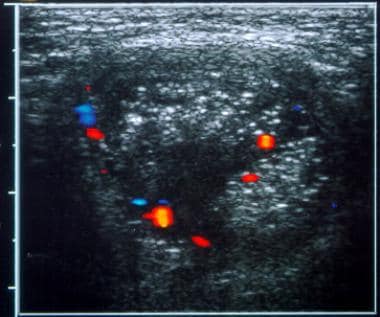 Testicular torsion. Scrotal hernia. Transverse color Doppler image of the left hemiscrotum shows heterogeneous mass superior to the testicle, with small vessels depicted.
Pathophysiology
The appendix testis is present in 92% of all testes and is usually located at the superior testicular pole in the groove between the testicle and the epididymis. The appendix epididymis is present in 23% of testes and usually projects from the head of the epididymis, but its location may vary.
The vestigial tissues forming the appendices are commonly pedunculated and are structurally predisposed to torsion. Torsion of an appendage leads to ischemia and infarction. Necrosis of appendices causes pain and local inflammation of the surrounding tunica vaginalis and epididymis (acute hemiscrotum). Torsion of the testicular appendage may be accompanied by a thickened scrotal wall, a reactive hydrocele, and enlargement of the head of the epididymis.
Acute scrotum is characterized by intense acute scrotal pain, which may be associated with other symptoms and signs, such as abdominal pain, inflammation, and fever. Many pathologic conditions can present in this way, most of which involve scrotal contents. [8]
Epidemiology
Torsion of testicular appendices is one of the most common causes of acute scrotum; it is the leading cause of acute scrotum in children.
In several retrospective reviews of pediatric patients who presented to the emergency department (ED) with acute scrotal pain, the incidence of torsed testicular appendage ranged from 46 to 71%, and testicular torsion represented the most common cause of scrotal pain.
A study of 155 scrotal explorations performed for acute scrotal pain found that the pathology was as follows: testicular torsion in 46.5% (N = 72); torsion of a testicular appendage in 30.3% (N = 47); epididymitis in 16.1% (N = 25); no obvious pathology in 3.3% (N = 5); and other pathology in 4%. Mean participant age was 9.1 years (range, 0-15 years), and there was a significant difference in age of presentation between those with testicular torsion and those with torsion of a testicular appendage (9 vs 10 years; P=0.0074). [9]
In a retrospective study of 76 patients younger than 15 years with acute scrotal pain, 59 (78%) had acute spermatic cord torsion, 16 (21%) had torsion of the testicular appendage, and 1 (1%) had orchitis. Among patients with acute spermatic cord torsion, median age was 13 years (range, 0.18-14.97 yr). [10]
Mortality/Morbidity
Torsion of the testicular appendices is virtually a benign condition, but again, it must be distinguished from testicular torsion, which can have permanent consequences for testicular viability.
Necrotic tissue is reabsorbed without any sequelae in almost all cases.

The literature contains a single case report of a scrotal abscess secondary to tissue necrosis.

Some cases of persistent pain due to torsion of the testicular appendix have required surgical excision for relief or often for diagnostic surgical exploration.

Little evidence supports the suggestion that scrotal calculi can form due to calcification of the necrotic appendix.

A retrospective study by Rakha et al demonstrated no evidence of any bacterial or fungal infection in 79 cases of torsion of the testicular appendage. Histologic analysis showed no correlation between degree of inflammatory infiltrate and pyogenic infection. [11]

Greatest morbidity results from a missed diagnosis of testicular torsion and a subsequent delay in treatment.
Age
Patient age ranges from infancy to adulthood, with more than 80% of cases occurring in children 7-14 years of age. Mean age is 10.6 years. This condition rarely presents in adulthood (probably due to local fibrosis). Torsion of testicular appendices is the leading cause of acute scrotum in children. [9, 10, 12, 13]
Torsion of an epididymal cyst is an extremely rare cause of acute scrotum in children and in young boys, with a reported incidence of 5-20%. Treatment is usually conservative. Many cases (up to 60%) regress spontaneously, especially if measuring less than 3 cm. [14]
Testicular torsion occurs most frequently at a pre-adulthood age. In geriatric people, it is very rare, but this should not be an exclusion criterion for the diagnosis. Lack of awareness about testicular torsion in elderly people may lead to delayed or inaccurate diagnosis. [15]
What would you like to print?