Workup
Laboratory Studies
Laboratory studies are not generally helpful in establishing the diagnosis of spinal cord neoplasm.
Marked elevation of the erythrocyte sedimentation rate may suggest infection or inflammation.
Imaging Studies
Magnetic resonance imaging
Magnetic resonance imaging (MRI) of the affected area provides the best definition of spinal lesions and is the procedure of choice. See the image below.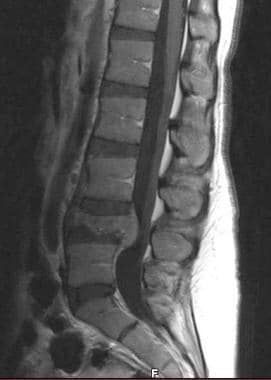 MRI of plain film above showing intrusion of tumor and vertebral collapse into spinal canal.
With MRI, the entire spine may be visualized rapidly (sagittal images), and images may be obtained in multiple planes for best definition of the lesion, vertebrae, epidural space, and spinal cord. Liberal imaging is recommended, as roughly one third of patients with spinal epidural metastases have multiple spinal metastases.
MRI can usually be used to differentiate malignant disease from a collapsed vertebra secondary to osteoporosis or trauma.
The intervertebral space is usually not involved in tumors of the spine. Obliteration of the disk space is more characteristic in cases of infection.
Diffusion-weighted MRI may be useful in evaluation of epidural neoplastic lesions. [5] An MRI grading scale has been described to quantitate the degree of epidural spinal cord compression. [6]
If MRI cannot be performed, consult a qualified radiologist or oncologist about other imaging options (eg, intrathecal contrast-enhanced myelography, computed tomography, nuclear medicine bone scanning).
CT myelography
CT myelography is the old-school option for patients with suspected cord compression who cannot undergo MRI, for example, those with pacemakers or ocular implants. This test is slightly invasive, as it requires intrathecal administration of contrast.
Plain radiography
Plain radiographs may reveal bony destruction (osteolytic or osteoblastic lesions), vertebral collapse or subluxation, or calcification (associated with a meningioma). Roughly 50% of the bone must be destroyed for the lesion to be visible on plain films.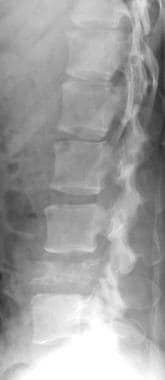 Patient with metastatic breast cancer; plain radiograph shows L4 vertebral collapse.
Conventional radiographs do not provide information about spinal cord structure or compression.
Changes are demonstrated on plain films in about 80% of patients with spinal cord tumors. Conversely, findings on plain films are falsely negative in about 20% of cases.
Nuclear medicine
Most tumors (excluding myeloma) exhibit increased activity on nuclear medicine scans.
Procedures
Lumbar puncture
The presence of a spinal cord tumor is a relative contraindication to the performance of a lumbar puncture, as removal of cerebrospinal fluid in these cases may worsen cord compression. However, in leptomeningeal metastasis, spinal fluid analysis almost always yields abnormal findings, with elevated protein levels and positive cytologic results.
Post-void residual urine volume
If bladder impairment is a concern, have the patient urinate and check the urinary residual volume by catheterization. Volumes greater than 200 mL may suggest a neurogenic bladder.
What would you like to print?