Workup
Laboratory Studies
Laboratory studies are inferior to imaging in diagnosis of cysticercosis but may play an adjunctive role.
Complete blood cell (CBC) count
Peripheral eosinophilia usually is not present, but eosinophils may be 10%-15% of white blood cells (WBCs).
Serology
Serology is the most useful of laboratory tests.
Sensitivity of serology is directly linked to number of parasitic lesions and the stage of lesions. Single lesions and calcification are more likely to be associated with a false-negative assay result. False-positive results may be caused by other parasitic infections.
Enzyme-linked immunosorbent assays (ELISAs) have reported 74% sensitivity and are highly specific for the appropriate antigens. Sensitivity may be increased in cases involving multiple cysts or if the assay is performed on cerebral spinal fluid (CSF) rather than serum.
The newer enzyme-linked immunoelectrotransfer blot (EITB) is preferred to ELISA. It carries a better than 95% sensitivity and nearly 100% specificity in patients carrying multiple cysts. However, its performance is poor in those with a single cyst or with only calcific lesions. In contrast to ELISA, EITB is slightly more sensitive using serum than CSF. [9]
Stool for ova and parasites
Stool sampling may be useful since a minority of patients have a simultaneous intestinal tapeworm infestation, the likelihood of which increases with the severity of cysticerci burden. [1] This test is insensitive, as the life cycle of the adult tapeworm may be self-limited before CNS cysts become symptomatic, [10] and, even in active intestinal infections, many samples may be needed over several days.
The test is nonspecific for T solium species, as the eggs appear similar to those of the beef tapeworm.
It is reasonable to screen close contacts of index patients for the presence of an intestinal tapeworm.
Imaging Studies
Also see Cysticercosis, CNS and Neuroimaging in Neurocysticercosis.
Radiography
Soft tissue radiography may show calcifications of inactive cysts. These may appear as oblong-shaped "cigar" lesions.
Brain CT scan
CT scan is recommended as the first imaging study.
CT scan is more widely available, less expensive, and has a faster imaging time than MRI.
Obtain contrast and noncontrast studies.
Noncontrast study may show cystic lesions, focal areas of edema in the acute phase of disease, or calcifications of inactive disease (which is the most common disease form at presentation). Mass effect or hydrocephalus may be seen. Ventricular cysts may be isodense with CSF and manifest only as distortion of surrounding tissue. Percutaneous CSF contrast administration may be helpful to delineate these lesions. CT scan is also insensitive for lesions near bone or within the posterior fossa. [11]
Intravenous contrast-enhanced CT may depict nonenhancing cystic lesions with or without edema or ring enhancement, signifying inflammation surrounding an involuting living cysticercus.
See the images below.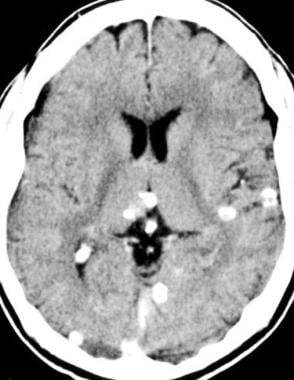 Nonenhanced CT scan of the brain demonstrates the multiple calcified lesions of inactive parenchymal neurocysticercosis.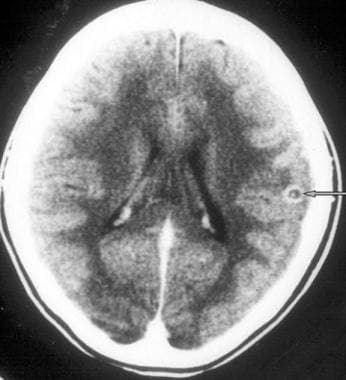 Enhanced CT scan of the brain in a patient with neurocysticercosis demonstrates a live cyst with a minimally enhancing wall and an eccentric hyperattenuating scolex.
Brain MRI
MRI is recommended as an adjunct to CT scan. It may aid in cases where previous CT scan was nondiagnostic.
MRI may show a mural nodule within the cyst which represents the larval scolex. This finding is pathognomonic for cysticercosis.
MRI may show cysticerci within the ventricular system, which are often missed on CT scan due to the similar appearance of cerebrospinal and cystic fluids.
MRI is the preferred imaging modality to identify brainstem cysts or those over the cerebral convexities. [12]
Other Tests
Several authors have proposed tiered diagnostic criteria. These utilize clinical, radiologic, histologic, and serologic features along with epidemiologic factors and response to therapy to formulate diagnostic certainty. Detailed explanation of these scoring systems can be found in other references.
Procedures
Lumbar puncture
It may be necessary to obtain an imaging study prior to lumbar puncture to exclude intracranial mass effect.
CSF testing is neither sensitive nor specific for the diagnosis of cysticercosis. Nonetheless, CSF testing may be essential to rule out other potential causes of meningitis or encephalitis.
CSF is normal in many cases. In the presence of significant inflammation, CSF may show lymphocytosis, increased protein, and/or decreased glucose levels. The finding of pleocytosis is more common in cases of subarachnoid neurocysticercosis (NCC).
Special Wright or Giemsa stains
Special Wright or Giemsa stains are needed to show CSF eosinophilia, a common but nonspecific finding.
Biopsy
Subcutaneous nodules may be biopsied. Demonstration of organisms within nodular tissue is diagnostic of cysticercosis.
What would you like to print?