Workup
Laboratory Studies
No laboratory findings are completely sensitive or specific for the diagnosis of gas gangrene and, as such, should be used synergistically with a high index of suspicion and thorough clinical examination to guide diagnosis. However, clinically supportive laboratory studies are discussed below. [1, 2, 3, 23, 17]
Gram stain and culture of bullae fluid or wound exudate
Clostridia species are known to be large, gram-positive rods (boxcar appearance); however, the organisms may appear gram variable in Gram stains from tissue samples. The presence of gram-positive or gram-variable rods with few white blood cells is indicative of clostridial etiology, whereas the presence of many white cells is more suggestive of a mixed bacterial infection. Although this information can be helpful, simple superficial wound swabs should not be obtained. Microorganisms that colonize the skin surface often do not contribute to the underlying infection.
C-reactive protein
Though not sensitive or specific for gas gangrene, C-reactive protein values greater than 150 has been associated with an increased risk of soft tissue infection.
Complete blood cell count
CBC count may reveal leukocytosis, bandemia, anemia, thrombocytopenia, and evidence of intravascular hemolysis on smear.
Electrolyte level
Hyperkalemia can result from cell breakdown. Hypocalcemia may result from subcutaneous fat necrosis. Hyponatremia has been shown to occur with increased frequency in necrotizing soft tissue infections.
Liver function tests
Hyperbilirubinemia and liver dysfunction may result from release of toxins. Additionally, transaminitis may occur in the setting of muscle inflammation.
Creatine kinase
Serum creatine kinase and creatine kinase myoglobin elevation may occur from muscle breakdown. However, these findings are neither sensitive nor specific.
Myoglobin level
Myoglobinemia and myoglobinuria can result from muscle breakdown.
Renal panel
Kidney dysfunction may occur secondary to hypotension, hemoglobinuria, and myoglobinuria or direct toxin effect.
Coagulation panel
Coagulopathy and thrombocytopenia can result.
Arterial or venous blood gas determination
Gas gangrene can cause metabolic acidosis with significant lactic acidosis secondary to tissue death and ischemia.
Blood cultures
This may help narrow antibiotic coverage.
Imaging Studies
In the correct clinical context, radiographic evidence of gas in soft tissue is highly suggestive of clostridial myonecrosis. However, gas in the soft tissues is neither sensitive nor specific for gas gangrene. Many different bacteria, trauma, and visceral perforation can cause soft tissue gas. Plain radiographs or ultrasonography can be used to look for the presence of gas. The sensitivity of plain radiographs varies wildly in reports from as low as 20% to as high as 80%. See the images below.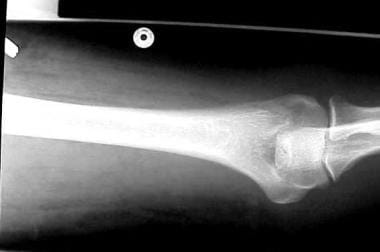 Gas feathering in the arm soft tissue of a patient with gas gangrene.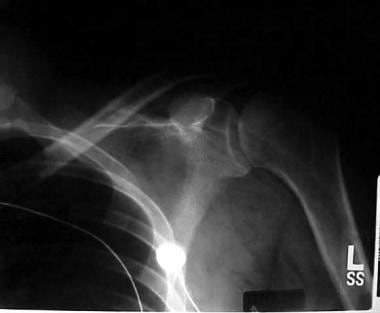 Extension of gas gangrene to the chest wall despite initial debridement.
CT scan is more sensitive than plain radiographs for the detection of gas, and it offers the advantage of providing alternative diagnoses (eg, pyomyositis). Studies suggest that the sensitivity and negative predictive value of CT scan for necrotizing soft-tissue infection may be as high as 100%, but a higher index of suspicion is required to order CT scan. Even if a diagnosis is made with clinical acumen or plain radiographs, CT or MRI can still help as a means to evaluate the depth of soft tissue inflammation. [13, 14, 24, 17] However, imaging modalities are not a substitute for surgical exploration. [24, 12, 17]
Other Tests
Once Clostridia are isolated from culture, identification of the lecithinase function of alpha toxin may be elicited by inoculating blood agar with the isolated bacteria. A double area of hemolysis will develop around the colonies, demonstrating the presence of lecithinase. Inoculation of the colonies with anti-toxin will halt the hemolysis.
Procedures
Tissue biopsy with culture and Gram stain is the criterion standard in helping make the diagnosis of gas gangrene.
What would you like to print?