Workup
Laboratory Studies
The diagnosis of mediastinitis often is a clinical one. No single laboratory investigation can confirm the diagnosis; however, studies that may help in the diagnosis of mediastinitis include the following:
Inflammatory markers (white blood cells [WBC], C-reactive protein [CRP], erythrocyte sedimentation rate [ESR], and procalcitonin) are often elevated.

Metabolic measurements are often normal but may reveal anion gap, hyponatremia, hypoglycemia or hyperglycemia, or hypoproteinemia

Swab from any site of infection
It is important to notify the laboratory of the possible presence of anaerobic organisms and the strong possibility of mixed growth, since many laboratories routinely report only a single predominant organism. Close coordination with the laboratory is vital to optimize the antibiotic regimen.
Imaging Studies
Plain-film radiography
Soft tissue radiography of the neck may show widening of the precervical and retropharyngeal soft tissues.
Plain-film chest radiographs may show widening or haziness of the mediastinum or mediastinal air.
The lateral chest radiograph may show an anterior bulge on the posterior wall of the trachea.
Pleural effusions and lower lobe consolidation are not unusual findings.
It is important to note that plain films may appear normal and cannot by themselves exclude the diagnosis.
Chest CT scanning
Chest CT scanning is the imaging modality of choice for the diagnosis of mediastinitis.
If there is a concern for descending infection, it should be paired with a neck CT scan.
Chest CT scanning can provide accurate information regarding both the presence and extent of descending necrotizing mediastinitis (DNM), helping guide the mode of surgical approach for drainage. Chest CT scanning can also be used to monitor progress after treatment. [1]
Head and neck CT scanning
In the case of descending necrotizing mediastinitis, head and neck CT scans may demonstrate abnormalities while the chest radiograph still appears normal.
Abscess and soft tissue swelling are usually visible.
Neck CT scanning can help with planning the surgical approach.
MRI
Use of MRI to confirm the diagnosis of mediastinitis is becoming more common but continues to be reserved more for children to limit radiation and those with impaired kidney function. [3] It should be noted that mediastinitis is a time-sensitive diagnosis - if MRI is utilized, it should not be delayed.
Mediastinitis due to esophageal perforation is shown in the radiograph below. CT of the same patient follows.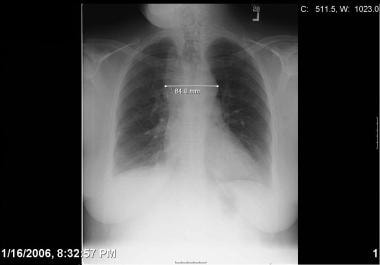 Chest radiograph of a patient presenting with mediastinitis secondary to esophageal perforation by a chicken bone. Image courtesy of Mark Silverberg, MD, FACEP, and Rafi Israeli, MD.
Chest CT of same patient showing gas-filled mediastinal abscess and widened esophagus. Image courtesy of Mark Silverberg, MD, FACEP, and Rafi Israeli, MD.
What would you like to print?