Workup
Approach Considerations
A diagnosis of relapsing fever in the emergency department should be considered in patients with a characteristic fever pattern (especially if accompanied with the crisis) and history of exposure to lice or ticks in geographic areas where tick-borne relapsing fever and louse-borne relapsing fever are endemic.
Laboratory Studies
The emergency department workup of relapsing fever focuses on ruling out other potential diagnoses. Basic laboratory studies such as complete blood cell (CBC) count, chemistry panel, and coagulation studies can be performed; however, most laboratory studies are nonspecific.
CBC count
CBC count usually reveals mild to moderate normocytic anemia and thrombocytopenia. The WBC count is usually within the reference range.
Coagulation studies
Coagulation studies usually show prolonged prothrombin time (PT) and partial thromboplastin time (PTT).
Chemistry panel
Chemistry panel can show increased liver function test (LFTs) and elevated bilirubin levels. In louse-borne relapsing fever, azotemia can occur.
In patients with CNS involvement, CSF studies show mononuclear pleocytosis and mildly elevated protein levels. [17]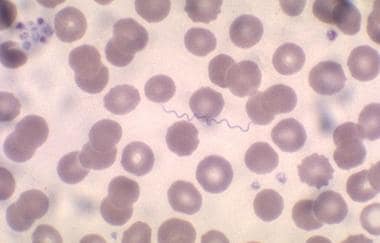 Photomicrograph of a patient who presented to the ED with cyclical fevers and chills, which she developed while traveling in one of the recently formed Soviet Republics in 1990. A blood smear for malaria was obtained, and this is what the laboratory technician observed.
Animal inoculation
Animal inoculation, which involves injection of blood into laboratory animals followed by examination of their blood, can be used when relapsing fever is suspected and spirochetes are not visually detected via smear. Inoculation of blood into weanling mice or mice with severe combined immunodeficiency (SCID) may yield Borrelia species in the blood or, less commonly, in cerebral spinal fluid (CSF), even between fever episodes.
For suspected tick-borne relapsing fever, blood, plasma, buffy coat, or CSF is injected intraperitoneally into the mouse. Infection of the mouse is enhanced by the SCID phenotype or by splenectomy. Blood of the inoculated mice should be examined daily for the presence of the spirochetes for seven days. [18]
Peripheral blood smears
Relapsing fever is definitively diagnosed based on visualization of spirochetes in peripheral blood smears during fever episodes. Thus, thin and thick smears are the first tests performed for suspected relapsing fever. Peripheral smears yield a sensitivity of 70% (more sensitive in tick-borne relapsing fever than in louse-borne relapsing fever). [14]
Both thick and thin smears using Wright and Giemsa stains may need to be examined.
The optimal time to obtain samples is during the onset of fever spikes.
This is the best way to secure the diagnosis in the emergency department.
Organisms are not found between relapses.
As many as 200 oil immersion fields should be viewed before judging the smear to be negative.
Thick smear is more sensitive.
Other tests
When relapsing fever is suspected but spirochetes are not directly visualized, laboratory confirmation requires techniques that are not available in most laboratories. Such techniques include animal inoculation, in vitro cultivation, wet mount, cultures, and polymerase chain reaction (PCR).
Imaging Studies
Imaging studies are not routinely useful, although chest radiography and hepatobiliary ultrasonography might be indicated in isolated cases in which pulmonary or hepatic manifestations predominate.
CT scanning of the brain may be indicated in cases with predominant central nervous system (CNS) manifestations.
Other Tests
Electrocardiography (ECG) may show a prolonged QTc interval.
Nonspecific antibody response to Proteus OXK antigens is elevated in about one third of tick-borne relapsing fever cases and most louse-borne cases.
Histologic Findings
Spirochetes may be detected in tissue using silver stain. They may also be visualized using immunofluorescence.
What would you like to print?