Workup
Laboratory Studies
Early infection (larval migration)
Complete blood count (CBC) may show eosinophilia.
Sputum analysis may reveal larvae or Charcot-Leyden crystals (collections of crystalloid composed of eosinophilic proteins).
Stool examination findings are typically normal in absence of previous infection (during the first 40 d).
Ascaris -specific antibodies may be found (not useful in acute infection and not protective).
Increases in IgE and later IgG may be found.
Established infection (adult phase)
Stool examination findings include characteristic eggs. Adult females lay about 200,000 eggs per day, aiding microscopic identification of characteristic eggs.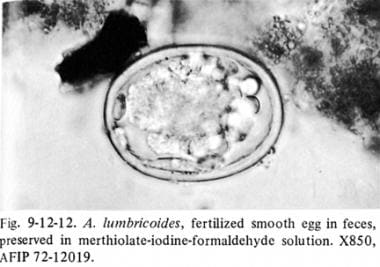 Ascaris lumbricoides egg.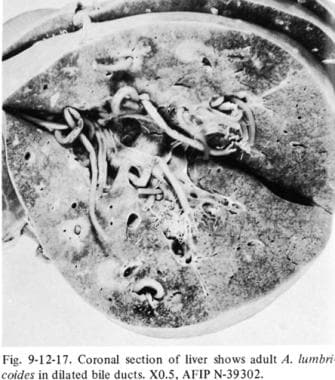 Adult Ascaris lumbricoides in biliary system.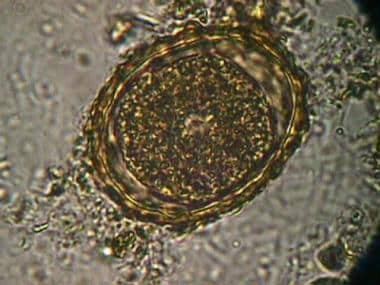 Ascaris lumbricoides egg in feces (formalin-ethyl acetate sedimentation method).
Other diagnostic tests (eg, polymerase chain reaction [PCR]) have been described for identifying infection with soil-transmitted helminths; however, these are typically used for population-based treatment programs in endemic areas. [13]
Imaging Studies
Early infection (larval migration)
Chest radiography may reveal patchy infiltrates of eosinophilic pneumonia.
Established infection (adult phase)
Abdominal radiography may reveal signs of bowel obstruction (eg, air-fluid levels) or the "cigar bundle" appearance of a worm bolus. On computed tomography (CT) scanning, Ascaris worms may be visualized as linear or cylindrical filling defects in the presence of contrast or may be identifiable in groups or masses (sometimes having a whirled appearance). [14]
Some authors have recommended ultrasonography as the initial imaging study of choice, especially when pretest suspicion of pancreatobiliary involvement is high. Diagnosis of Ascaris infection has been described using point-of-care emergency department ultrasonography (POCUS). [15] Sensitivity may be increased by left lateral decubitus positioning, oral fluids, and gentle transducer pressure to induce worm movement. While hepatobiliary ascariasis has been described in several case reports and is sometimes evidenced by the movement of live worms, experienced operators may also be able to diagnose intestinal complications using POCUS, including small bowel obstruction and (rarely) intussusception. [16]
Magnetic resonance cholangiopancreatography (MRCP) may detect adult worms in bile or pancreatic ducts, though its availability may be limited. [17]
Alternatively, endoscopic retrograde cholangiopancreatography (ERCP) has the advantage of being both diagnostic and therapeutic when pancreato-biliary complications are suspected. [18] Diagnosis of ascariasis using capsule endoscopy has also been described. [19]
What would you like to print?