Workup
Laboratory Studies
Laboratory results vary with the phase of disease.
Complete blood cell count (CBC)
The CBC is the most useful test to obtain. It should be checked on arrival as well as 24 hours after presentation. In the prodromal phase, the CBC may be normal or show slight thrombocytopenia only. Changes in the CBC over time, however, can help predict prognosis and clinical course.
Platelets
Platelets may initially be normal, but a moderate and rapid decline in count usually is demonstrated, sometimes as early as the prodromal phase. [33] In patients with Hantavirus cardiopulmonary syndrome (HCPS), 98% present with a platelet count of less than 150 X 109/L. A dramatic fall sometimes heralds the cardiopulmonary phase of HCPS. [44]
White blood cell (WBC) count with peripheral blood smear
Leukocytosis and occasionally leukopenia are common. More importantly, the appearance of a marked leukocytosis (as high as 90,000 cells/microL) and the appearance of immunoblasts (circulating atypical lymphocytes) may signal the start of the cardiopulmonary phase of the disease and indicates a severe clinical course. [45] See the image below.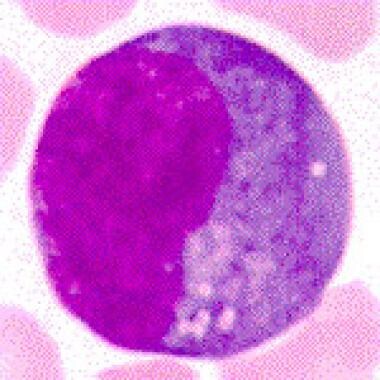 Hantavirus cardiopulmonary syndrome (HCPS) immunoblast.
Thrombocytopenia, a left shift on peripheral smear, and an immunoblast count that exceeds 10% of the total lymphoid series has been termed the diagnostic triad of HCPS. [46] In experienced centers that see relatively high numbers of HCPS, this triad alerts practitioners to begin preparation for transfer to a center capable of aggressive critical care management and possibly ECMO.
Hematocrit (HCT)
Hemoconcentration is due to massive capillary leak and portends a poor prognosis. Hematocrits >50% in men and >48% in women may occur during the cardiopulmonary phase of HCPS and is a marker of severe disease. [47] This occurs in only 50% of cases.
Chemistries
Aspartate aminotransferase (AST), alanine aminotransferase (ALT), and lactate dehydrogenase (LDH) levels are often elevated, sometimes as early as the prodromal phase of HCPS. Levels can rise to 2-5 times their reference values.
Creatinine level
SNV rarely causes renal failure; however, the Black Creek Canal, Bayou, and Andes viruses have higher rates of renal insufficiency.
Creatine phosphokinase (CPK) level
SNV rarely causes CPK elevations (again unlike the Bayou, Black Creek Canal, and Andes viruses).
Coagulation studies
Prothrombin time (PT) and activated partial thromboplastin time (aPTT) are usually within the reference range in SNV infection. However, disseminated intravascular coagulation (DIC) has been associated with a few severe cases of HCPS.
Arterial blood gases (ABGs) measurement
Progressive metabolic acidosis and severe hypoxemia mark the cardiopulmonary phase of HCPS.
Lactate level
Levels as high as 9.5 mg/dL have been recorded in severe HCPS. A lactate level greater than 4 has been associated with high mortality rates.
Serologic assays
The preferred method of diagnosis of HCPS is via serologic testing. Hantavirus-specific immunoglobulin M (IgM) can be detected early in the disease, even during the incubation phase. [40] By the time symptoms have developed, most, if not all, have developed antibodies of the IgG class. The presence of IgM antibodies or a 4-fold increase in levels of serum IgG antibodies signals an acute rather than remote infection.
State departments and the CDC use IgG and IgM mu-capture enzyme-linked immunosorbent assay (ELISA) to diagnose Hantavirus disease. Various other assays exist for Hantavirus detection but are limited in use owing to convenience and accuracy; Western blot, strip immunoblot assays, indirect immunofluorescence, compliment fixation, and hemagglutinin inhibition are some of the other available tests. [40] Hantavirus-specific ribonucleic acid amplification by polymerase chain reaction (PCR) is an extremely specific and sensitive test, but viral RNA may not be detectable after a few days of clinical illness; therefore, PCR is used primarily as a confirmatory or backup test. [16, 48]
Postmortem assays can be accomplished by using immunohistochemical tests for N-antigens or by viral RNA detection using reverse-transcription polymerase chain reaction.
Imaging Studies
Radiography
At presentation, approximately one third of patients show radiographic evidence of pulmonary edema. Within 48 hours, virtually all patients demonstrate edema and two thirds have progressed to severe bilateral airspace disease. Although chest radiograph findings on presentation are often normal, onset of the cardiopulmonary phase brings about a characteristic radiologic evolution (see the image below). [49]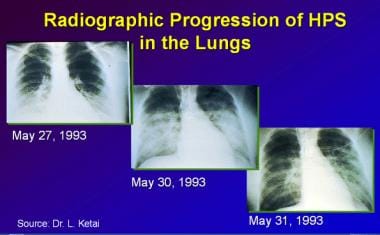 Chest radiographic progression of Hantavirus cardiopulmonary syndrome (HCPS).
Mild interstitial pulmonary edema progresses to severe multilobar, bilateral alveolar edema in a basilar or perihilar pattern.
Pleural effusions are common.
Heart size is normal (barring concomitant heart disease).
Echocardiography
Occasionally, echocardiography is useful to distinguish cardiogenic pulmonary edema from the noncardiogenic edema typically seen in HCPS.
Global cardiac dysfunction does occur in the later stages of HCPS.
Electrocardiography
Although no specific ECG findings suggest Hantavirus disease, some patients may present with ischemic-like ECGs with ST-segment changes in regional distributions, a phenomenon attributed to Hantavirus-induced myocarditis. [50]
MRI
Although not routinely recommended, MRI can be useful in the diagnosis and follow-up of patients with Hantavirus-induced myocarditis. [51]
Procedures
A flow-directed pulmonary artery catheterization (PAC), or Swan-Ganz catheter, can be a useful tool to aid in resuscitative fluid management of HCPS. As HCPS demonstrates a characteristic hemodynamic profile, it can also offer valuable diagnostic and prognostic information. A low pulmonary artery occlusion pressure (consistent with a pulmonary capillary leak) and a low cardiac index characterize early HCPS.
Advanced HCPS yields a severe drop in cardiac index and an increased systemic vascular resistance index (SVRI).
A cardiac index of less than 2 L/min/m2 (one marker used to predict a 100% mortality without further intervention) has been used successfully as criteria to initiate rescue ECMO therapy. [43]
What would you like to print?