Overview
Overview
Emergent management of torticollis can pose a challenge to the emergency physician owing to the fact that the condition can be acute or chronic, congenital or acquired, and idiopathic or secondary to trauma or disease. Moreover, the onset of torticollis can occur at any age.
In addition, laboratory studies are not particularly helpful and are dependent on underlying disorder, although they are useful if infection is suspected.
Prehospital care
In prehospital treatment of acute torticollis, ensure a patent airway and perform cervical spine immobilization/precautions for patients with a history of trauma.
Imaging Studies
Plain cervical radiographs, computed tomography (CT) scans, or magnetic resonance imaging (MRI) scans of the cervical spine may be useful to evaluate for bony trauma, suspected C1-C2 subluxation, congenital bony abnormalities, or osteomyelitis. (See the image below.) [1]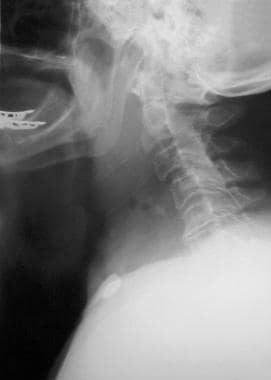 Soft-tissue neck radiograph demonstrates retropharyngeal abscess appearing as torticollis.
Employing CT scanning or MRI of the neck may be useful for evaluation of suspected abscesses, deep space infections, or masses, while using either of these modalities to image the brain may be useful to exclude suspected tumors. [2]
Other Diagnostic Considerations
Emergency department physicians should not diagnose idiopathic spasmodic torticollis if the patient has acute torticollis; consider other causes.
Unusual cervical disk herniation or bony subluxation, on occasion, causes acute wryneck or torticollis.
Emergent diagnoses of retropharyngeal abscess, epiglottitis, and spinal epidural abscesses and hematomas should always be considered. [3, 4] Pediatric patients should have a complete eye examination. [5]
Emergency Department Care
Patients with acute traumatic torticollis should have immediate cervical spine immobilization before further evaluation. Patients with respiratory compromise, stridor, or drooling should have emergent evaluation and management.
Emergent diagnoses of retropharyngeal abscess, epiglottitis, and spinal epidural hematomas should always be considered.
Treatment of torticollis is generally supportive and includes analgesics, benzodiazepines, anticholinergics, heat, massage, and stretching exercises. Most cases of torticollis, including congenital muscular torticollis resolve spontaneously.
Reversible causes of torticollis should be identified and treated accordingly. Appropriate antibiotics should be given for infectious causes. Drug-induced torticollis is treated with diphenhydramine, benztropine, or benzodiazepines.
Treatment of atlantoaxial subluxation depends on severity and duration and ranges from simple analgesia to cervical traction and immobilization to surgery. [6, 7] Antireflux therapy is indicated for children with Sandifer syndrome.
Consultations and Follow-Up
Emergent specialist consultation is necessary for life-threatening diagnoses, including retropharyngeal abscess, epiglottitis, spinal epidural abscesses and hematomas, severe cervical fractures, and dislocations.
Appropriate follow-up depends on the underlying disease process. Infants with congenital muscular torticollis should be monitored at 2- to 4-week intervals. Refer most patients with prolonged symptoms suggestive of idiopathic spasmodic torticollis to a neurologist for follow-up. Fixed deformities in children may require surgical referral.
Medications
Drugs of choice for treatment of torticollis include analgesics (nonsteroidal anti-inflammatory drugs [NSAIDs], acetaminophen, opiates), benzodiazepines, anticholinergics, and local intramuscular injections of botulinum toxin (BOTOX®). Emergency physicians, as standard practice, do not administer BOTOX® injections; tertiary referral centers perform most injections. [8, 9, 10]
Drugs of choice for dystonic reactions secondary to medication include diphenhydramine, benztropine, and benzodiazepines.
What would you like to print?